Oh Portugal! 3,000 hours of sunshine each year and 850kms of golden beaches, with world-renowned vineyards, an eclectic architecture and a fascinating culture and history with all the old-world charm you could ever hope for.  Topped off with the most delicious gastronomic delights – a massive farm to fork focus with the freshest produce and seafood washed down with Portuguese wine.
There are some lesser known spots you should definitely have on your radar – the national parks are teeming with birds and wildlife and the Atlantic coast is one of the best places for surfing. Best of all, the Portuguese are generous with their summer season, extending well into November so the window to book a sunny getaway is wonderfully wide.
Experience The Natural Beauty Of The Algarve
A place of breath-taking natural beauty and one of the Algarve's best kept secrets: Ria Formosa National Park. This unique wetland is a labyrinth of canals, islands, marshes and barrier islands, stretching 60kms along the Algarve coast.  Being a stopover point for birds migrating between Europe and Africa, it is home to an unbelievable number of birds – Egrets, Flamingos, Cranes and Oystercatchers as well as some of which you can't find anywhere else in the country. There are also endangered species including the chameleon and the seahorse – they have one of the largest populations of seahorses in the world.
Shellfish farming accounts for 80% of the Portuguese clam exports here, while mussels, razor clams and oysters are also all harvested here so you can expect an incredible array of seaside restaurants – simple but fresh delights such as fish soup or rice razor clam.  Salt is also extracted from the marshes and exported all over the world. See if you can spot a Portuguese Water Dog – once upon a time this dog was every Portuguese fisherman's best friend, diving into the waters to help raise the nets.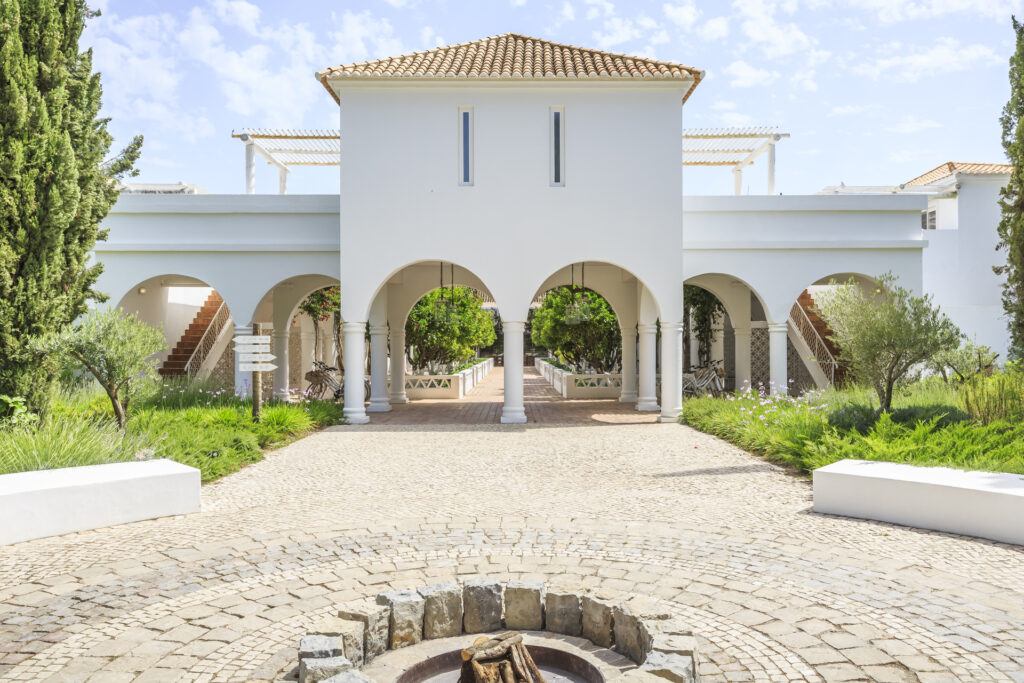 Vila Monte is a converted farmhouse nestled amongst olive and orange groves is just 10 minutes from this stunning and unique national park. A perfect retreat from which to experience the incredible biodiversity of the Ria Formosa, offering all sorts of guided walks through the private water channel between Fuzeta and Armona, where guests can observe the oyster ponds and taste freshly caught oysters washed down with delicious Portuguese white wine – of course! Or you may like the hotel to organise a private boat trip passing through deserted islands and little fishermen villages before landing on the deserted island of Fuzeta Island for a picnic.  Paradise.
The vineyards of Portugal: Douro Valley
For wine aficionados, The Douro Valley really is the place to go! Where the grape is sovereign and grape harvest and wine production goes back some 2,000 years, here is an example of where practice certainly makes perfect! A patchwork of terraced fields on either side of the Douro River where boundaries were determined for the vineyards in 1756 this is the oldest demarcated wine region in the world and has deservedly been named a UNESCO World Heritage Site.
When you are not busy quaffing wines, there are walks and pretty villages to discover – the rather impressive baroque architecture of Lamego's hilltop chapel is one such example. One of the best ways to see the valley is by boat… or kayak if you are a little more energetic.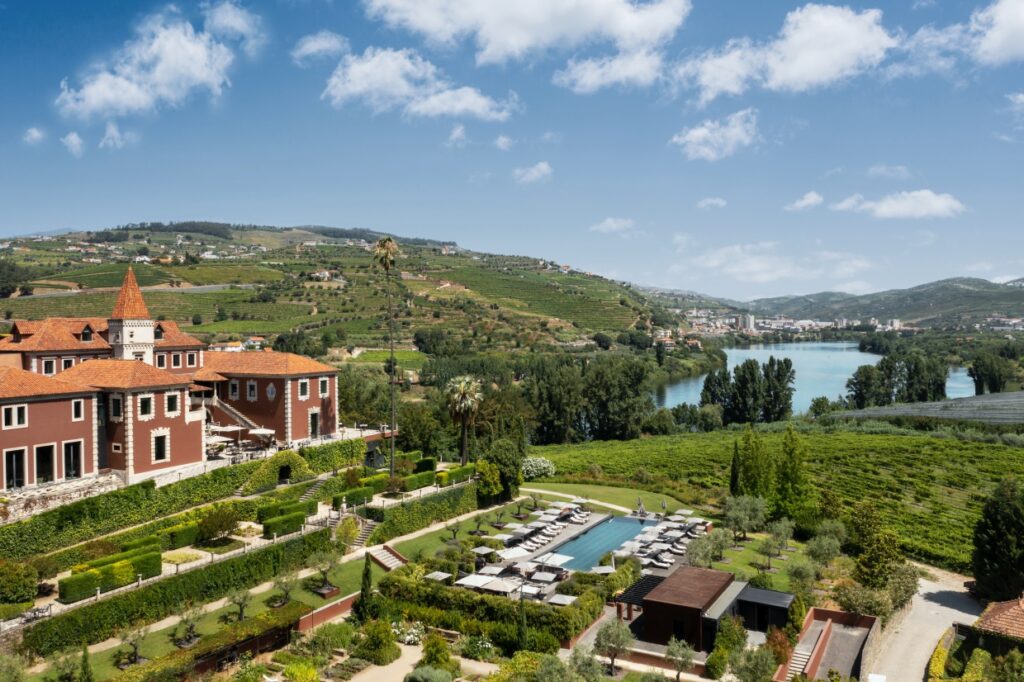 Possibly the ultimate wine and spa hotel in the Douro Valley is Six Senses Douro Valley. A magnificent and historic quinta within 19 acres of estate, Six Senses is surrounded by its own special vineyards and private gardens that roll down to the glistening Douro River. The views down the valley are spectacular.  As you might suspect in wine country, there is a dedicated wine team with a carefully curated selection of wine tastings and sommelier tours where these connoisseurs will be able to share their knowledge and the history behind the wine and grape varieties.  You can simply choose the day, time and winery and the Six Senses team will do the rest! At the hotel, there are daily wine tastings bringing a different selection of wines and ports from many of the region's top producers and wine cellar visits – try the 100-year old tasting if you can!
There is also exquisite farm-to-table cuisine, and the spa is one of Portugal's most serious with sleep and age improving treatments, meditation spots throughout the forests.  Whoever would have thought wine and wellness were the perfect combination?
9-night City, Coast and Country Self-Drive
Hiring a car and driving at your own pace is one of the best ways to delve into a country and catch a glimpse of different regions. Perfect for when you just can't quite decide which option to go for!  We have put together a wonderful 9-night self-drive to include three different areas in Portugal – city, coast and country – where each leg is no more than 2 hours in the car.
LISBON (2 NIGHTS)
This itinerary starts with two nights in the capital Lisbon to scratch the surface of this soulful and vibrant city. First things first – make sure you take your most comfy shoes, there is an incredible amount to explore and many hills to take on and conquer.  But you can also hire bikes and we would also highly recommend a guided excursion on one of the city's colourful tuk tuks. Jolly good fun and saves you having to climb all the way up to Castello San Jorge for those must-see views of the many miradors, stunning cathedrals and cobbled squares.  Drink in the view at one of our favourite tavernas before heading to the Alfama district where you can sample Ginjinha.  These chocolate treats are packed with a potent cherry liqueur (thankfully no driving needed this day!) End the day at the trendy LX Factory under the Vasco da Gama Bridge to soak up the local way of life – very relaxed, simple local food and masses of fun for children too.  Of course, if you prefer fine dining then there are numerous incredible restaurants we can recommend in the Chaido District – from Michelin Stars to seasonal produce. (And while we're dreaming about food… we MUST just quickly mention the iconic Pastel de Nata, sweet and creamy custard tarts first cooked up by months in the early 19th century).
Bairro Alto in Lisbon is a wonderful place to stay – an amazing location in the heart of Lisbon and only 15 minutes from the airport.  Sitting between the elegant and cosmopolitan Chiado and the bohemian Bairro Alto expect cosmopolitan fused with bohemian.
SUBLIME COMPORTA (4 NIGHTS)
Just over an hour south of Lisbon and you arrive at the most serene eco retreat on the Atlantic coast. Within a 17 hectare estate, suites and villas are scattered amongst pine and cork trees and pockets of wild flowers. It is truly at one with nature, with sustainability at its heart reflecting this lush and unspoilt part of the Iberian Peninsula.
Start each day as you mean to go on; perhaps a gentle yoga class set in the pine forests… or a long breakfast packed full of ingredients bursting with flavour straight from the kitchen garden.  Mornings might be spent walking along the beach (keep an eye out for dolphins), sailing or horse riding through sand dunes and rice fields before tucking into a delicious and well deserved lunch at the beach club… washed down with some local white wine. (All part of the Portuguese experience, and we absolutely insist).
Back at Sublime, staff will bend over backwards to ensure you have a wonderful time and can organise anything from private picnics on the beach, oyster tasting at Cais Palafitico de Carrasqueira or private tennis lessons… but by this stage you may just feel like relaxing by the pool or indulging in a spa treatment.  Dress up for cocktails on the terrace for a spot of glamour and watch the sun set over the trees before heading to the very special Sem Porta for dinner with its organic garden ingredients and fresh fish from the sea.
SAO LOURENCO DO BARROCAL (3 NIGHTS)
A short two hour drive away heading inland and you will arrive at this heavenly and exquisitely renovated rural farmhouse estate, surrounded by wilderness, vineyards and olive groves, and which has been part of the same family for 200 years.  It's hard to explain how heavenly it is – absolute quietness with the wide Alentejo plains all around – the epitome of rural Portugal.
Days here will be spent exploring the vineyards, galloping across the estate or cycling through nearby historic villages and visiting fascinating ancient castles.  Nature lovers can go on mini safaris accompanied by an expert guide to spot the extraordinary bird life on the Alentejo plains. There are personalised wellbeing classes and a wonderful hydrotherapy room, a peaceful adult only 20m pool as well as flower arranging classes for gentle afternoons.
Farm to fork, food here is quite sublime. There are two restaurants serving exceptional locally sourced authentic Portuguese cuisine, infused with Alentejo flavours and finished with subtle contemporary twists.  Evening brings with it a glittering blanket of stars – the Dark Sky Alqueva Reserve is the first Starlight Tourism Destination in the world – and deservedly so. It is spectacular.
After a three night stay in rural bliss, your Portuguese experience is now complete and you can hop in your car and head two hours up to your final destination: Lisbon Airport.
The Slow Life of the Atlantic Coast
The west coast of Portugal is made for laid back living with easy going seaside towns, white washed fishing villages and a relatively unexplored rugged coastline with so many beautiful beaches to choose from and delicious fresh seafood.  And although laid back in style, this is a place all about the great outdoors and days will be filled with surfing, kitesurfing, windsurfing whilst bike tours are the perfect way to explore a little more of the coast…
Just an hour away from Lisbon on Portugal's Silver Coast, Areias do Seixo is set on a cliff top overlooking the dunes and cliffs with a gorgeous sandy beach below.  Life is slow, this is the place to restock and be at peace, floating in the swimming pool or cycling down to the beach with enchanting evenings and gentle music around the fire.  The hotel has its own surf school so there is no excuse not to give it a bash, and the paddle boards are popular too.  We also love the sound of catching your own fish and cooking it alongside the Chef for your lunch. Sea to fork doesn't get any better! We can't not mention the Ayurvedic treatments too as they are very much part of the ritual here.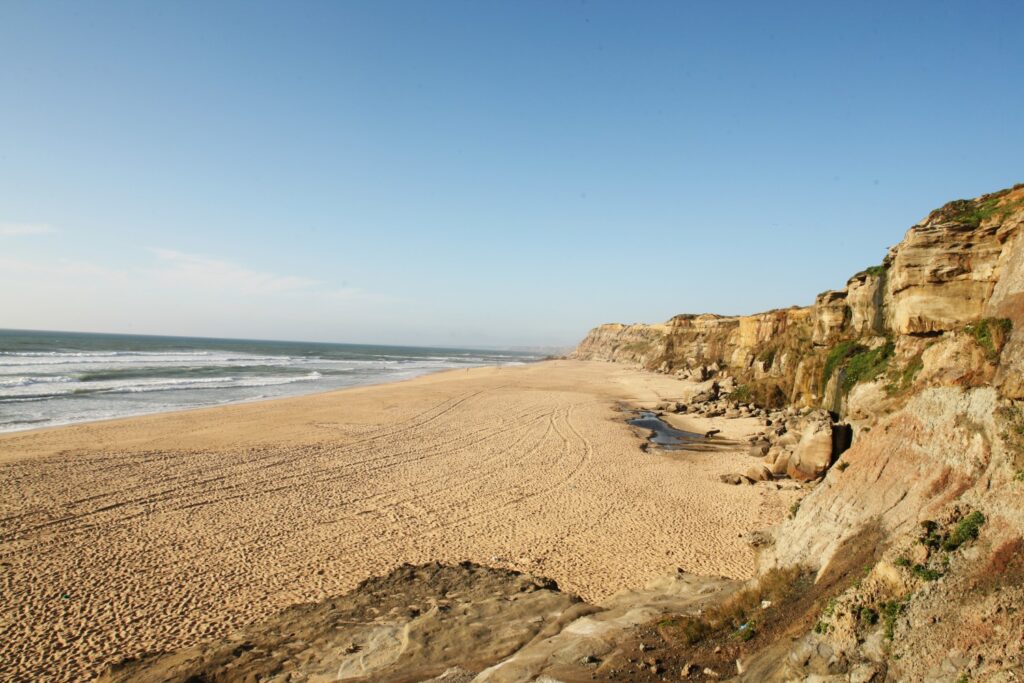 Get a flavour for it
We paired up with Laithwaites Wine, one of the UK's largest wine merchants, for their recommendations on Portuguese wines. Family-run and championing smaller producers across the world, the Laithwaites team taste over 40,000 wines a year before selecting the very best for their customers. Read the blog for their suggestions including the best pairings.
Tempted by Portugal? Contact Gemma and Jo on [email protected] or call +44 (0) 1306 264005 to start planning your trip to Portugal.