We're not wishing away the Summer just yet… BUT let's just quickly look ahead.  It's time to start planning your October getaway. A holiday in October always feels like a cheeky bonus but sometimes just what is needed as we gallop on towards those frosty mornings. Whether kiddie friendly half term options or some last minute sunshine, we have something for everyone…
Perfect for Families
Looking to escape for October half term?  Book it quickly as availability across the collection, but we still have a few gems available that are guaranteed to keep the whole family happy.
Oman ticks SO many boxes for families… with desert adventures, camping under the stars, watersports and sensational snorkelling all on the menu.  In October the mercury level is coming back down so perfect for a last minute dash to the sun and for those looking for a little adventure over half term.
The Chedi is fantastic for families with suites that offer generous space for two adults and two children (Philippa loved The Chedi Club Suite). And there are endless activities where you can dive and snorkel in The Gulf, hike the trails of Musandam or go mountain biking and rock climbing… and while the kids are busy why not just relax in one of the many swimming pools at the resort.
For the more active family with slightly older children off grid camping adventure in the desert is the answer. Hud Hud is more than camping… this is Bedouin 'glamping' and there is everything from riding camels across the dunes, sand boarding and and sleeping under the stars in the middle of the desert; this has to be the most magical experience a child could ever wish for.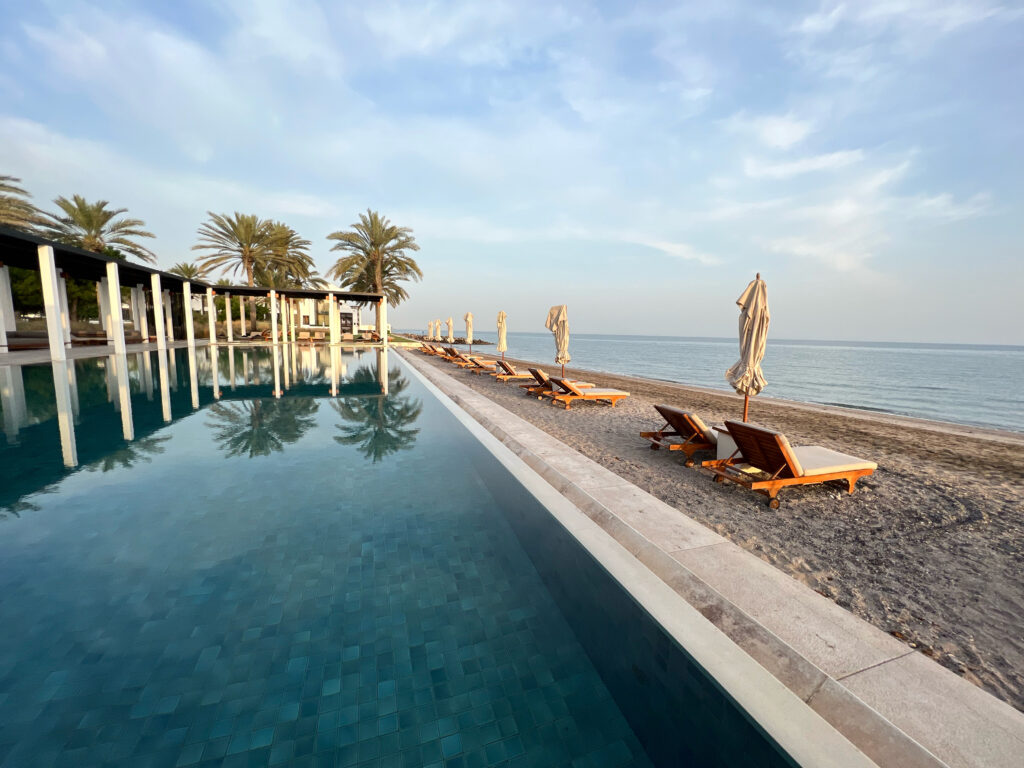 Overlooking the stunning bay of Elounda, Elounda Peninsula couldn't be more ideal for families as there is just so much to do.  It's all about having your cake and eating it here…having complete privacy in your own spacious suite / villa but with all the benefits of a luxury hotel! Each suite and villa has its own saltwater plunge pool that definitely won't tire the children out so head to one of the two giant swimming pools, kids pool or flop down to the hotel's private beach. Watersports, golf, scuba diving, table tennis, tennis, chartering a yacht are all on offer here and there is also a huge variety of restaurants to please even the most fussy child eater.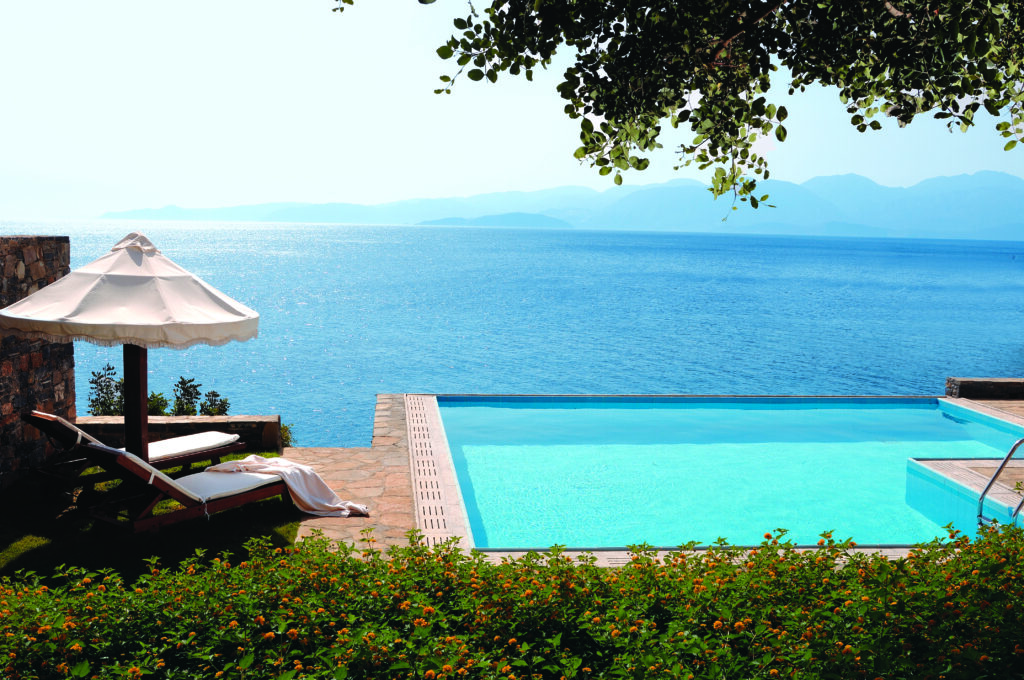 For the Foodies
Harvest is in full swing by the time October reaches the Med,  bringing a riot of colour and festivals to celebrate the harvested produce.  You can taste the first grapes and olive oils of the season…  Food is everything to us, and we promise you'll love these…
The Douro Valley is the oldest demarcated wine region in the world where grape harvest and wine production goes back 2,000 years, and although magnificent at any time of year, Autumn truly is one of the most beautiful seasons to visit; when the vines turn into majestic reds and golds.
Standing in the oldest wine region in the world, Six Senses Douro Valley is a magnificent historic manor house with panoramic views along the UNESCO World Heritage listed valley with its own 19 acres of estate and surrounded by vineyards as far as the eye can see. As you would expect the wine list is rather extensive and you will be able to quaff the very best of the region. It even has its own Wine Library!  October is a wonderful time to walk and cycle the many paths along the valley and through the vineyards, and you can't come here without a wine tasting.  The dedicated wine team can create bespoke wine tours in the region … and you can celebrate the latest produce as well as delve into the cellars and taste some of the finest vintage bottles.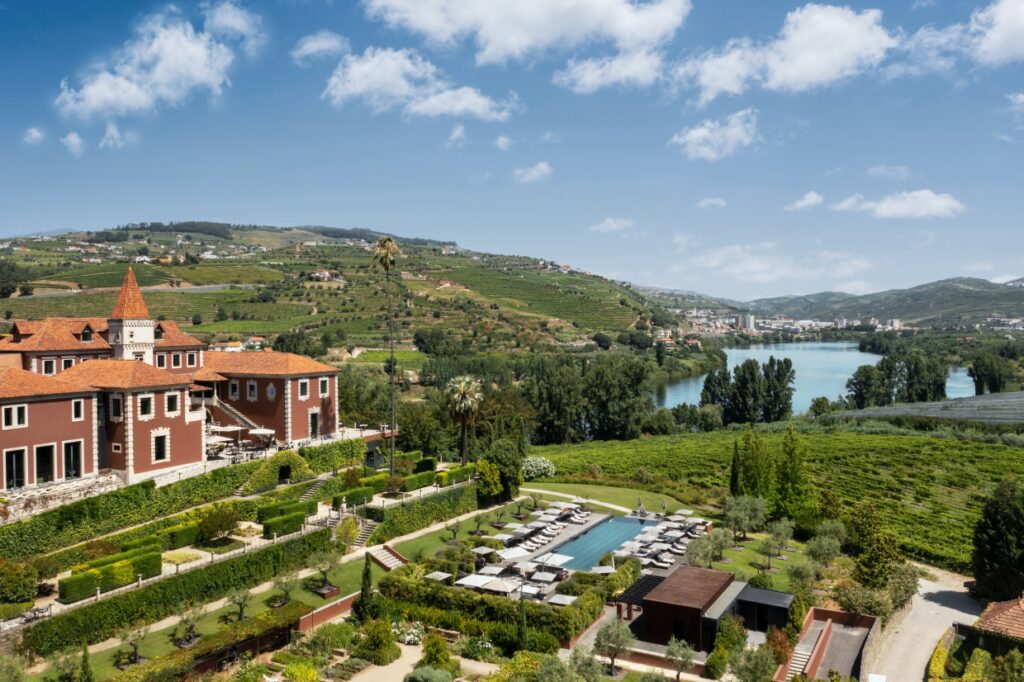 Recognised for its incredible gastronomy and world-class winemakers with a growing number of small wineries dotted across the island, Mallorca has much to celebrate when the harvest comes.  And by October much of the hard work has been done and it's time for some revelry… food and wine festivals pop up all around the island!  Hiking is fantastic at this time of year, and a last dip in the warm sea a must.
Tucked away in the historic market town of Santanyi, Can Ferrerata is a converted 17th century farmhouse which has been lovingly renovated into a thirty-one room boutique hotel by the Soldevila-Ferrer family.  With intriguing historical touches, cool courtyards and gardens, muted earthy colours and a library full of designer books, Can Ferrerata is sleek and modern but with the rustic charms of traditional Mallorcan life.  There are vineyards producing delicious wines all around the hotel and guests are very much encouraged to tour the cellars and taste some of these local delights…before returning to relax by the swimming pool, or spa with hammam and indoor pool.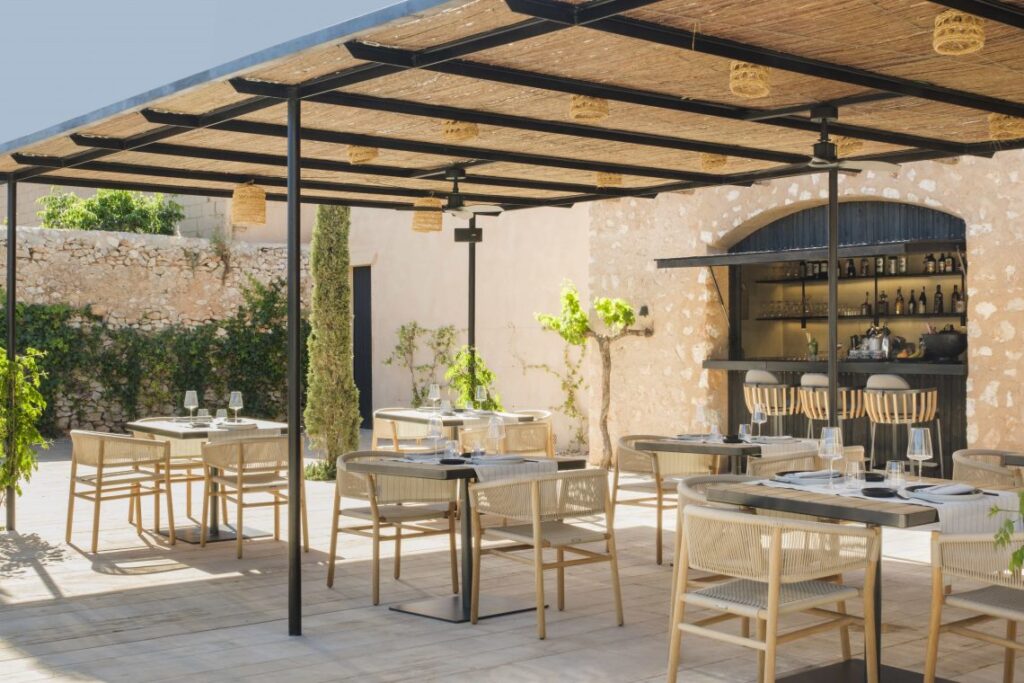 While vineyards bear precious fruits, the land in Northern Italy offers nuggets of delights in the form of truffles – some even worth their weight in gold!  They were first discovered by the Romans, who adored them for their aphrodisiac qualities…and today truffles are celebrated for their distinctive flavour.
A stunning castle retreat set in 1,500 hectares of pristine Umbrian wilderness, Castello di Reschio is a vast estate producing its own biodynamic wines and olive oil… even the honey comes from its own hives.  The estate has everything from wine tasting in the Enoteca to fishing, looking for porcupines and wild boar in the forests, and galloping across the grounds (did we mention it has it's own equestrian centre with some of Italy's best dressage horses..).  But for the foodies amongst us … we promise you will love the truffle hunting trail. Accompanied by a local expert, you will forage through the forests to snuffle out this rare delicacy, followed by a cooking demonstration and delicious truffle-themed lunch.  Delicious!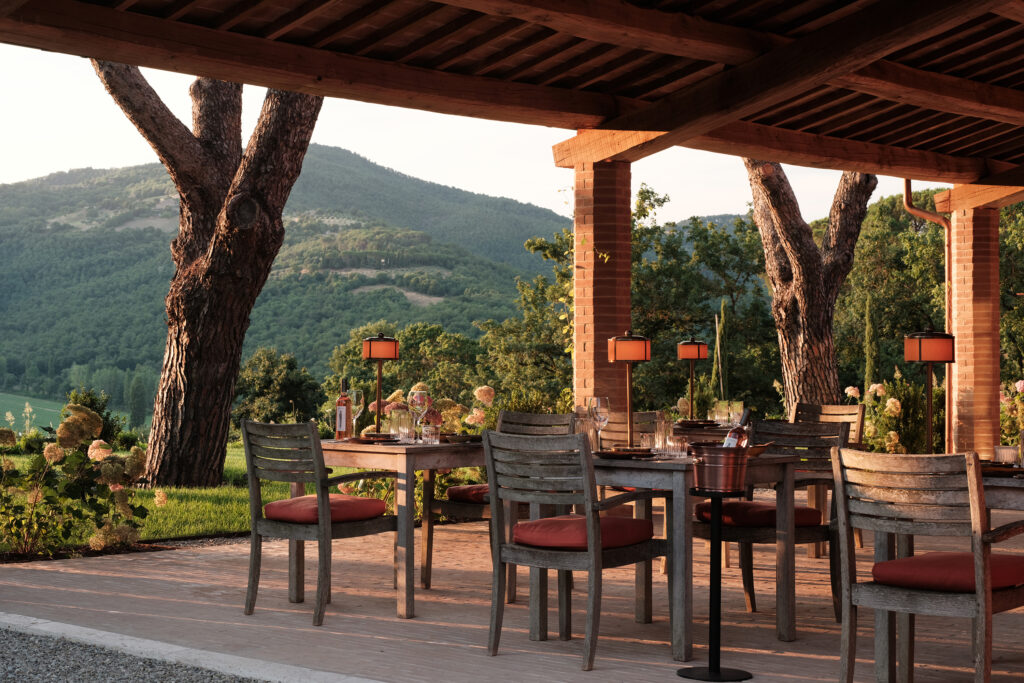 Far Flung Destinations
For those wanting barefoot luxury, white sands and crystal clear waters, this is the time to cast yourselves away to desert island… whether Mauritius or the Caribbean, Fish&Pips will have just the ticket…
October is one of the best time to visit Mauritius – it's dry and warm with lots of sunshine and a most pleasing gentle breeze…
Constance Prince is one of our absolute favourites – remote and surrounded by lush rainforest and palms with pristine white beaches and turquoise ocean, we have here one tropical heaven. You will stay in traditional Mauritian thatched suites and villas with infinity pools, set amongst the 60 acres of lush gardens. Days will be spent playing tennis or golf and exploring the island by bike while the sea provides all the water sports, including sailing, paddle boarding, kayaking and waterskiing as well as deep sea fishing. Families are welcomed with open arms with Family Suites and a kids club full of very cool activities.  We can't recommend more highly – in fact we wish we were there right now!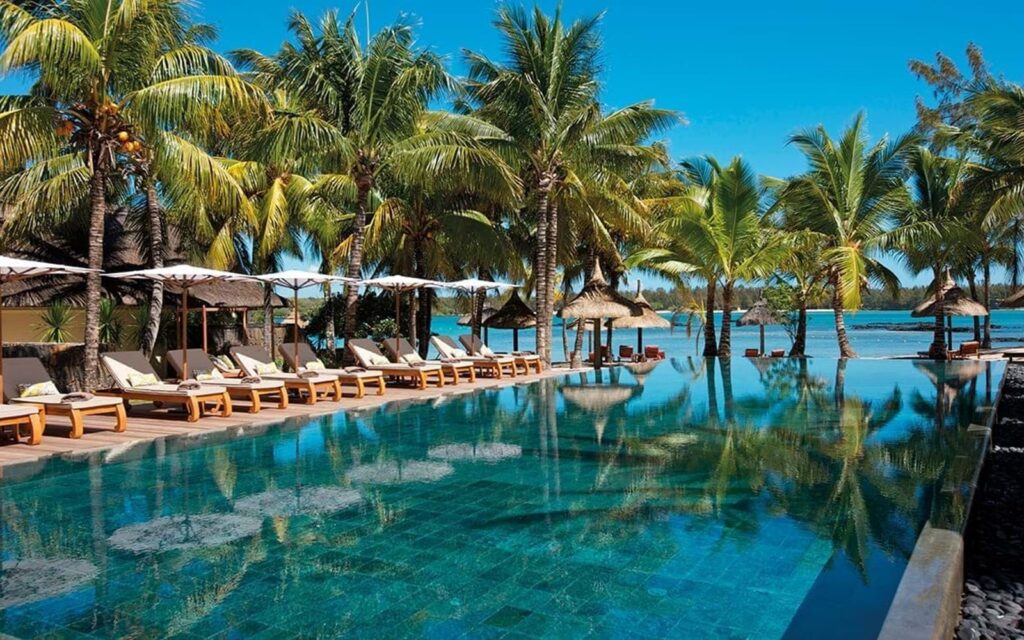 Although the average high is around 30 degrees in October there are cool breezes, which makes it a perfect Caribbean heat.
Curtain Bluff is a firm favourite of the F&P team. Located on the southern tip of Antigua in the Leeward Islands, Curtain Bluff encompasses 20 acres of lush tropical gardens on the Curtain Bluff peninsula, overlooking the Caribbean Sea and two beautiful beaches. You will never be bored…there is a tonne of activities included in the daily rates: tennis (4 championship courts), squash, sailing, water-skiing, scuba diving (for certified divers), guided snorkelling trips, sea kayaking, paddle boarding, bocce, shuffleboard and basketball just to name a few.
Curtain Bluff is that rare mix of genteel hospitality and contemporary bells and whistles. It is an effortlessly elegant, timeless classic. Its beachfront location is incomparable, with superb beaches either side – surf to the left of the spit and calm waters to the right, so going straight from paddle boarding to surfing is just a short walk. The service is top end and you're even whisked seamlessly through the airport to arrive in style. And because the food is so good, it's one of F&P's firm Caribbean favourites.  This is truly a gem, and it's no surprise that guests return year after year.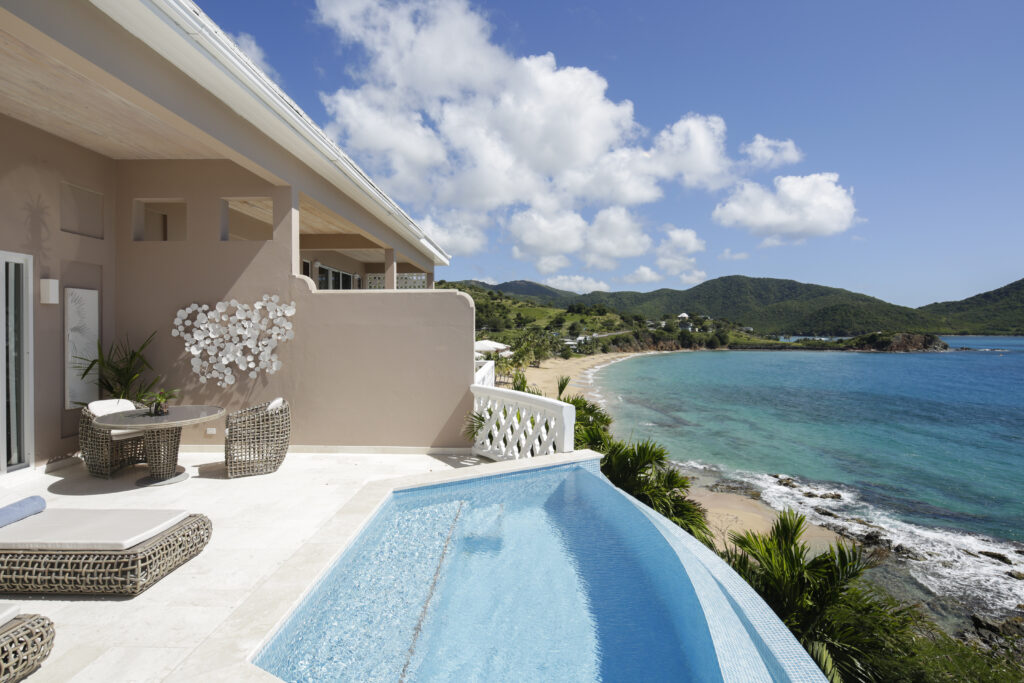 Late Summer Sun
Don't give up on Europe just yet… there is still plenty of sunshine to soak up in October , especially if you head south…
SAILING IN TURKEY: THE TURQUOISE COAST
With its warm climate, the sailing season is longer in Turkey than other parts of the Mediterranean and lasts well into October.  Beautiful climate, warm seas and fewer tourists…
There is no gulet more beautiful than family-owned, 'The Salamander', which resides on the southwestern coast of Turkey.  A wonderful alternative to a traditional villa holiday, this is an incredible way to explore the Med with a close group of friends or family. You won't get a bigger pool…!
Onboard this classic wooden vessel, you won't have to lift a finger with a host of crew on hand to help with every want and a chef who prepares superb traditional Turkish recipes using fresh and locally sourced produce.  Sail along the beautiful Turkish Riviera and marvel at the unspoilt coast with its ancient cities, isolated villages, harbours, tombs and sun-drenched sandy beaches dotted along the Turquoise Coast.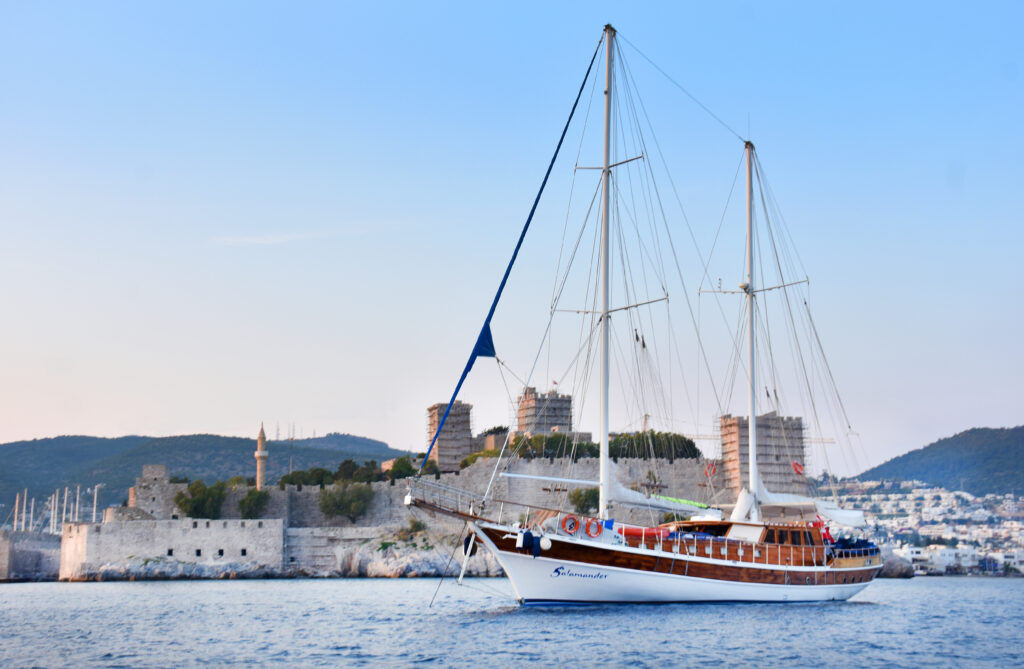 As far as Cyprus is concerned it is firmly still Summer in October with a warm sea to dip into and highs of around 26 degrees. The cooling climate is also perfect for being a little more active and exploring the sights such as the Troodos mountains and various heritage sites. There is more to Cyprus than just beach!
Set in eight acres of beautifully manicured gardens, Almyra is chic and stylish looking out over the seafront promenade and within walking distance to the UNESCO heritage site of Paphos.  This is the ideal spot to venture out and explore the treasures of Cyprus and after a day out you will be ready to retreat back to the sanctuary of the hotel's adult only Almyra spa with its indoor and outdoor infinity pool, rooftop lounger.  There are five pools throughout the hotel, tennis court and windsurfing, waterskiing and kite-surfing all on the doorstep, as are some serious golf courses.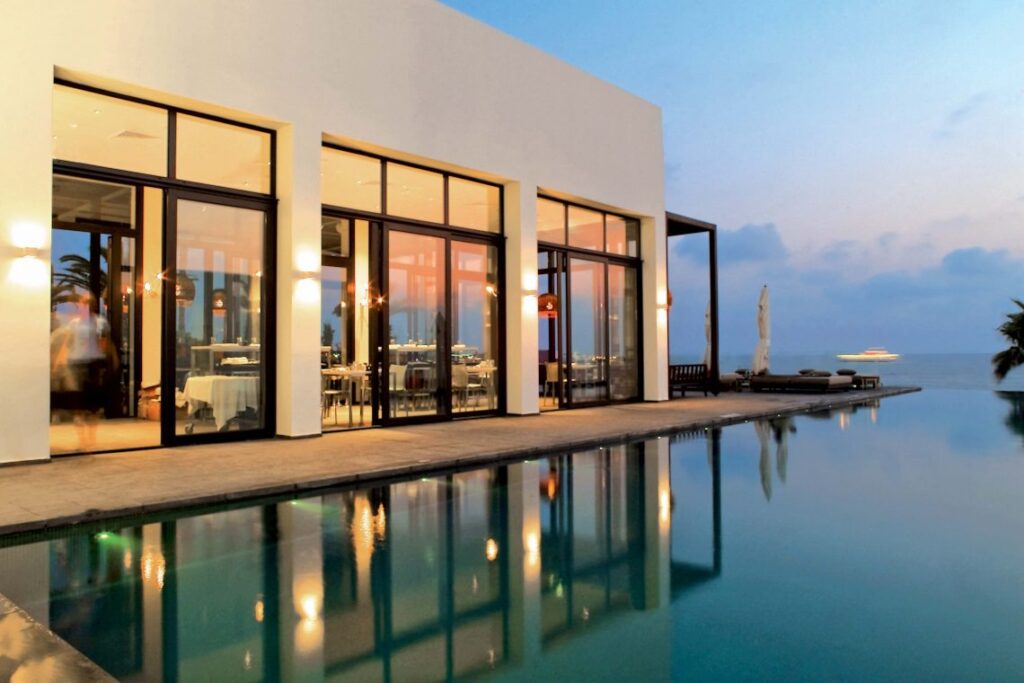 To book your October getaway by speak to Gemma and Jo by phone (01306 264 005), or via email ([email protected]), or