We simply can't wait to enjoy another lovely holiday in Menorca. Relatively off the beaten track compared to Mallorca or Ibiza, Menorca is a contender as one of our favourite destinations for precisely that reason!
Boasting beautiful Balearic scenery and sparkling Mediterranean sea, a holiday in Menorca can be as relaxing or adventurous as you choose. Savour some local wines in the balmy climate, or explore the island's fascinating history on foot, bikes, or horseback.
A holiday in Menorca is unforgettable. From the fabulous seafood cuisine to the pristine beaches, there's something to satisfy everyone. With a stable climate and year-round warmth, Menorca can be happily visited at any time.
We love all that Menorca has to offer, and only hope to be back soon!
Reasons to visit Menorca:
Menorca is absolutely gorgeous. A less-travelled gem in the Balearics, Menorca is the wildest of the cluster. Designated as a biosphere reserve by UNESCO in 1993, the unique Mediterranean landscapes are worth visiting. You might even encounter some of the endemic animal or plant species, like the critically endangered Balearic shearwater.
Though untamed in parts, there's plenty of civilised calm spread across the island. Recent years have witnessed the resurgence of local wine production in Menorca. Fertile grounds conjure exotic flavours, deliciously complementing locally-sourced seafood from the rich Mediterranean waters.
You'll find lots to explore, too! The entire island is 60km by 20km, which facilitates travelling anywhere you might find interesting. If the stunning beaches and interesting coves aren't enough, wander through the megalithic stone monuments as you wonder their purpose. Dating back to prehistoric human activity, we still don't know what they were used for!
If you're craving action, Menorca won't leave you disappointed. There's a wealth of outdoor activities, from sailing and kayaking to cycling and horse riding. Our handpicked hotels have gyms and spa treatment rooms to add some variety to your stay. A holiday in Menorca can be tailored to anyone!
Where to stay during your holidays to Menorca:
To make your holiday in Menorca as luxurious as possible, we've specially handpicked two incredible hotels. Combining modern yet understated elegance with Menorcan tradition, you'll find yourself transported into a different era. Better still, as sister properties, you can enjoy the best of these hotels during your stay, no matter which you choose!
A gorgeous 17th Century Palace situated in one-hundred hectares of extravagant gardens, strewn with olive, palm, pomegranate, and fig trees. Once home to British aristocracy, preserved old details endow Santa Ponsa with a mythical air.
Adults searching for some natural seclusion will find a perfect retreat in this Menorcan hotel. A sanctuary inspired by stories of the Arabian nights, Santa Ponsa exudes charm, merged with modern splendour. Find yourself in the main manor house, or one of the converted barns scattered throughout the grounds, each individual in style with a distinctly colonial twist.
Recline on your private terrace, indulge yourself in the treatment rooms, or breathe energy into your day with a yoga class.
A bohemian retreat in a classic Menorcan 'finca', this whitewashed former guard tower stands magnificently close to staggering cliffs, situated in a two-hundred hectare estate. An atmospheric courtyard serves as the beating heart of this untouched and magical location.
Here, the spacious suites are perfect for families hoping to sprawl outwards whilst enjoying some privacy. Rooms can even be upgraded to the pool suites, fully immersed in nature with private access to their own pool, or the independent 'Casita'.
Unwind in the glorious Torre Vella, with cliff-top yoga and a range of al fresco treatments. Alternatively, find yourself exploring the coastal path and nearby caves!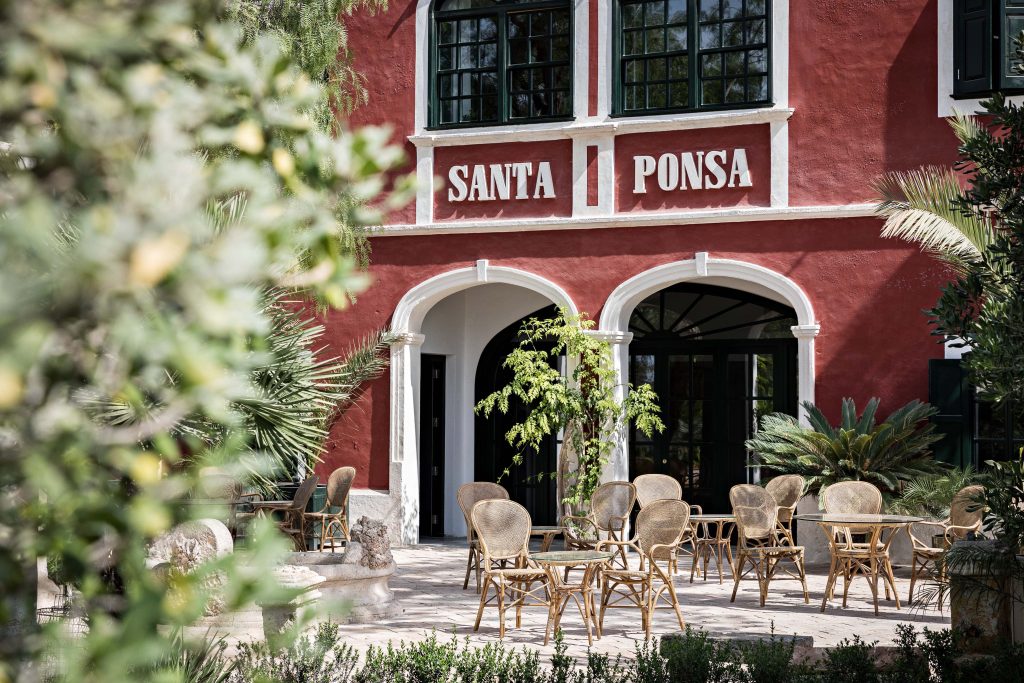 Where to eat during your holidays to Menorca:
Restaurant Nura – meaning 'Island of Fire', Santa Ponsa's provides a delicious fusion of flavours from Spain and the Middle East. Ingredients are sourced either from the hotel's own gardens or from local suppliers. This means the menu changes frequently depending on what is in season! If the weather is nice (it rarely isn't!), guests can eat on the terrace overlooking the gardens, under the majestic oaks.
The bar at Santa Ponsa is eastern and colonial style décor and will transport you back to a different age. A free shuttle bus will take you to Siempreviva, which is not open to the general public.
Restaurant Siempreviva – this special restaurant is associated with Torre Vellas and remains private to guests of the two sister hotels. It's menu also fluctuates depending on what is fresh and in season, with much of the food sourced from the gardens. There is a distinct focus on nature, so vegetarian and healthy dishes with fresh salads can be expected to be seen on the menu.
The bar at Torre Vella is a relaxed affair and a good place to relax after the day soaking in the sunshine. A shuttle bus also runs between these two restaurants, allowing guests to enjoy a change of scene.
Restaurant Cap Roig – perched just above Cala Mesquida, another beautiful beach, the unmissable views still come second to the spectacular food. Fish freshly captured from the surrounding waters are served alongside succulent, deep-fried prawns, and paella dishes that leap of the menu.
Restaurant Mon– recently transformed into a boutique hotel, Mon aims to generate a unique experience for its customers, inviting them to take ownership of their surroundings through the name. Inventive dishes are served with fantastic value, returning to the simplicity of traditional Menorcan dishes.
Café Balear – across the island, nestled in Ciutadella's port, Café Balear serves stellar tapas. Outdoor seating under white umbrellas is very pleasant, though it can grow busy during the most popular dining hours, so plan your visit accordingly!
What to do during your holidays to Menorca:
There's plenty to uncover in Menorca's culture and history. The mighty stone megaliths are a perfect starting point, with a number of museums spread across the island providing more information. The Museu de Menorca represents not only a fascinating collection but is housed in an impressive Franciscan monastery.
Food and drink is another important element of Menorcan culture, and perhaps why we enjoy our visits so much! Sample local dishes constructed from freshly-sourced ingredients with a glass of iconic Menorcan red wine. The influence of British colonialism lingers in the local preference for gin, which, when locally produced, closely resembles the taste of brandy.
There's always something for the more active-minded too. Charter your own boat or hire kayaks to explore the coastline from a different perspective, or simply dive into the crystal-clear waters offshore. Should you roam the coastal path, we particularly loved the experience on horseback. Following the Cami de Cavalls, path of the horses, is brilliantly scenic, outlining the island, and can be traversed on foot or on bikes as well.
Diverse Beaches in Menorca
Menorca is quite literally bursting with unbelievable beaches. Sensationally, craggy outcrops melt into divine seas, with warm waves lapping over glorious sand. Our favourite remains a competition between Caló Blanc and Cala Trebalúger. The former might be lacking in sand, but boasts supremely clear water and rocks from which to leap. The latter requires a twenty-minute walk from Cala Mitjana, but rewards explorers generously with incredible views and spotless sands. Anyone seeking conventional sunbathing or armed with young children might enjoy Platja des Grau, a bustling bay with far-reaching shallows.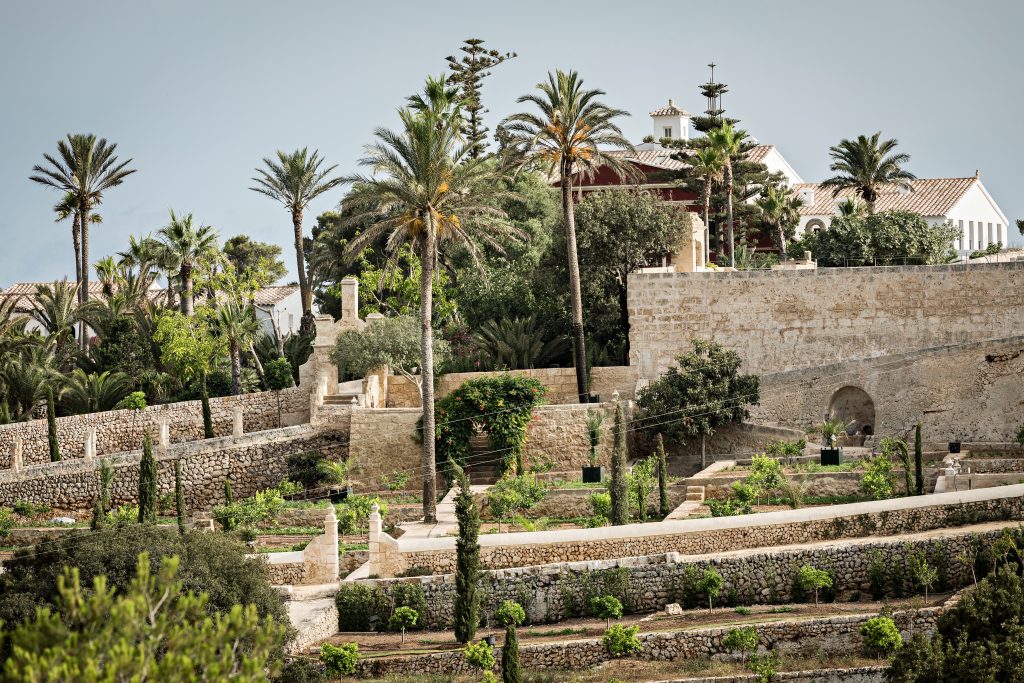 Best times to visit Menorca:
Menorca is blessed by a Mediterranean climate. The summers are hot and dry, whilst winters are mild with the occasional rainfall. Avid sunseekers are best served by visiting in June, July, or August, when temperatures regularly exceed 30˚, and the days enjoy unfettered sunshine.
Falling off the beaten track, Menorca does not experience equal crowding to Mallorca or Ibiza. You might prefer, however, to time your visit with the shoulder season. The milder temperatures still comfortably outshine the UK, and are better suited to those hoping to enjoy more activity.
Whatever your preference, make sure to check availability. Accommodation and tours can grow busy during peak seasons, whilst some providers might close during the off-season.
Organising your holidays to Menorca:
Getting to your holiday in Menorca should be easy. The hardest decision you'll have to make? Choosing between our wonderful hotels!
Flights to Menorca land in Mahon Airport, located within the capital's city limits, under three miles away from Mahon City Centre. Flights are also available out of all London terminals, taking roughly two-and-a-half hours.
There is limited public transport, with the exception of various bus networks. Travelling by road is the most convenient option, with both car hire and taxi services available from the airport. Santa Ponsa and Torre Vella are just twenty minutes away, and less than ten minutes away from each other.
–
Booking with Fish&Pips is choosing honest and expert advice. We provide a personally curated service for properties we love, including intimate knowledge and essential tips informed by our stays. Let us know if you have any needs, especially if booking a holiday in Mallorca!
You can contact our friendly team through our booking form, or email [email protected].