Portugal's scenic Algarve region is perfect for a stylish holiday. We simply adore the raw majesty of the dramatic coastline, spectacular Natural Park, and fragrant woodland. Scattered with a number of historic towns and exhilarating activities, there's truly something for everyone!
The Algarve boasts breath-taking views and a powerful landscape. By remaining connected with nature, the local experiences offer unforgettable memories whilst guaranteeing a slice of luxury.
The true brilliance of a holiday in Portugal's Algarve is the emphasis on authentic experiences. Organised with the help of our locally-based partners, you can find yourself absorbed in anything from gyrocopter rides to private, sunset cruises. The opportunity to fully immerse yourself in traditional culture is a precious one deserving of exploration.
Everything about holidays in Portugal's Algarve just exudes beauty. Despite our many visits, something always calls us back. From the welcoming hospitality, glorious food that follows the traditional harvest, and exquisite style of the area, we can never escape the Algarve!
Where to stay in Portugal's Algarve
During our time in the Algarve, we at Fish&Pips have carefully curated a collection of our favourite hotels. They perfectly exemplify all the best qualities of the region in their elegant architectural designs and fantastic array of facilities. For anyone hoping to make their holiday in the Algarve special, look no further than our selection.
A unique location in the Algarve where time adopts a different meaning, governed by the cycles of the natural world. The epitome of a classic farmhouse, it perpetuates a timeless elegance through cool, white-washed interiors and magnificent gardens strewn with olive and orange groves. Vila Monte is all about authenticity and simplicity. It's a truly unspoilt and hidden gem, with a wealth of things to see and explore in the surrounding mountains and along the coast.
On the southwestern tip of Portugal – the very edges of Europe, Martinhal has all the facilities of a resort, with the feel of a beachside retreat. With a wide, sandy private beach, there are water sports galore. For those seeking some land-based fun, there's tennis, cycling and horse riding and even a very relaxing Spa. Easy to get to, this remote part of the Algarve has a very unspoilt vibe, and the dramatic landscapes are worth exploring.
Local experiences in Portugal's Algarve
Portugal's Algarve might be splendid enough to justify doing nothing but relaxing, but can be made even more enriching by the vast array of potential activities. This is part of the reason we love our hand-picked hotels, since they can help organise anything you might be looking for. For thrill-seekers and luxury-addicts alike, complete your perfect holiday with an unforgettable experience!
During your stay, you can uncover the wellness pillars of Vila Monte. Their classes, whether they revolve around yoga or massages, are designed to lift your spirit and cleanse your energy. You're especially in luck should your stay coincide with a full moon! Guided only by the bright natural lights of the night sky, find yourself on a nocturnal wildlife hike illuminated by twinkling stars. By connecting with the vast yet intimate world of the Algarve, you'll return home refreshed and reinvigorated.
Where Vila Monte specialises in energising the soul, Martinhal is veritably bursting with activities. Confidently exhibiting two tennis courts, five swimming pools, table tennis tables, a multi-purpose sports field, a bike rental centre, and a Water Sports centre complete with windsurfing, Stand-up paddling, and kayaking facilities, there truly is something for everyone. Not, of course, that more indulgent relaxation has been overlooked. Hone your tan on the resort's own private beach, or treat yourself in their spa. You'll be spoilt for choice with Martinhal!
Venturing further into Portugal's Algarve…
…you'll find your hotels can organise a number of additional experiences involving local experts.
For those seeking a deeper insight into Algarvian culture, try taking a salt-harvesting or pottery-crafting course. Alternatively, take advantage of beauty around you with a birdwatching tour along the Ria Formosa, filled with impressive biodiversity. You can also engage in an informative hike as you uncover more about the migrant species and unique geological processes responsible for shaping the park.
The brave-hearted can take to the skies, letting their imaginations fill the unlimited space from the cabin of either a gyrocopter or hot-air-balloon. Alternatively, to neatly blend style with discovery, enjoy one of the region's boat tours. Setting sail under awe-inspiring sunsets, you might even catch a glimpse of resident dolphins!
Exquisite gastronomy in Portugal's Algarve
We certainly value our food, and have never been disappointed by the Algarve. In keeping with ancient traditions, ingredients are locally-sourced dependent on the harvest, and what becomes seasonally available. This ensures your meals will not only be fresh, but different throughout the year. One of our favourites is the dazzling seafood, but Carob, a delicious and healthy substitute for chocolate, is another not to be missed!
We might be slightly bias, but Vila Monte offers one of the region's best restaurants. A number of establishments on-site will introduce you to an enthralling combination of flavours, whilst also offering workshops to help you learn as you sample.
Outro Lado is a wonderful vegan restaurant offering a healthy buffet option, providing alternate versions of Portuguese food with a twist. Here, friendly service comes as standard, and special attention is given to the décor encouraging healthy living. Henrique Leis is another special location fully deserving of its Michelin star, with glorious views overlooking the Atlantic. There are two different rooms, each styled to suit either Summer or Winter, generating a fresh or cosy atmosphere, both complemented by a broad Portuguese wine list. Finally, Casa Velha, perched above a lake, is blessed by brilliant views and a welcoming ambiance. The five- and seven-course tasting menus are incredible, confidently earning their Michelin star.
Locations to explore in Portugal's Algarve
The Algarve, Portugal's southern-most region, is immensely popular for good reason. Frequent stretches of incredible coastline will take your breath away, melting into warm, clear seas. The Seven Hanging Valleys (Percurso dos Sete Vales Suspensos) facilitates an unbelievably scenic coastal hiking route. Towards the south-west of the Algarve, this route passes the double-arches of Praia da Marinha beach, the Vale Espinhaço headland, and unmissable Benagil Cave, only accessible via boat.
It's not merely the staggering beaches and cliffs, however. Parque Natural de Ria Formosa is a protected reserve of glorious landscapes and rich wildlife. A boat is required to navigate the various lagoons and waterways, which only makes the area more exclusive.
For those seeking to uncover the Algarve's heritage, nothing beats the Faro Old Town. Still enclosed by ancient, defensive walls, you'll wander Roman and Moorish foundations as you weave between spacious squares via cobblestone streets. The Cathedral and Museum make for impressive landmarks, but our favourite activity is stumbling in the many cafés and restaurants tucked away, searching for a hidden gem.
One of the most bustling towns in western Algarve is Lagos. With intriguing history dating back to the 15th Century, and Prince Henry the Navigator launching his discovery of the New World, there's plenty for you to explore too. Everywhere you walk, you'll encounter gracefully crumbling castle walls and proudly resolute churches. There's also a nice mixture of affordable shopping and good food to keep you entertained.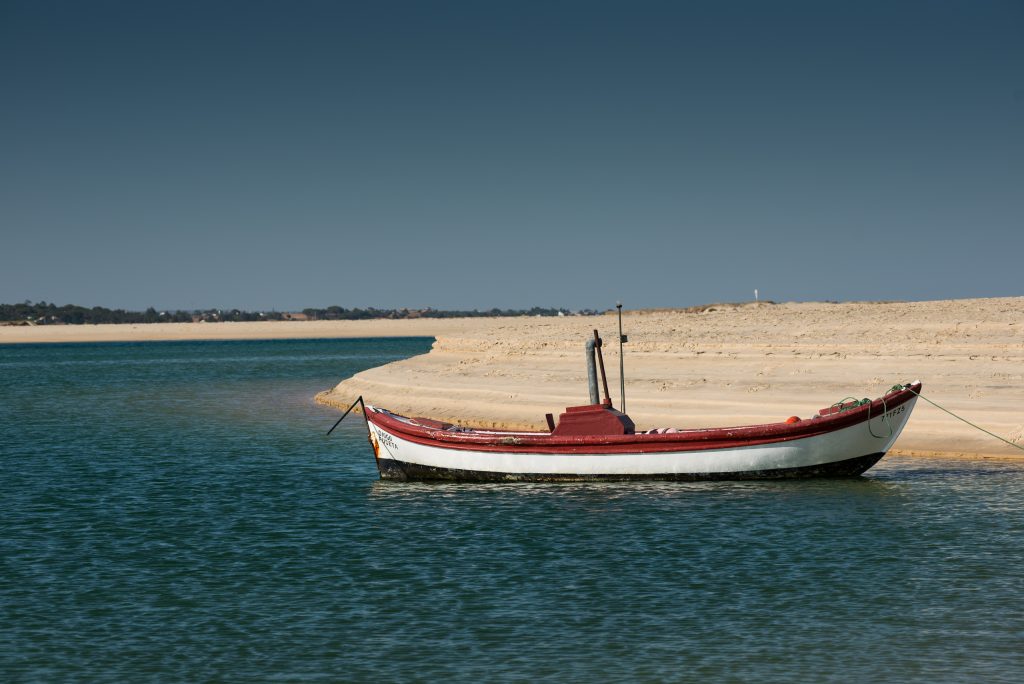 Holidays in Portugal's Algarve
I'm sure you can see why we're so fond of the Algarve! We'd be delighted to help you explore this fascinating region, so please contact one of our friendly experts today. Alternatively, why not take a peek at our Portugal collection? Make sure you enjoy unforgettable holidays in Portugal's Algarve!