Lose yourself in a tropical, all-inclusive Caribbean paradise!
There's truly nothing else quite like the Caribbean. Deservedly renowned for glorious beaches, friendly people, and a toasty climate, it's hard not to love these dreamy islands.
Antigua stands proudly in these ranks. Blessed by 95 miles of exceptional coastline, you'll find sands of white, pink, and black, all melting into warm, crystal-clear waters. With reefs and a thriving marine life to gaze at, swimming and snorkelling here is amazing. As if the beaches aren't already some of the most impressive in the world, it's also well-known there are even 365 of them– one for every day of the year!
It's far from all about the beaches, however. Dotted with colourful villages across the undulating, inland slopes, Antigua is buzzing with a friendly atmosphere. First settled by British colonists in 1632, there's still a distinct English feel. Travelling across the island, just 13 miles across, you'll find plenty of rich history and fun activities.
The exquisite food is another great reason to visit. Authentic Caribbean cuisine can be found all over, from beachside shacks to waters-edge restaurants. This remarkable range includes delicious seafood too.
Antigua is simply bursting with interesting sights to be uncovered.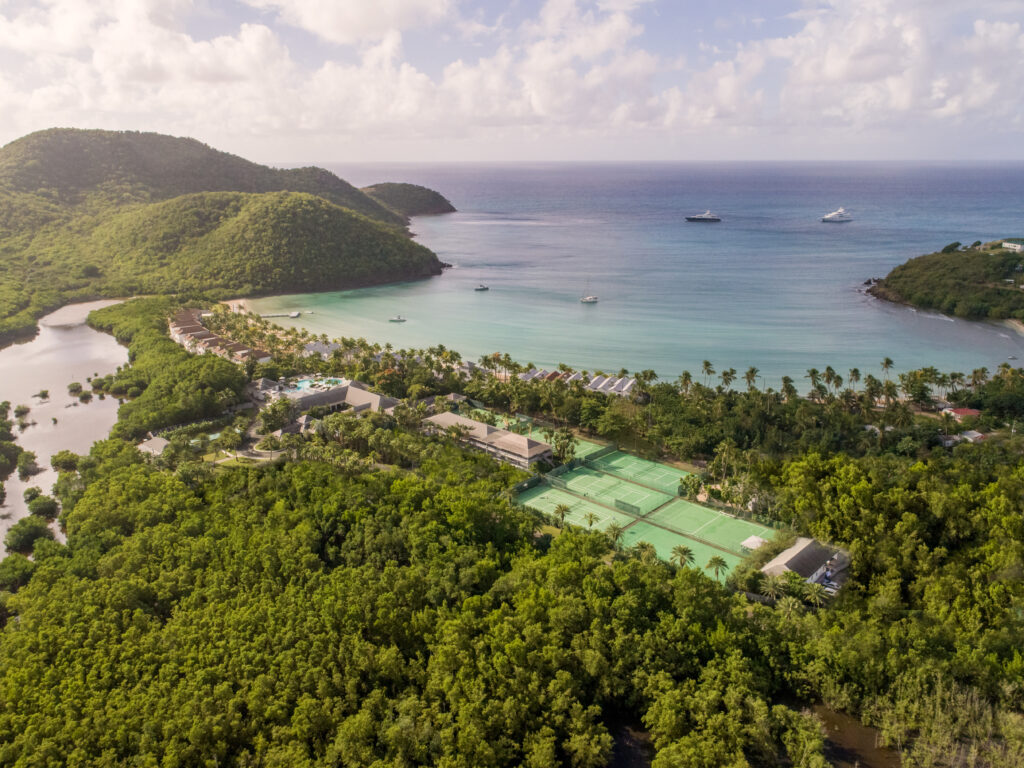 All-inclusive holidays in Antigua
All-inclusive holidays in Antigua hardly resemble the dreaded myths. Far from buffet crowds and jostling for sun beds, all of our specially hand-picked properties are all-inclusive, and have delicately fostered a welcoming, intimate atmosphere, sprinkling elegance in all directions.
Exuding pure luxury from a white crescent beach in front, and tropical rainforest behind, Carlisle Bay has one of the loveliest spots in Antigua. With extensive gardens, palatial colonial-style architecture, and minimalist interiors, it's both chic and discrete, yet unpretentious. The vibe is relaxed, and service is most definitely with a smile. The Beach Terrace Suites open directly onto the sand, stretching deep into glorious reefs bursting with marine life. Their spa is brilliantly relaxing, a sense which spills into the grounds. Everywhere you step, you'll feel at peace. They also offer a variety of water sports, a gym, and tennis courts, to keep yourself active whilst enjoying the weather.
Here, all-inclusive means 3 fantastic restaurants and a beach-side bar, Cool Kids Club, and Yoga Pavilion.
A fantastic blend of classic seaside elegance and intimate charm, Curtain Bluff is a welcoming destination, well-suited to pampering both the mind and soul. The entire resort feels like retreating into a private villa with friends. It's understandable so many 'returners' find themselves back each year. We'd understand if lounging, cocktail in hand, fulfils all your desires. However, Curtain Bluff also has plenty of activities, including diving and water sports, all included in the room rate. The Cee Bee Kid's Club is perfect for ensuring they have ample entertainment, whilst allowing you to focus on the all-important relaxation. Experience the best of both worlds, prioritising everyone's satisfaction.
For an idyllic outlook, Hermitage Bay is hard to beat. Reached by a long dirt track on the west coast of this island, and surrounded by 140 acres of wooded wilderness, it's a very private adult-only retreat. Looking back from the beach, the cottages blend effortlessly into the scenery, with a fabulous contrast of colours between the dark wood, the lush green vegetation, and the aquamarine water. The only sounds are rolling waves against the glittering shoreline, and rich fragrances fill the air. With plenty of time to do nothing, you can also choose from a variety of activities, from tours of the grounds to SCUBA diving, or golf and tennis on their championship grounds.
Each day, you can enjoy shifting breakfast, lunch, and supper options, accompanied by snacks and beverages whenever you desire.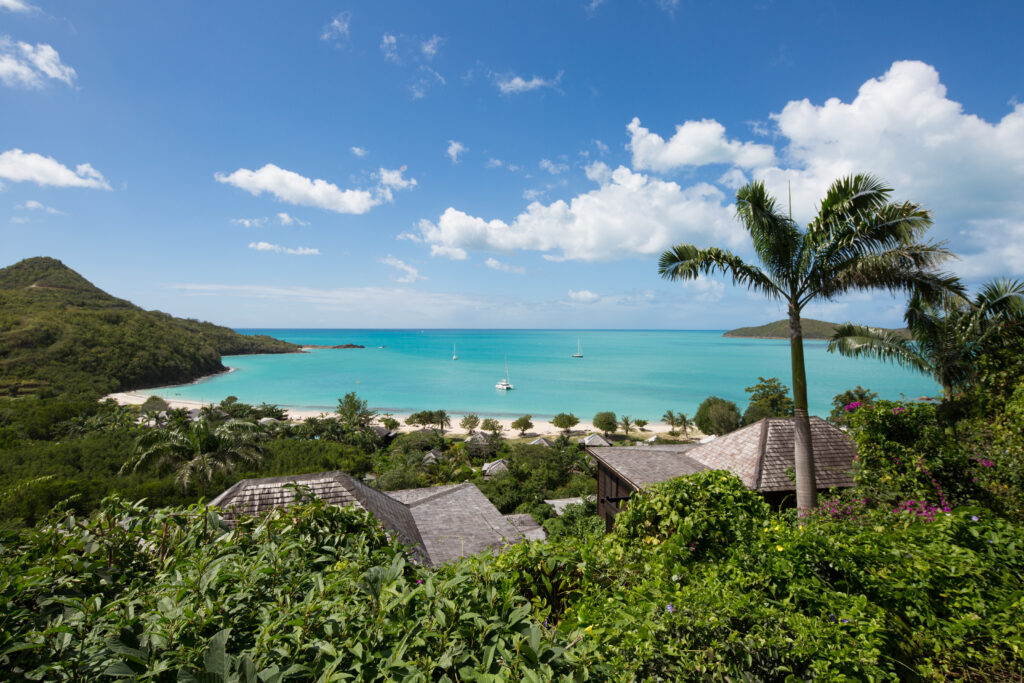 Exploring Antigua
Antigua has an intriguing history undoubtably worth engaging with. The Museum of Antigua and Barbuda, found in the middle of St. John's, just 30-minutes from the resort, charts much of the island's development in an engaging fashion. It's even believed to be the oldest building in town itself!
Visiting Devil's Bridge is a reminder of the darkest aspects of Antigua's past. This natural arch is so-named because slaves forced into labour on the nearby sugar plantations would commit suicide here, apparently compelled to do so by the devil. Now, it stands as both a symbol of the island's storied history, and a staggeringly impressive natural feature. Nelson's Dockyard is another worthy attraction. A World Heritage Site, it was first developed as a British Naval base in 1725, and briefly fell under Lord Nelson's command.
No trip to Antigua is complete without a visit to Shirley Heights. Excursions here are accessible by car or on foot, via the Lookout Trial, whereupon you'll find stunning ocean views overlooking Montserrat and Guadeloupe. This former fortress is the perfect place for a sundowner. Local bands also play live music on Sundays, with drinks and a barbeque taking over the afternoon. It's an unbelievable spot to watch the sunset, with Caribbean and international music washing over you.
All-inclusive holidays in Antigua
Now is the time to adventure to Antigua! There's no better way to visit than embracing the charming decadence of our all-inclusive properties. Speak to our resident experts Philippa or Gemma (01306 264 005) to start your planning today!