Holidays to Iceland – In a land of dazzling extremes, there's truly something magical for everyone all year-round. Holly visited and immediately fell in love.
Iceland is a magnificent realm unlike anywhere else on the globe, where you'll find midnight sun in summer and the blazing Aurora Borealis in winter. Our carefully crafted collection of properties here boast a fabulous combination of incredible experiences, delicious food, welcoming hospitality, Icelandic culture, and indulgent comfort.
Discover what makes a holiday to Iceland so unmissable…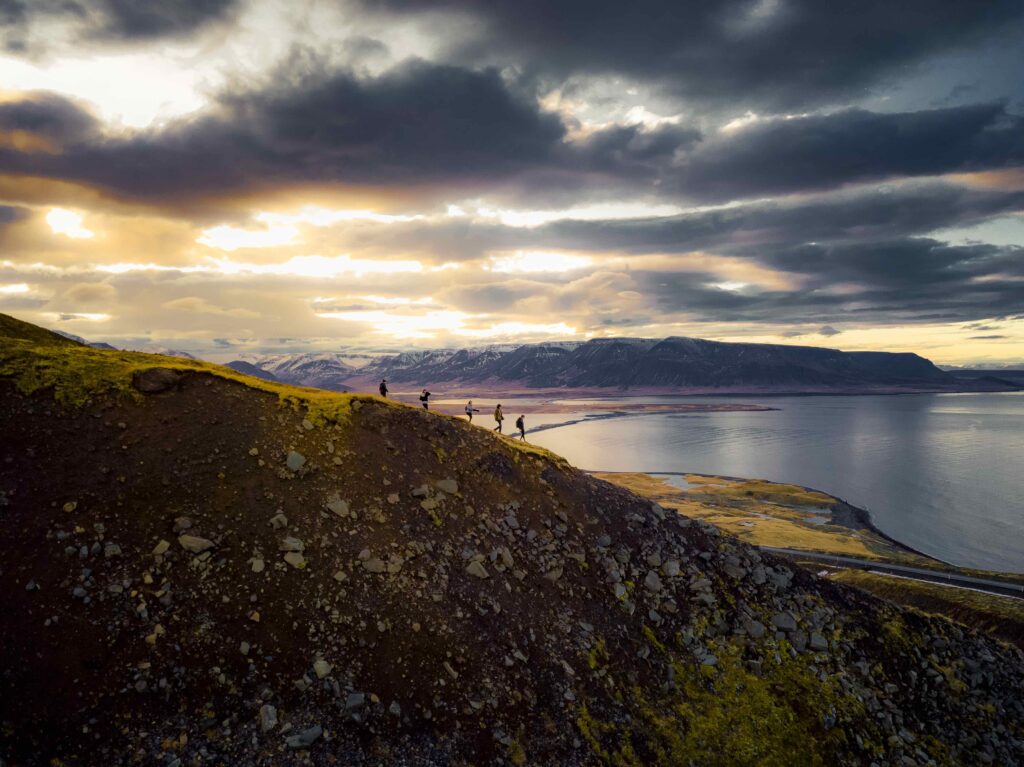 Why holiday in Iceland?
Although Iceland feels like another world all together, it is actually just a short hop away from the UK, meaning you will feel somewhere completely unique within just a few hours of leaving home.
It is a land of vast extremes with breath-taking scenery at every turn. Imagine a landscape of active volcanoes, glaciers, lava fields, black sand beaches, blue ice caves, and geothermal pools.
It's a place for pure adventure and wonder, here you'll find both relaxation and exhilaration in the same breath, with a dazzling array of activities to discover.
They are leading the way in terms of sustainability. Their most recent plans aim to reduce greenhouse gas emissions by at least 55% compared to 1990 levels by 2030, reach carbon neutrality by 2040, and completely phase out fossil fuels by 2050. Blessed by immense geothermal power, it makes perfect sense to work hard towards preserving the country's natural beauty.
Icelandic cuisine is local, fresh and fascinating. Picture huge greenhouses growing the most delicious of tomatos!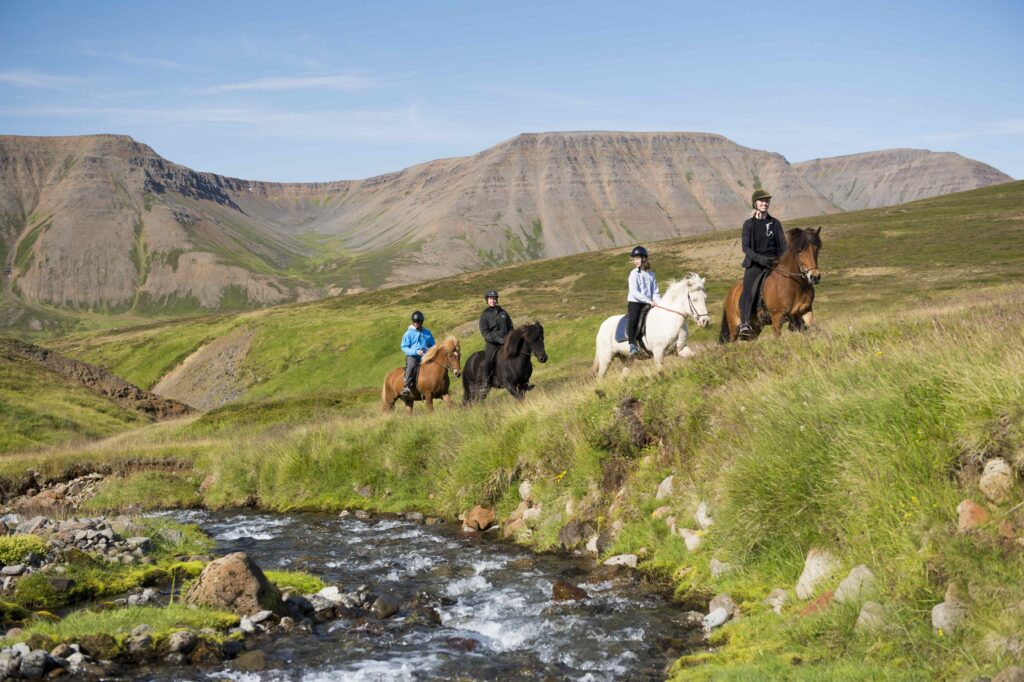 Who is Iceland best suited for?
Iceland is one of the friendliest and safest countries in the world, so is suitable for everyone! Iceland ticks all the boxes for both adventure seeking and knowledge thirsty travellers. Scuba diving between tectonic plates, exploring dormant volcanoes with expert geologist guides, surfing empty waves, SUP-ing up forgotten fjords and rejuvenating in some of the world's top spas are just some of the highlights on offer. So whether you are seeking a romantic getaway to a spa retreat in geothermal waters, or hunting an adrenaline filled week in the extreme wilderness, or a bit of both, Iceland has you covered.
Although Iceland is a very safe environment for young families, we believe it is best suited for children older than ten as we think they will absolutely love learning about the fascinating landscapes, and taking part in the adventure filled activities.
Since Iceland is so diverse, holidays can be catered towards any liking. Talk to us, and we'll help cater the perfect Iceland itinerary to your preferences.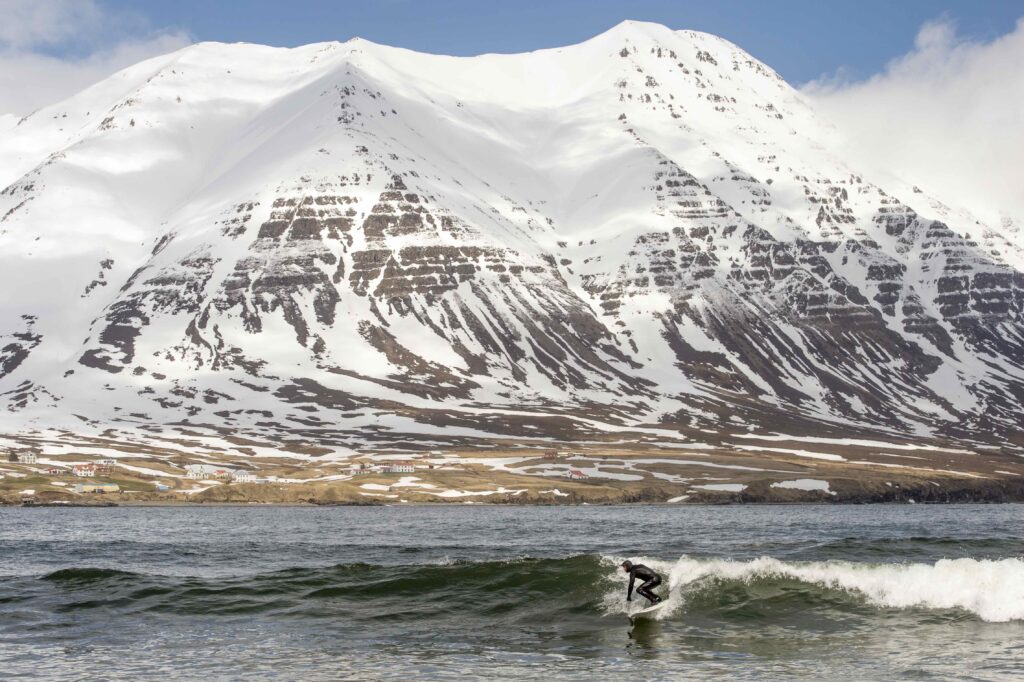 When is best to visit Iceland?
When considering the best time of year to visit Iceland, the only real question is which activities you're looking for. Every season brings something new and exciting.
The best months to enjoy the Aurora Borealis are between September to mid-April, when the nights are longer and darker. This dancing display also becomes more pronounced the further north you venture. Winter is also the best time for snow sports, including anything from cross-country skiing to dog-sledding.
Summer in Iceland brings the unique chance to witness a midnight sun. The typically drier and warmer conditions also open up a number of other activities. Wildlife lovers will have a much better chance of seeing migratory whales, whilst puffins and other seabirds can also only be seen during summer months. The highlands can only be safely explored during Icelandic summers, and waterfalls also become accessible, being too slippery in winter.
There are still plenty of activities available year-round in Iceland. No trip is complete without at least a short visit to Blue Lagoon, soaking in the naturally toasty – and regenerative! – waters. Many hiking routes can be explored in all seasons, including glacier treks, and the natural ice cave Katla.
Regardless of the season, Icelandic weather has to be a consideration. Given that Iceland is located within the Arctic circle, you might expect it to be cold. Well, you'd be correct. Thankfully, however, the climate is still milder than most people anticipate. Summers often average temperatures between 10-13˚C, whilst they do often drop in winter to around 0˚C on average. Do make sure you pack some extra layers!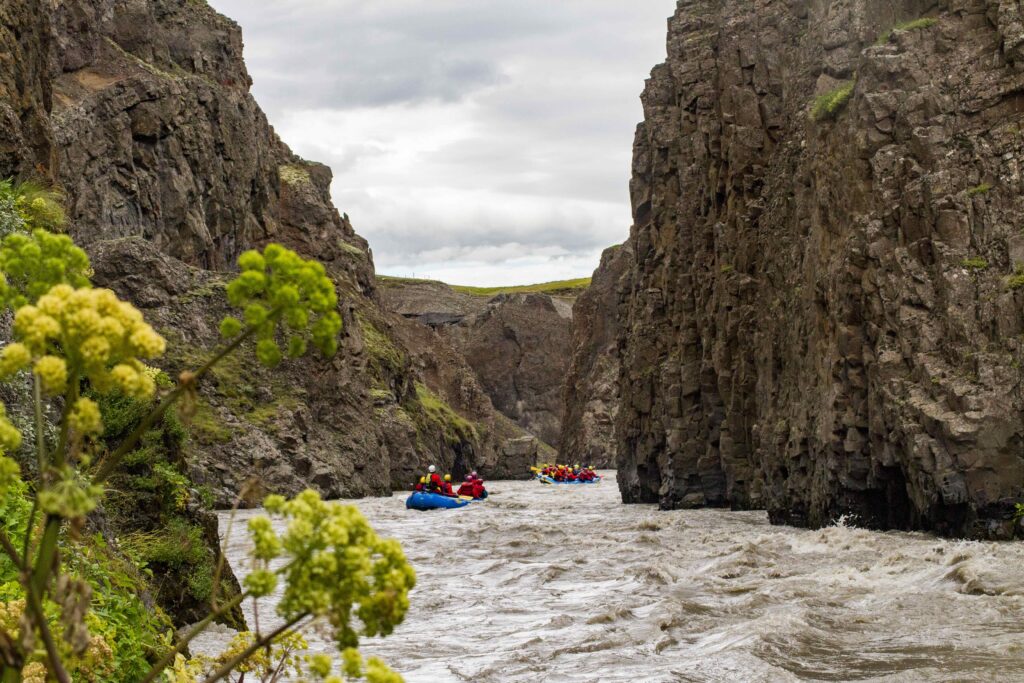 Fish&Pips luxury Iceland properties:
This is the ultimate spa experience. Amidst the ancient lava flows of south-west Iceland, geology and architecture meet in the geothermal waters of the Blue Lagoon. Here, the low-slung Retreat Hotel is carved into volcanic rock, with impressive views looking out over a mossy and stark landscape. Your stay includes access to the Blue Lagoon as well as its own private Retreat Lagoon, whilst your very own host is on hand to make sure everything is as smooth as can be.
The waters here are renowned for their healing properties and were once subject to intense scientific scrutiny. Just a couple of hours in the water will  leave you calmed and rejuvenated – when the conditions are right, you might even be treated to a Northern Lights show whilst bathing!
Once here, it might be difficult to drag yourself away. We prefer stays of two or three days at The Retreat at Blue Lagoon, leaving time for other activities elsewhere. Only around 50-minutes from Reykjavic by car, it's the perfect distance for a short stay.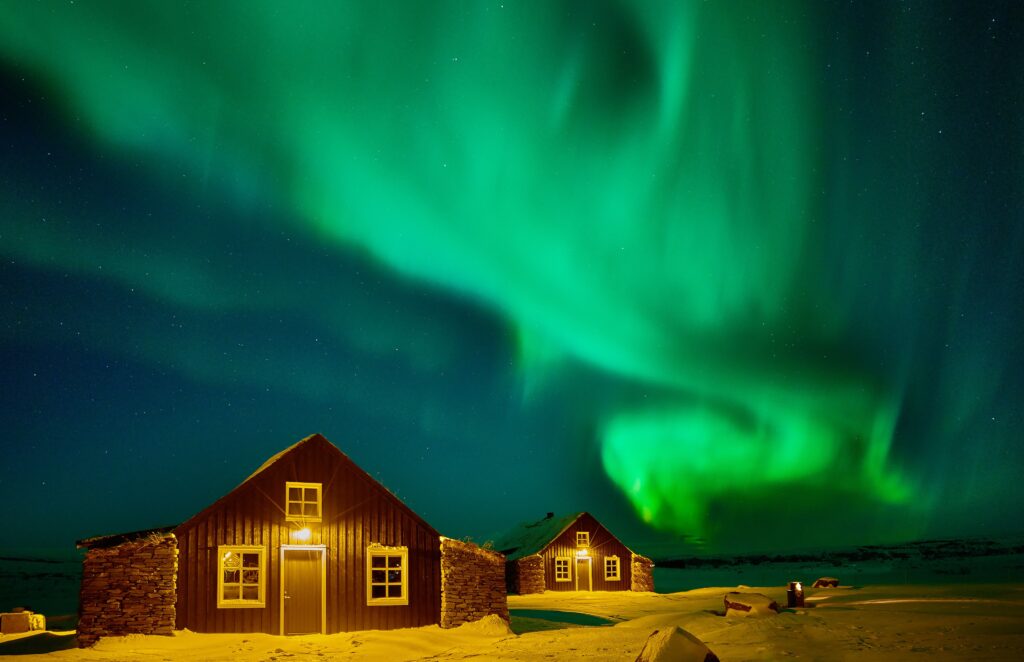 Torfhús is an extraordinarily authentic mix of rugged, untouched wilderness and understated, effortless luxury. Way off the beaten track, in a spectacular setting, yet within reach of the hot springs, geysers, waterfalls and the black shores of the southern coast and the Golden Circle, the retreat is the creation of two families devoted to the culture and heritage of their native Iceland.
Torfhús is the place to come for privacy, seclusion, and nature at its most wild and impressive. Outside, you'll experience the powerful Icelandic elements, and inside, you'll be cocooned in luxury, with the added bonus of some quite outstanding cuisine.
A stay here can be as action-packed as you like. The diverse landscapes of the Golden Circle, the Highlands, and the South Shore are within easy reach of Torfhús Retreat. There is also a huge range of activities on offer, ranging from hiking and mountain biking to visiting glaciers and thundering waterfalls, to horse riding or fishing, to snorkelling the glacial, crystal-clear waters and dramatic rock formations to luxury helicopter tours to view Iceland's spectacular landscapes.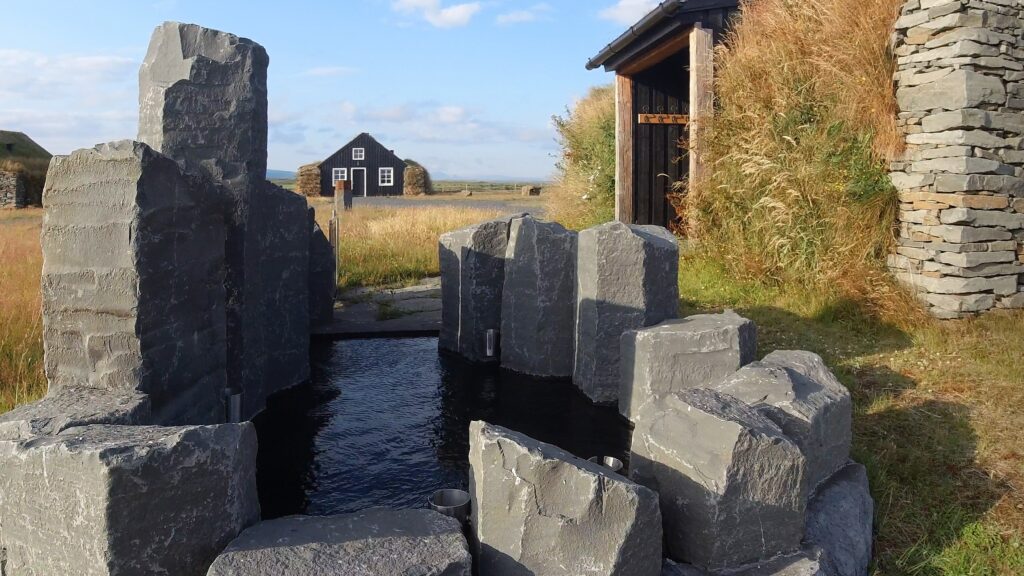 Deplar Farm is a dream of extreme Icelandic luxury and daring materialised onto the landscape. In the very north of Iceland just outside the Artic Circle, what was once a sheep farm, a black timbered lodge with its grass roofs, sits in complete harmony with its wild, Fljót valley surroundings
Where Deplar Farm excels is its activities. Almost anything conceivable can be arranged, tailored to your skill level and preferences. Perhaps their greatest expertise is in heli-skiing tours, lifting you to the very limits of Iceland's towering mountains.
Every aspect of your stay is meticulously cared for here. An expert team of chefs creates a smorgasbord of incredible dishes, using much produce sourced from the nearby farms, rivers, and the ocean. The wine list has been given no less thought, delivering perfect pairings with everything.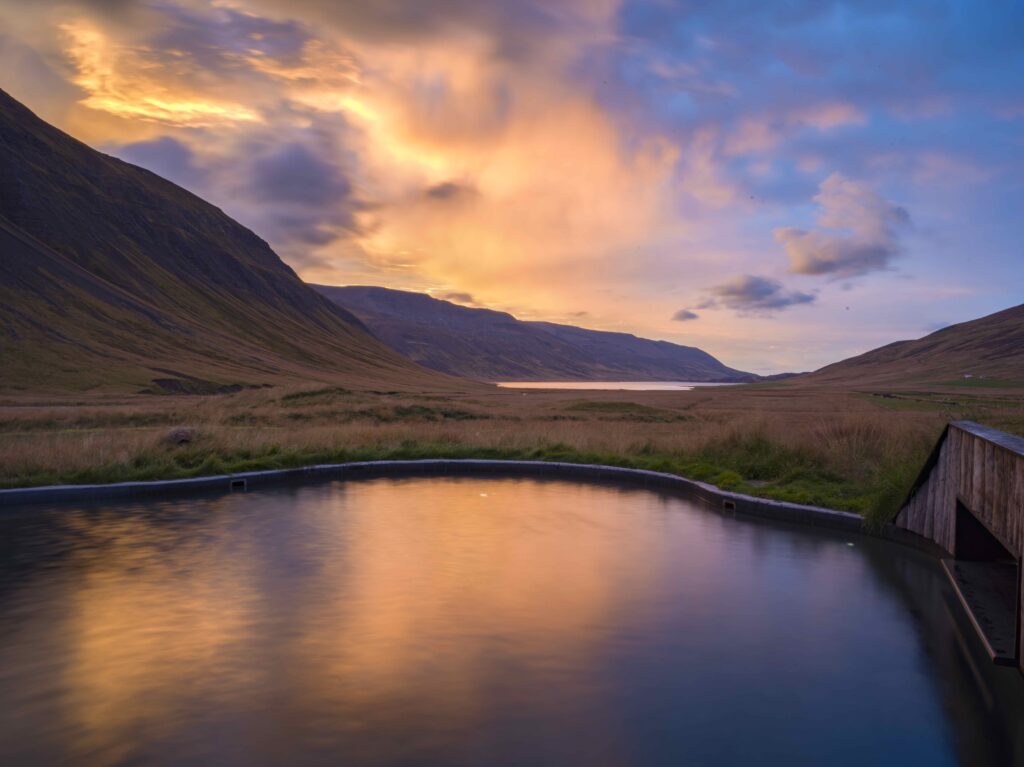 Holidays in Iceland
Talk to Philippa, Gemma, or Jo about arranging your dream holiday in Iceland staying in one or more of our magnificent properties! Have a chat on the phone (01306 264 005), via email ([email protected]), or