A mere 2.5 hour flight away and you will find yourself on one of the gorgeous Balearic Islands of Mallorca, Menorca, Ibiza or Formentera.  Each island with its own personality and charm and all blessed with 300 days of golden sunshine a year. This corner of the Mediterranean is perfect for topping up on Vitamin D, whether in spring, summer or autumn.
Aside from the dreamy weather, we love this archipelago for its breath-taking landscapes, rugged coastlines, crystal-clear waters and pristine beaches; natural parks and reserves, ancient ruins, castles and churches. All topped off with some seriously tasty tapas.
Whether you're a family looking for some of the best beaches in the Med, an adventurer seeking unspoiled wilderness; a romantic, soul seeker or party animal, there really is something for everyone. And with our handpicked, visited and approved collection of villas and boutique hotels, we have you covered!
Ibiza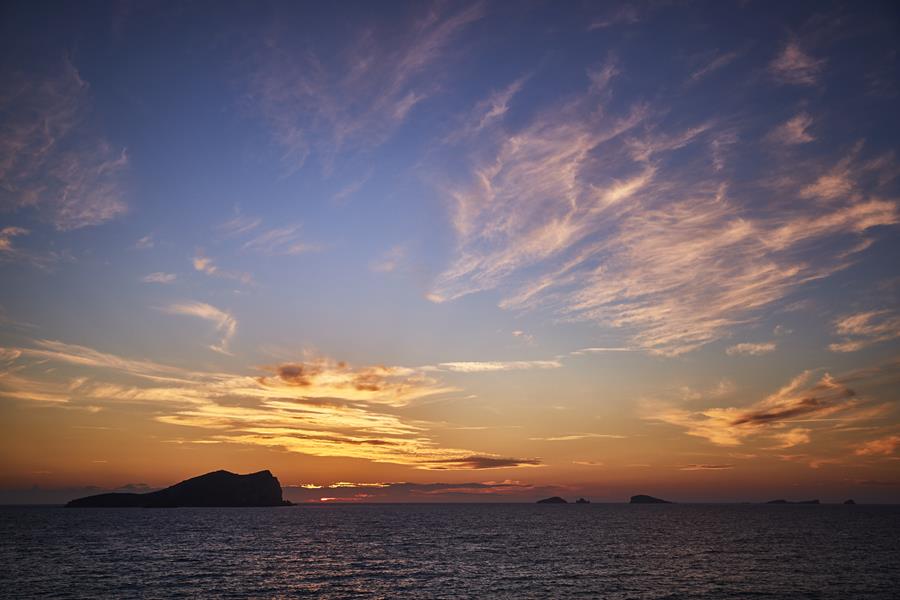 Why we love Ibiza
Discover the natural Ibiza, look beyond its 'party' island facade and immerse yourself in the tranquility of the island. Home to countless white sandy beaches, secluded coves and watersports galore, Ibiza also has a fascinating blend of cultures, salt plains dotted with hot pink flamingos and a thriving farm to table tapas scene.  Cleverly combining sophistication and glamour with easy going boho chic, you may be surprised to hear that Ibiza's quieter corners are some of the most peaceful havens we have ever come across.
Must-dos
Visit Ibiza Old Town (Dalt Vila) – Perched on a small mountain with knockout views, the fortified old town of Dalt Vila is quite rightfully a World Heritage Site.  The old quarter dates back to the Phoenicians with a colourful tapestry of Carthaginian, Roman, Arab and Spanish influences.  Explore the narrow cobbled streets winding through a treasure trove of history up to the imposing Cathedral of Santa Maria.  (With plenty of cafes and bars along the way).
Lunch at S'Esparatar – Serving quintessentially Ibizan cuisine – possibly the best paella you will ever taste – this is a very special restaurant with gorgeous views.  We love that is has been dotingly run by 'la familia' for over 30 years, and you are welcomed with open arms.  The chef's brother owns two fishing boats so expect nothing but the freshest of fresh seafood delights.
Where to lay your head 
Six Senses Ibiza– On the north eastern tip of the island, overlooking the sparkling Xarraca Bay, Six Senses exudes boho chic with sophistication and relaxation rolled into one. Whether you choose to retreat to the world class spa, lounge by the infinity pool, refuelling with delicious juices from the Pharmacy Bar every now and again, or whether you gently paddle board around the spectacular coast, life here really is pretty glorious.
7Pines Ibiza– A secluded cove in Baja Sardinia on the north of the island overlooking the Maddalena archipelago, the resort is surrounded by white sandy coves with the bright emerald sea beyond, lush sprawling gardens, its own private beach and two swimming pools.  Families will be wowed by all the activities here – snorkelling, paddle boarding, kayaking, sailing, hiking, mountain biking and tennis – and the seven dining options will delight even the fussiest eater.
Fish&Pips Villas – For larger groups or families, we can't recommend one of our incredible villas enough, and we have everything from the traditional finca to the more contemporary and stylish party pad; secluded bliss in the mountains or coastal cosmo gem.  Think large pools, shady terraces for long lazy lunches, and all, of course, come with our concierge service for any extra (well deserved) trimmings.
Formentera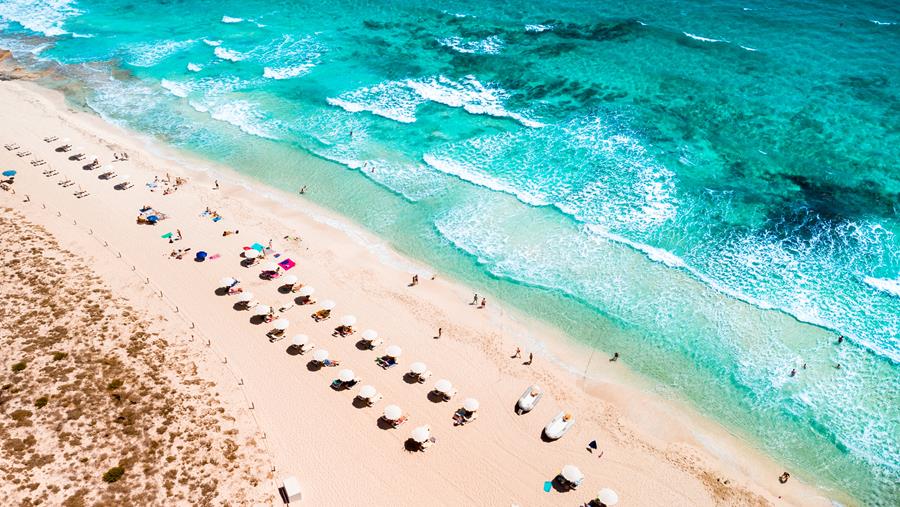 Why we love Formentera 
The smallest of the Balearics, this gem-sized beauty is all about the wilderness; she is understated luxury and low profile in contrast to her older more sophisticated Ibizan sister.  Think horizontal-vibe with possibly some of the most beautiful, soft white sand beaches in the Mediterranean, lapped by turquoise waters and a landscape of rolling dunes, rugged cliffs, pine forests, salt flats, nature parks and reserves. There are even a few Bronze Age settlements thrown in for good measure.
Must-dos
Platja de Ses Illetes – A long stretch of sand to the north of the island surrounded by a kaleidoscope of turquoises on both sides and candy pink sands in the middle, this is notoriously one of the most beautiful beaches in Spain.
Visit the Ses Salines d'Eivissa Park– A nature lover's dream, this natural park shows off the Mediterranean's rich biodiversity, and is home to rare and endemic land and marine species, including 210 migratory bird species.  You will love its beautiful beaches and tiny coves, and the chance to spot everything from flamingos to stilts, herons or little plovers.
Have a 'credit card lunch' at Juan y Andrea – A beach shack turned beach club with shady palm trees and tables right next to the sea in the heart of the Platja de Illetes, this little gem is considered to be one of the best restaurants in Formentera.  Expect flavours of the sea – but if in doubt opt for the lobster in garlic sauce washed down with chilled local white wine.
Where to lay your head 
Gecko Hotel & Beach Club – Right on Formentera's finest stretch of beach, Gecko is a laidback paradise with wellness and sustainability at its very core.  This is the place to chill and enjoy the quieter side of life with a strong focus on yoga offering complimentary yoga classes every morning as well as dedicated yoga retreats lead by resident yogi gurus. Expect a peaceful hideaway for meditating and recharging with just a touch of paddleboarding, cycling or swimming on the side.
Menorca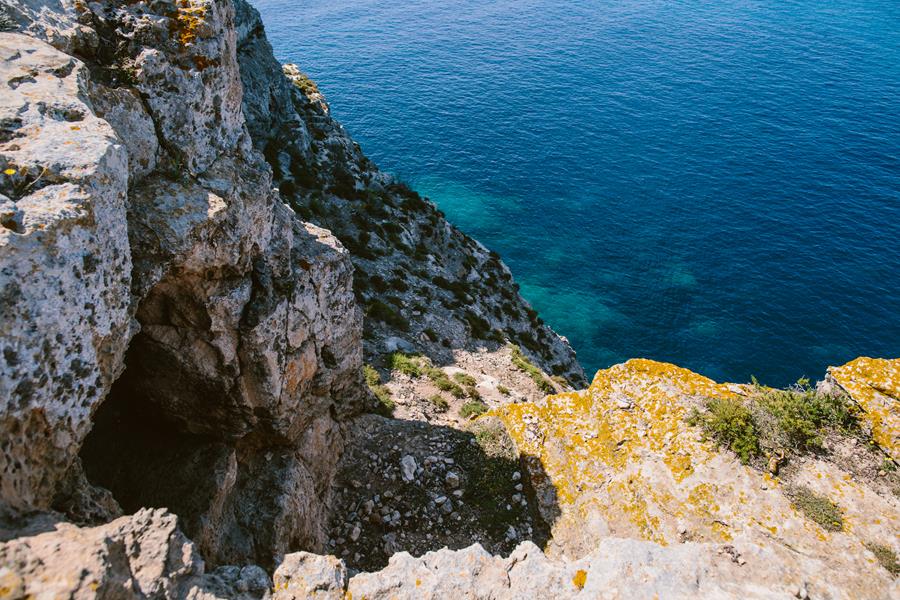 Why we love Menorca
A 30-mile long island – a fifth of the size of Mallorca – but with more beaches than both Mallorca and Ibiza combined!  We think one of the prettiest coastlines to explore with secret little coves and plenty of paths and trails winding across the island.  Menorca also has the greatest concentration of prehistoric monuments in the world and is a designated UNESCO biosphere reserve thanks to its incredible diverse habitats.  The resurgence of local wine production is also an exciting addition…
Must-dos
Walk to Cala Preganda – Cala Preganda is a stunning beach on the north coast of Menorca known for its dramatic and distinctive red rocks.  Start at Binimel-la, and make your way along the rugged coastline for about 30-minutes, soaking in mesmerising views across the sea, before reaching the beach.  And the fact it is only accessible by foot means there are never any crowds!
The Cami de Cavallas – An ancient 100-mile path that wiggles all around the island, this is a fantastic way to explore the islands' ever-changing landscapes from coast to countryside.  Hike, cycle or go on horseback; Menorca is your oyster!
Where to lay your head 
Santa Ponsa – Stay in elegant splendour in this 17th century palace, surrounded by acres of vineyards, olive groves and the most stunning Moorish gardens.  Once home to British aristocracy it is now a 21-bedroom boutique hotel.  If you ever manage to peel yourself away from the gorgeous pool and gardens, the beach is just a five minute drive away and there is cycling and horseriding for exploring further afield  The serene underground spa pool in the 18th century cistern, hammam, sauna followed by a spoiling spa treatment a welcome reward on your return.
Can Alberti 1740 – Bang in the middle of the historic centre of the city of Mahon, Alberti is a fabulous 14-room boutique townhouse just 200 yards from the bustling harbour.  In terms of location, there really isn't anywhere better for exploring this vibrant city and beyond.  We thoroughly recommend taking advantage of the breakfast spread – a feast to behold, laden with local cheeses, hams and traditional 'ensaimadas' – before heading off exploring for the day.
Mallorca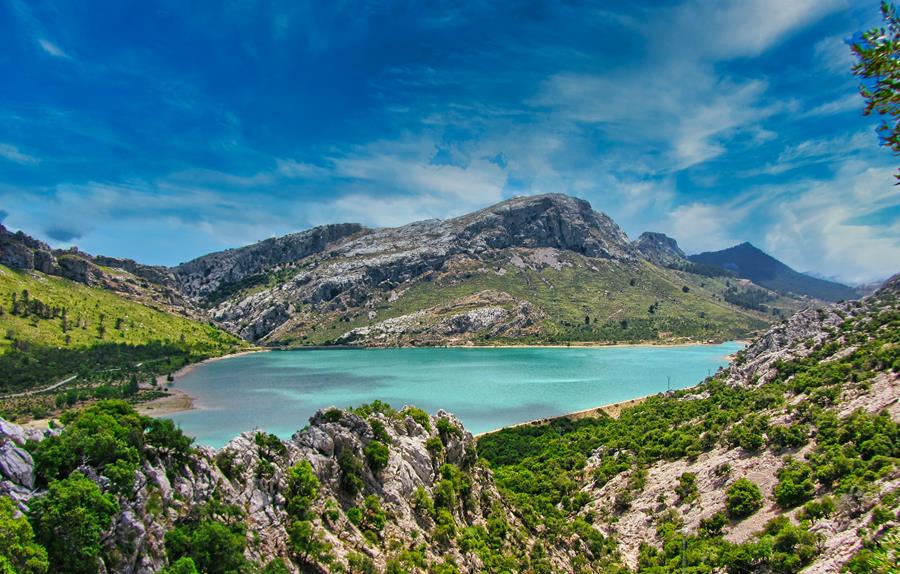 Why we love Mallorca
The largest of the Balearics, Mallorca is a complete stunner, which has been the go-to paradise for Europeans since the early 20th century.  We love the diversity of the island; sun-drenched beaches in the south, rugged Tramuntana mountains to the west and almond, olive and vineyards in between, while the beating heart of the island – Palma – is packed full of galleries, museums, gothic cathedrals and medieval castles.  Foodies will delight in the fresh seafood and island produce, the Mallorcan wine and there are many Michelin Starred restaurants for the more sophisticated palette.
Must-dos
Take a trip to Deià followed by lunch at Ca's Patro March – A small fairy-tale like village in the Tramuntana mountain range surrounded by lush greenery and stunning natural landscapes with enchanting views across to the sea. Explore the 13th century Church of San Juan Bautista and the ancient watchtower of Sa Torre d'en Beu, before heading to Ca's Patro March by the sea for some of the best seafood around and unbeatable sea views.
Explore Pollenca – Enchanting with a rich history and signature honey stoned buildings, Pollenca is an absolute must.  Try and go on a Sunday if possible so you can visit the weekly market.  Take on the 365 Calvari Steps to the top of the town for beautiful views and visit the baroque 18th Century sweet Church of Nostra Senyora dels Angels.
Where to lay your head 
Sant Francesc – A delicately restored 19th century townhouse in the heart of Palma old town combining former grandeur and decadence with contemporary strokes of genius.  Highlights include a super cool rooftop terrace and pool, and trendy bar overlooking the city, the cathedral and its jumble of terracotta roofs.  Perfect for a spot of tapas or chilled sunset cocktail.
Can Ferrereta – An oasis tucked away in the market town of Santanyi this 17th century farmhouse has been turned into a 32 room boutique retreat and comes with exceptional food, romance and artworks out of this world (Joan Miro and the likes). You will love lazing by the 25m outdoor saltwater swimming pool and make sure you to try one of their signature spa treatments using sea-harvested algae and mud, salts from Es Trenc or lavender and sweet scented citrus fruits.
Pleta de Mar – Sat in acres of woodland, Pleta de Mar is an adult only hideaway where days can be spent exploring the coast, hiking and cycling. This is also a place of pure relaxation; enjoy an indulgent spa treatment under the pines and the outdoor saltwater pools. Fresh and local produce is used to create seasonal dishes – we love the views looking out to the gardens, the perfect spot for drinks at sundown.