Glide into a luxurious all-inclusive holiday in Antigua this October half term…
Easy, laid-back Caribbean living is perfectly complimented by all-inclusive resorts. Enjoy life at a different pace, with all food, drinks, and activities available! This wonderful combination is encapsulated by the magnificent Curtain Bluff.
Stepping into the impossibly paradisiacal Antigua, you'll immediately know you've encountered something special. It's no surprise many people return year after year.
All-inclusive holidays in Antigua hardly resemble the dreaded myths. Far from buffet crowds and jostling for sun beds, Curtain Bluff has delicately fostered a welcoming, intimate atmosphere, sprinkling elegance in all directions.
Add a splash of Caribbean sun to your calendar this year!
Many associate holidays in Antigua with all-inclusive resorts. When done wrong, all-inclusive sites can feel chaotic and messy. Thankfully, we can confidently confirm a stay at Curtain Bluff is anything but.
Indulge in the ultimate all-inclusive fantasy, treated to anything you might desire. A fantastic blend of classic seaside elegance and intimate charm, Curtain Bluff is a welcoming destination, well-suited to pampering both the mind and soul as you shake off the encroaching winter frost. The entire resort feels like retreating into a private villa with friends. It's understandable so many 'returners' find themselves back each year.
We'd understand if lounging, cocktail in hand, fulfils all your desires. However, Curtain Bluff also has plenty of activities, all included in the room rate. With two swimming pools, aqua aerobics classes, and many water sports options, including water-skiing, wake boarding, and classic beach toys like kayaks and windsurfing, you'll be spoilt for choice! That's not even mentioning the snorkelling equipment, and twice-daily reef trips. Certified SCUBA divers can also enjoy daily trips. Back on dry land, you can also enjoy squash, basketball, and pickleball courts.
Curtain Bluff is a family favourite, too. The Cee Bee Kid's Club is perfect for ensuring they have ample entertainment, whilst allowing you to focus on the all-important relaxation. Experience the best of both worlds, prioritising everyone's satisfaction.
Local tours can also be arranged, helping you contribute to the local economy. Curtain Bluff also has a no-tip policy, instead encouraging guests to donate to local charities, which help villagers with college or medical fees.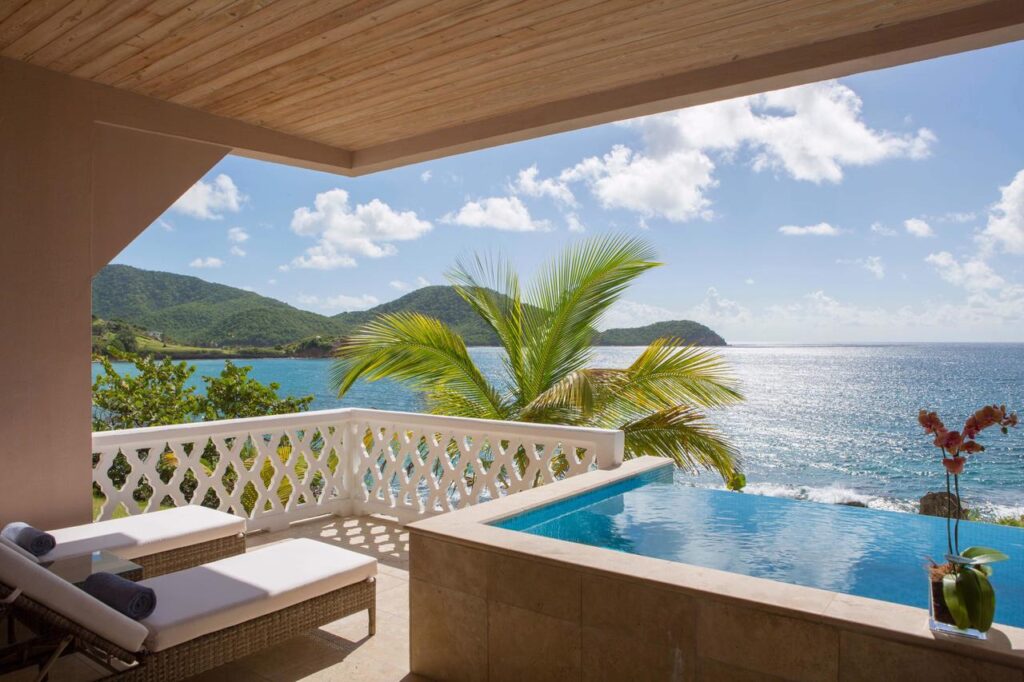 The best times to visit Antigua
Antigua is blessed by a healthy tropical climate, graced by high temperatures year-round that frequently climb into the 30's. Generally, the hottest months are from June to October, whilst it grows slightly cooler between December and March. Antigua also experiences less rainfall and humidity than other Caribbean counterparts, so is less impacted by the rainy season.
We love October half-term for holiday to Antigua. Not only are there fewer crowds than over the peak months but average temperatures hover determinedly above 30, with 8 hours of sunshine each day. The occasional wind should help you stay cool, whilst the showers are generally short and avoidable. Thanks to the influx of moisture in the previous months, the surrounding vegetation explodes into a luscious paradise.
Even better, turtle nesting season draws to a close in November. This means hatchlings might be visible in mid-October, embarking on their courageous and perilous journey into adulthood.
Visit Antigua this October
Curtain Bluff still has available rooms this October half-term! Enjoy 25% off when you book a Junior Suite now, for £1402.50 per night. Speak with Philippa or Gemma to start your planning today (01306 264 005) or send us an email ([email protected]).