Hot off the press…..
During the week of the 21st March 2020, for the first time ever, we are partnering with Marmalade ski school and friends to bring you a week of fun, fitness and finesse – a true Fish&Pips style retreat where you will leave feeling snazzier on the slopes and with a refreshed mind, body and soul.
The course includes:
Seven nights' accommodation in our catered Chalet Du Guide
Shared transfers to and from resort from Geneva airport
A Three Valley Ski Pass for the week
A 5 day development week with Marmalade Ski School
A 1 hour massage
All for £1,895 per person (based on two people sharing a room).
Please note that this price does not include flight or lunches.
Tell me more detail….
*Accommodation, Food & Beverage*
The Fish&Pips Factor:
7 night's stay in our catered Chalet Du Guide from Saturday 21st March – Saturday 28th March 2020
Chalet Du Guide is made up of 5 bedrooms each with their own private bathroom, it has a large open plan living area and a hot tub for soaking those muscles in after a day on the slopes. Du Guide is also only a short walk to the bottom of the Golf chair lift where your Marmalade instructor will meet you each morning.
You will be looked after by a professional chef and attentive host during your stay, where nothing is too much trouble.
You will receive our infamous full catered experience; 7 breakfasts (a mix of continental and cooked), 6 afternoon teas and 6 evening dinners.
Your private chef will create a scrumptious menu for the week. Full of healthy and delicious meals to make sure you are full of energy for your day on the slopes.
It is a holiday so beer, wine and soft drinks are included. Treat yourself.
Wednesday will be the staff day off. We can book you into a restaurant of your choosing.
Please see more information on what our catered chalet experience offers here.
*The Skiing*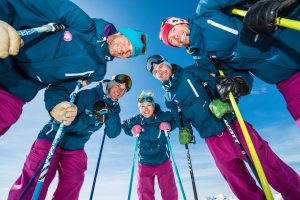 The Marmalade Development week – An All Mountain Course
The Three Valleys is the largest ski area in the world which means there is so so much to explore.
Our friends at Marmalade have created a course #aveczest that will have you adventuring across the whole of the Three Valleys on all of the varied mountain terrains. It is their most popular course for a reason. It is not limited to just pisted runs yet it is not specific to bumps or off-piste either. It will get you skiing and improving on all of the conditions that the mountain has to offer. Each day will be different and is suited for those looking to improve whilst having a load of fun and not taking life too seriously.
As a minimum the desired current level of skiing should be confidently skiing parallel on all red runs and most easy black runs too.
To see more detail on the course follow the link here.
Taking part in this course really is an excellent opportunity and also fantastic value for money. A private day with Marmalade will cost you €550. After having many amazing skiing experiences with the Marmalade instructors, we can guarantee you a thoroughly enjoyable week.
*Please note that this course requires a minimum of 4 people on it to run.
*The Massage*
We are including a one hour massage as part of the weeks package as we feel that there is almost nothing quite as enjoyable as a massage after skiing. Why not warm up your muscles in the hot tub before letting our professional sports masseuse ease out any niggles you have or any tensions you feel. A massage will get your circulation flowing to help tired muscles recover, making sure you are on tip top form for the following day on the slopes.
Sounds like your dream retreat – Book Now!
Contact Philippa or Gemma:
e[email protected]
+44 (0) 1306 264 005