We LOVED our recent holiday to Meganisi so much that we just had to tell you everything about it so you can mull it over with friends and family. We are also excited to let you in on exclusive 2023 availability! So, now is your moment to bag one of the best villa experiences the Greek islands has to offer. Let us tell you why…
We (The Fish & The Pips) have recently returned from our mega holiday to the Greek island of Meganisi for May half term with our twenty seven family members!  Having not travelled en masse like this together for four years, we were pleasantly surprised by a remarkably seamless and stress-free journey, particularly as there were so many of us and twelve little ones in tow. After a short and smooth RIB ride, we pulled up to the jetty of a quiet, lush green cove with waters of a blue like no other.  Here we were warmly greeted and quickly settled into our beautiful villas by the team.  Immediately the weight was off and it didn't take us long to unwind into holiday mode – balmy sea air, chilled Greek rosé in hand, and swimsuits on.
Scroll down for our Meganisi holiday highlights, need-to-know information and next summer's availability (we've already re-booked by the way).
We would love to share our Meganisi experience with you, so please do contact either one of us and we'd be delighted to chat through.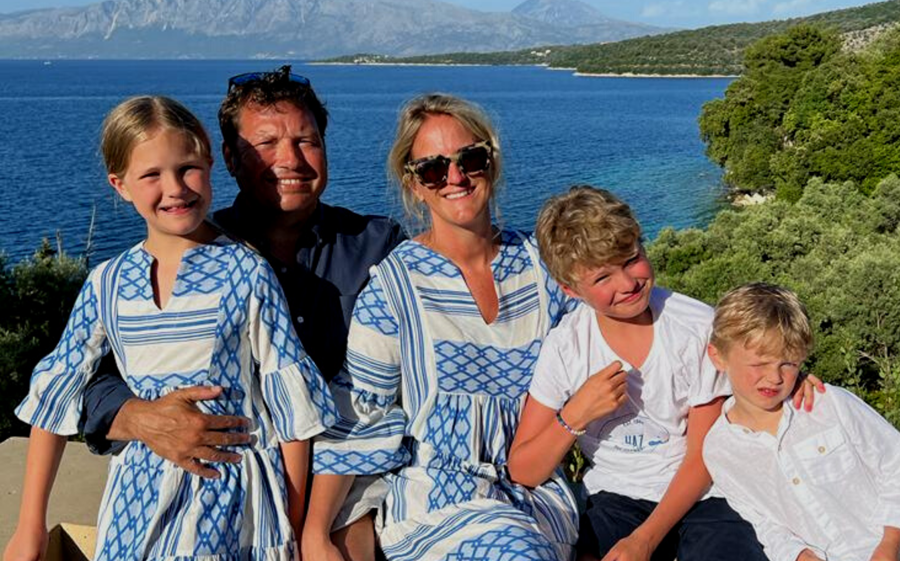 WHY WE LOVED IT
The villas suited us perfectly. They were close enough so the children could go between safely, but far away enough that they felt completely private. They combine beautiful and thoughtful design without being ostentatious.  Each villa is spacious enough, has all the creature comforts with well equipped kitchens, practical for families, more than special enough for adults, but the piece de resistance is the outdoor dining, the infinity pools (that we couldn't get our children out of), and my oh my those views. There was a comforting familiarity about them, like an F&P chalet on the sea and we felt right at home.
The friendly villa team, for whom nothing was too much trouble, were quietly on hand to help with everything – shopping and wine deliveries, where to find fuel, restaurant recommendations, massages and their Meganisi top tips. We had breakfast trolleys delivered full of the freshest ingredients; a daily clean which was a treat and quite frankly, a god send; and a traditional Greek al fresco dinner on the last night which was utterly delicious.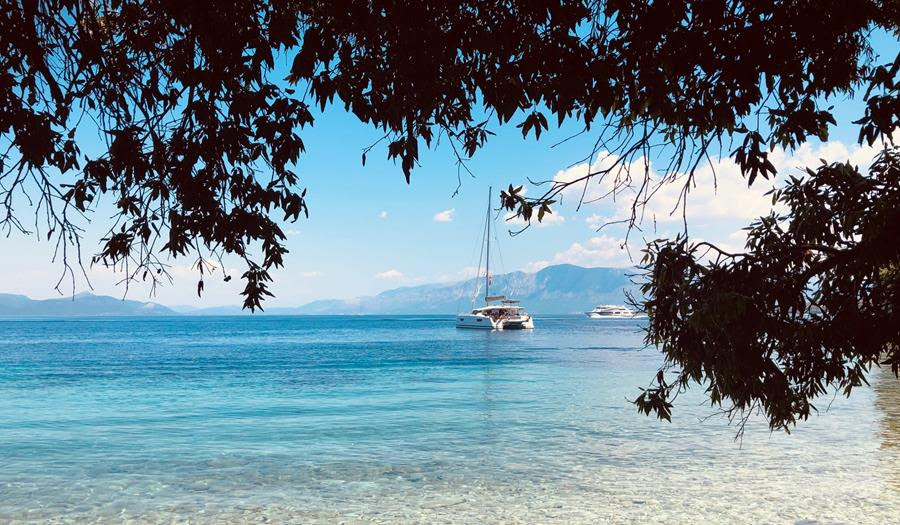 WHY WE LOVED IT SOME MORE
The sea is what really made it for us. Having access to our own pebble beach and cove just a couple of minutes' walk away with a private jetty, paddle boards, RIBs, doughnuts, waterskis…It kept us entertained for hours on end and is the very best way to see the island and its neighbours. It meant days were spent exploring coves, scouting out the best tavernas, pootling to the shops for provisions, and best of all with absolutely no agenda. It was heaven. And, with no boat license requirements, it means anyone can do this with the calm seas and everything so close by making it easy and safe.
The island of Meganisi itself is somewhere quite magical. It is truly beautiful, underdeveloped, tranquil, green, and safe; and best explored by bike or by boat. A Greek island of old with a touch of subtle sophistication. A holiday here offers an authentic experience with an Azur seas, Mamma Mia style tavernas, quaint port towns, coves aplenty and the friendliest of people.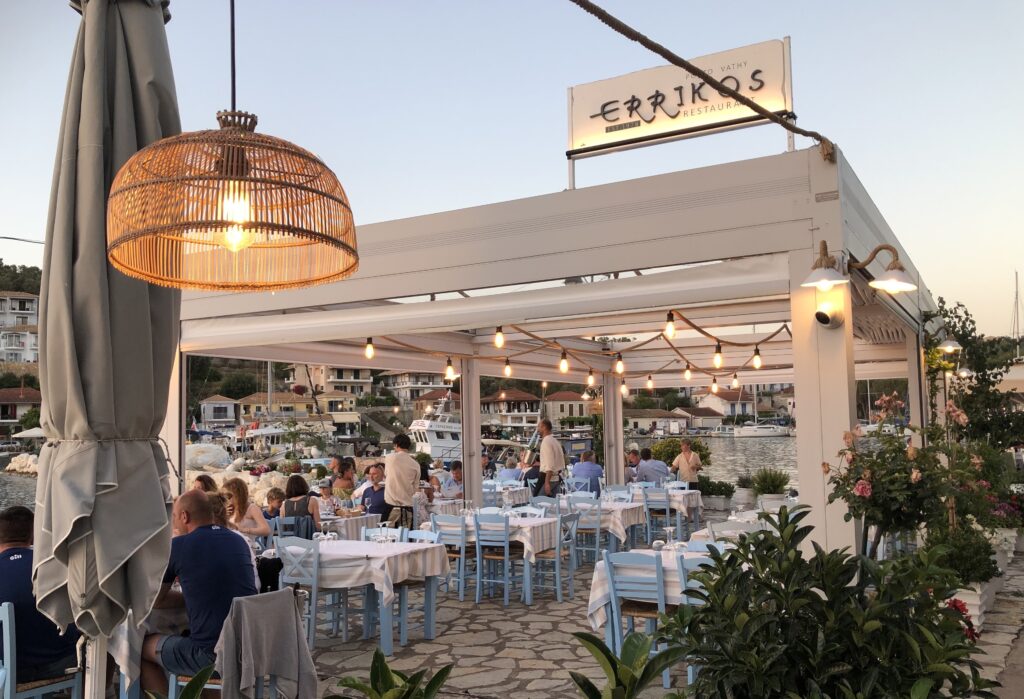 The three ten-person villas are nestled together in a tranquil, unspoilt spot on the island looking out to sea and neighbouring islands.  They are family owned and built thoughtfully with guests in mind.  Each villa comes complete with its own infinity pool, spacious interiors, stunning views over the bay and large outdoor areas.
For the days spent lounging around the villa there are comfy day beds, massages available, backgammon boards, an abundance of inflatables, shaded spots and hide-y holes for you to have 'me time'. The private pebble beach is a short walk down some steps through the trees and is the ideal spot for a morning swim if you're not out on the boat.  Or take one of the electric bikes out to explore this treasure island by land.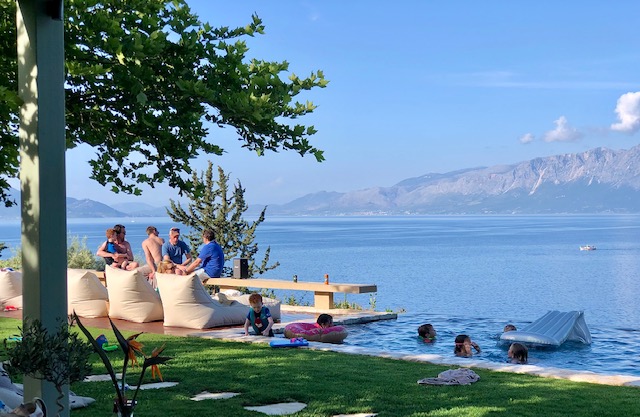 The layout of the villas and large outdoor areas makes them perfect for multi-generational getaways, family holidays and groups of friends.  You can even take all three villas – like we did – for large groups and special occasions. They offer the right amount of privacy without feeling isolated from the rest of the group.
They are open from the end of May through until the end of September so you can enjoy time away with friends in June and September, or with the family during the school holidays. We were there for May half term and it was dreamily peaceful – yes peaceful!
The airport closest to Meganisi is Preveza. From there you take an hour transfer followed by a boat journey to reach the island.
We were lucky to escape cancellations; the flight itself  was an easy 2.5 hours; the transfer was ready and waiting for us as soon as we stepped out of arrivals; and the open top boats efficiently whisked us and our luggage away. It felt like a mini adventure, it was seamless and totally worth the extra leg.
We will arrange travel from the airport to the villas for you and the transfer is included in the price.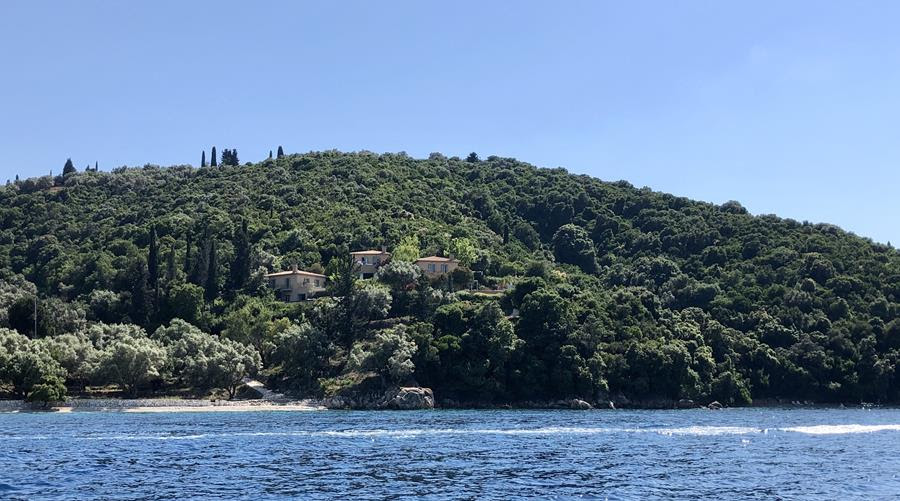 AVAILABILITY
We can't wait for you to fall in love with Meganisi as much as we have. As you are the first 'in the know' you currently have the pick of the weeks next summer (apart from our week – sorry!) but they will go quickly. Holly and Philippa are happy to chat Meganisi and the villas through with you, to answer your questions and share their insiders knowledge.
Prices are from: 6,600 Euros – first & last week of season / 9,200 Euros – shoulder season / 11,100 Euros  – high season / 12,400 Euros – peak season.
What's included: 
7 nights' accommodation
Daily housekeeping
Linen change twice per week
Daily garden and pool cleaning
Daily breakfast (including the day of departure)
Two meals per villa per week (set Greek menu, family-style)
Transfers from and to the airport (mini van or mini bus) *Water taxi transfer is NOT included
Check in time: by 10am
Check-out time: from 3.30pm