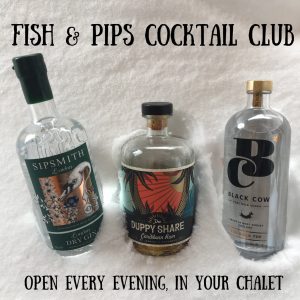 Because we understand that the typical Fish & Pips guest tends to be a discerning sort of character – (explaining the impeccable choice in chalet company!) and because there's nothing quite as deserved as a cheeky cocktail following a tough day on the hill, we've selected a range of premium spirits for your enjoyment, to be transformed on request, by our chalet teams into a plethora of dangerously quaffable cocktails to suit all tastes.
Here's how it works..
Before arriving in resort, you will be able to pre-order from a choice of three premium spirits: a gin, vodka and rum which will be ready waiting on arrival in your chalet, for cost price of the bottle.
Then, from a select menu of cocktail favourites – which you'll find in your chalet welcome pack, your chalet chef or host will willingly work their mixology magic and create a cocktail of your choice.
Then sit back, and sip.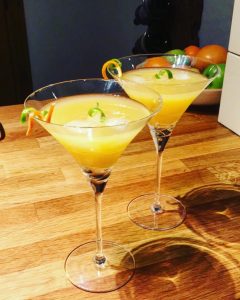 Our spirits are:
Sipsmith Gin:
Passionately committed to their handcrafted ethos, the Sipsmith brother's multi award-winning gin is the marriage of a traditional recipe of 10 classic botanicals, and enjoyed the world over.
Slurped straight up, (we recommend with Fever Tree tonic), or alternatively mixed up as one of five cocktails – to include a Classic Collins or Sipsmith Mule – you'll certainly struggle to drink just one.
Trying to be healthy this Jan? Let's just say you're renewing you gin membership.
The Duppy Share Caribbean Rum:
This new artisan golden rum will transport you from the French Alps to the islands of Barbados and Jamaica.
Packed with tropical fruit notes, this three-year-old rum gives a warm and buttery finish; and works beautifully in a variety of cocktails of your choosing including The Duppy Old Fashioned or Hot Apple Punch.
So enjoy a few runs, followed by a few rums.
Black Cow Pure Milk Vodka:
Created on the West Dorset Coast, this artisan vodka is the world's only vodka made entirely from the milk of grass grazed cows, making this an exceptionally smooth tipple with a unique creamy character. The invention of diary farmer Jason Barber, his inspiration came from a desire to diversify the produce from his 250 strong dairy herd.
Choose from a Collins, espresso or berry martini or enjoy straight up and party like a Russian.
Alternatively, you can bring your own spirits from home.
Spirits cost 40 Euros per bottle, plus an optional added 20 Euros for the in-chalet cocktail service.
Fish & Pips also offer a choice of premium beverages on request including champagne and digestifs.