We're incredibly excited to be adding Sri Lanka to our destination list. Our in-house Sri Lanka guru, Jo has recently returned from a trip where she was afforded the time to truly get under the skin of this beautiful country, tracking down the absolute best places to stay, visiting and forging some first-rate on-the-ground contacts who give our tailor made trips their competitive edge.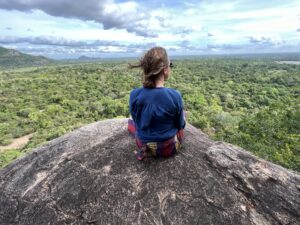 Who will love it?  It's a vibrant, staggeringly pretty and varied country to travel to for every age group (though young families may struggle unless sticking to one or two spots). Young couples or honeymooners will be in their element, combining jungle-meets-beach with plenty of culture, knockout spice-laden food and otherworldly landscapes, as would older couples, groups of friends or grown-up families with a zest for adventure, history and plenty of chill time.
When is best to go?  Sri Lanka is one of those rare year-round destinations, with a generously balmy and consistent tropical climate. Yes, there is a Monsoon season, though it differs on both sides of the country – therefore easily worked around by our experts when planning your trip.
Why is it worth a visit?  Sri Lanka is known as 'the land of plenty' for good reason. The teardrop island (similar in size to Ireland) is packed with such rich variety, from its ancient ruins and jungle-clad hills to its old world towns and surreal, Maldivian-grade beaches. Lots can be covered in a remarkably short space of time.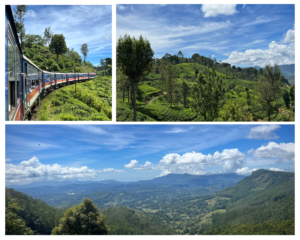 Sri Lanka – The Land of Plenty
Trains snaking through mist-strewn tea plantations, bone-white beaches shaded by a tangle of jungle, jaw-dropping national parks roamed by elephants and leopards, Sri Lanka offers so much with blissful easy distances, it can be overwhelming to know where to begin. The country has suffered a febrile political climate in the past few years, but our team is well-versed in the safe areas and, whatsmore, its people remain one of the world's warmest and welcoming of visitors. Temples here spill onto placid lakes, days sway to the rhythms of ancient Buddhist traditions, and towns and villages bear layers of history, with British, Dutch, Portuguese and South Indian influence. This unusual cocktail of safari, beach and culture makes Sri Lanka a sure-fire destination for those wanting a diverse holiday, somewhere exotic that tips you into a different, intoxicating dimension. Here's our expert-curated highlights of what to see in the country – a taster of the tailor-made adventures we look forward to choreographing for those considering a Sri Lanka epic.
Why travel to Sri Lanka with F&P Travel 
Anyone can string together a Sri Lanka itinerary, ticking off the bucket list spots, but their trip may subsequently stick to the beaten track, or miss some hidden gems that can really separate a trip from a life-shifting holiday. Jo's fully-refreshed insider knowledge will guarantee a raft of authentic experiences, such as Tuk Tuk tours of towns, monastery art tours with hermit Buddhist monks, treks and lunches eaten with villagers in their houses, mask carving and guided food market tours – the sort of bespoke activities that allow you to peer into a country's soul and feel smugly off the tourist trail. Itineraries can be tweaked en route, and experiences added to if something piques travellers' interests. Jo can even suggest uncrowded alternatives to the honeypot sites, such as the neighbouring rock to Sigirya (whose winding tracks can become congested with tourists).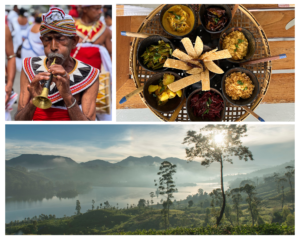 Culture 
Ask anyone who has visited Sri Lanka and they'll tell you that one of its greatest appeals can be found in the warmth and serenity of its people. Jo found their welcoming nature humbling and their Buddhist culture fascinating – best explored in Kandy where The Temple of the Tooth heaves with pilgrims and purple orchids. The surrounding gardens and lakes offer an indescribable degree of peace, one that stretches on to the soundtrack of exotic birds and monkeys, and typically for Sri Lanka, the thwack of a cricket ball in whatever patch of green children can find to play the game. We know the more off-grid temples to visit, where tourism has yet to take hold and monks dressed in orange robes go about their day and colourful ceremonies, largely undisturbed.
Galle's Portuguese and Dutch architecture, from its pastel-hued coastal houses to its 17th century fort, has been remarkably well preserved and warrants at least a few days of gorging on seafood, weaving in and out of independent galleries and shops and visiting the museums. There are the ancient Buddhist sites and shrines. such as those of Anuradhapura and Sigiriya – the latter a UNESCO World Heritage site where an ancient fortress sits atop an extraordinary rock formation, one rewarding pilgrims with far-reaching views across the emerald mosaic of jungle and farmland.
Landscape 
Sri Lanka's dramatic topography and lush, tropical vegetation never fails to bowl over first-timers. The train from Kandy to Ella is one of the best ways to see Sri Lanka's mist-coated hill country, neatly combed by tea plantations, with World's End worth hiking to for its steep, vibrant green tea fields. Safari Parks are well-worth including in itineraries, such as Yala National Park with its array of dunes, open plains, lagoons and dense forest, as well as an impressive leopard count. We can help plan wildlife trips around feeding and migration times, such as whale watching off the coast of Mirissa and sea turtles at key spots along Sri Lanka's shores. The beaches here are worth coming for alone – strips of ivory sand that slope into the gin-clear Indian Ocean. Surfing enthusiasts can rely on us to pinpoint the wave hotspots throughout the year, while our insider beach hotel knowledge includes some beguiling, unsullied east coast spots you'll never want to leave.
Food
Gastronomes rejoice. Sri Lanka is a land of curries, spice, lively markets and mealtime rituals, where breakfast swaps mueslis for a kaleidoscopic array of curries, fruits and juices. Jo's passion for Sri Lankan cuisine (her favourite dish being rich, dhal beetroot curry) has unlocked some memorable, one-off experiences for those travelling with us. These include traditional cookery lessons with locals, guided tours around the fruit and veg markets in Dambulla and off-the-beaten-track restaurants that embody the colour, vibrancy and intoxicating flavours of Sri Lanka's culinary culture. From Galle's electric foodie scene, including Israeli-run haunts, Palm Hotel, and cookery classes in locals' veranda-wrapped homes, to Colombo's Indian Ocean-fronted Ministry of Crab and classic curry houses, we can garnish any Sri Lanka trip with memorable cafes, restaurants and foodie hotels along the way, or indeed, base the entire itinerary around them.
Safety 
It's the elephant in the room, following the Sri Lankan bombings and the Tamal Tiger tumult in the north widely covered across our news channels. But those who regularly visit Sri Lanka will tell you that it's one of the safest, friendliest countries to visit in the world – particularly as all-female groups. Jo was overwhelmed by the smiles, above-and-beyond attitude and kindness of its people, as well as a sense of frustration with the impact of disproportional negative reporting in the west on tourism. It's relatively quiet, and the country is in dire need of the tourist buck, so there's really never been a better time to travel to Sri Lanka.
To chat to Jo about Sri Lanka, call her on +44 (0) 1306 264005 or email [email protected].