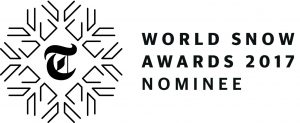 We are THRILLED to have been shortlisted in The Telegraph World Snow Awards 2017 in the category of 'Best Chalet Company'.
The public vote is now open and it only takes a minute – we would hugely appreciate it if you would take the time to vote for us! Please click here to register your vote.
The winners of this years awards will be announced at the Telegraph Ski & Snowboard Show on Thursday 26th October 2017.