Skiing Green: 5 Tips For A More Eco-Friendly Ski Holiday
If you're anything like us, you probably try to make eco-friendly decisions for your day to day activities and purchases. Why should your ski holiday be any different?
In fact, Expedia's sustainable travel survey showed that 90% travellers look for sustainable travel options, but 70% are overwhelmed and find it hard to make sustainable choices. In this article we will show you that it is possible to reduce the impact of your annual ski trip in a few simple steps. Let us explain how.

1. Choose low carbon travel
Travelling to and around resort is invariably the largest part of your carbon footprint when you go on a ski holiday, over 50% of the total. The good news is there are several simple ways you can reduce your impact.
Travel to resort by train
Travelling to a French resort by train from London can reduce your CO2 emissions from over 100 kgs per person to a tiny 18 kgs. That's more than an 80% reduction before you've even hit the slopes. Travelling by train can be more relaxing, comfortable and convivial too.
To find out more, watch this short video of two journalists who raced to one of our chalets in Meribel in 2012, one travelling by train and one by plane. You might be surprised by their experiences.
It is also possible to easily travel to our Swiss resorts, Verbier and Zermatt, on the train.
Snow Carbon and Ski Flight Free have some great resources and guides to make your train travel experience, from booking to arrival, as simple and enjoyable as possible.
Travel to resort by car
Going on your ski holiday by car can reduce your emissions to about two thirds compared to flying but only if there are 3+ people in the car. If you have an electric car, you can reduce your travel footprint even further. Charging options are improving on French motorways and across Europe.
So why not buddy up, set up a playlist of your favourite tunes and head off on a road trip?
In resort travel
The vast majority of ski resorts have an in resort shuttle bus. They are invariably free and link up the resorts from residential areas, to resort centre to ski lift hubs. These days many buses run on low carbon fuels too. Take these buses rather than a taxi or minibus, to keep your in-resort carbon footprint to a minimum.

2. Choose An Eco-Friendly Ski Resort
Ski resorts across the Alps are improving their eco-credentials and reducing the carbon footprint of their operations. Initiatives include switching to renewable energy sources, low carbon in-resort transport, reducing cars in resort with park and rides, moving to more ecologically powered piste groomers, ski lifts and more. Read about the initiatives in Verbier, Megeve which won the Flocon Vert (Green Snowflake) label in 2020, Val d'Isere, and Zermatt.
3. Eco-Friendly Ski & Snowboard Clothing & Equipment
The most sustainable items of ski clothing and equipment are those that you already own. With that in mind, anything you can do to prolong the life of your kit is worthwhile when it comes to managing your impact. So repair any little holes, re-proof your ski jacket, service your skis and pack them ready for your trip. When it comes to repair, if you don't have the skills yourself, repairers such as Sheffield Clothing Repair, who specialise in outdoor gear, are there to help.
If your kit has seen better days and is beyond repair, two low impact options include buying second hand and renting. EcoSki is a great one stop shop for both pre-owned and rental ski wear. WhoSki is another site where you can buy preloved ski gear from other ski enthusiasts.
And, if you do need to buy new, consider the eco-credentials of the company you are buying from. Buying quality kit that has been made to last is much better for the environment than buying cheap disposable items. Again, EcoSki has done the hard work for you, only listing items from brands that have a strong focus on sustainability.

4. Consider The Way You Consume
With 8% of the carbon footprint of your ski holiday down to food and drink, taking responsibility for the things you consume on holiday is another easy way to reduce your impact.
When you travel, ensure you pack your refillable water bottle and coffee cup so you can stay hydrated on the go without using unnecessary single use items.
Choosing to eat vegetarian on your ski holiday can reduce your food and drink carbon footprint by 75%. If going veggie for your trip is a step too far, you can still opt for local, seasonal dishes rather than dishes containing tropical fruit and Argentinian beef.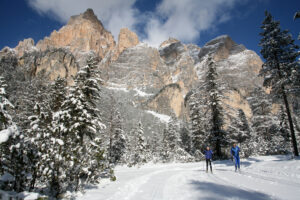 5. Book With An Eco-Friendly Tour Operator
Not all tour operators take into account the impact of their operations. Here at Fish&Pips, we've been working behind the scenes for the last few years to manage our impact and are currently working on a plan to become a net zero business . More than just reducing our carbon footprint, we are also working to reduce the waste our business generates, introduce circular models and support biodiversity too. This means our guests can rest easy, safe in the knowledge that staying in a Fish & Pips chalet is already contributing to reducing their carbon footprint. To find out more about our plans, read our article  about how we are making our ski chalets more eco-friendly.
We hope these tips have helped you understand how you can reduce the environmental impact of your next ski trip and inspired you to give them a go.
Read our article on how we provide a more eco-friendly ski chalet experience.
To chat to us about your next ski chalet holiday, contact our experts at [email protected] or call +44 (0) 1306 264005.