Photos @osborneniall 
–
Cooking for a living wasn't something this bearded 26-year-old intentionally set out to do, but it didn't take long before Niall discovered a real affinity for kitchen life.
"I ended up not completing my A-levels for health reasons, so was looking for something else and found myself working in a gastropub near Winchester as a commis chef. It was really good fun, quite high-pressure and I found out that I rather enjoyed cooking."
After several enjoyable years behind the stove at the various village pubs of Hampshire, Niall fancied a slice of a life abroad and so left behind his rural roots to become a chalet chef in French resort La Plagne.
"I'd never skied before but thought why not? It was a way for me to carry on cheffing but to experience something new. I really enjoyed the lifestyle but I was working for a company where you were restricted to a set menu, so it wasn't very progressive."
Despite the ceiling on developing his skill-set, Niall was sold by the seasonnaire lifestyle. Pining to spend a summer by the sea, he found his next job on the little-know Channel Island of Alderney at popular island restaurant run by Fish & Pips co-founder Holly Chandler (The Fish), The Georgian House.
"My summer in Alderney was amazing, I learnt loads and it was a totally different style to what I'm used to. I made some great friends there. It's a surreal but brilliant place."
It was Niall's time on 'the rock', as it's also commonly known, where he ended up spending three consecutive summers and which led him to a season with Fish & Pips.
Now a F&P veteran and working his third season for the company in 10 bed Chalet Tourterelle, which has been his kitchen home since day one, Niall never stops experimenting with new dishes and flavours.
"I have quite a diverse repertoire. I like to use a lot of colour in my cooking and I really enjoy working with vegetables, whilst also trying to make my dishes quite carb-light."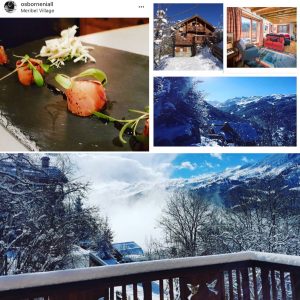 Pictured above – the view from Chalet La Tourterelle – photo credit @osborneniall! 
A fan of the quieter life, being situated in Meribel Village is the ideal spot for this born and bred country boy who particularly enjoys the community village vibes.
"I love the village in particular because it's the same familiar faces. Most of the time I'm happy to hang out down here, rather than in Meribel Centre."
If he's not carving up the piste Niall can typically be found chewing the fat in village pub The Lodge Du Village.
"The guys who work at the Lodge Du Village are great, it's like our front room, we spend as much time here as we do at home."
And days when he doesn't fancy a ski? Niall's discovered a rather unconventional way to whittle away the hours in the Meribel Valley.
"There's little else to do here out in the alps. But I did recently spend a day hopping on and off the free resort buses. It was brilliant. I went to parts of Meribel I never knew existed."
It's the simple things.
And to finish..
Desert island dish?
A massive fruit de mer. I love seafood and shellfish. I could quite comfortably go pescatarian.
If you could ski to one album?
Madonna – Celebration.
If you could only drink one après drink forever more?
Cider.
Favourite ingredient?
Cauliflower.
Ski resort or beach resort? Ski resort.
Chef you'd most like to work for in the world?
Nigella Lawson.
Best dining experience of your life?
An amazing restaurant in Venice called Il Ridotto. It does classical Venetian food. The place was so light and bright and I drank the best champagne cocktail I've ever had in my life.
Four Fantasy chalet guests?
Margaret Thatcher, P.Diddy, Tom Hardy and Trevor McDonald.
Plans for after the season?
Go down to Antibes and work on a yacht.
Where do you see yourself in 10 years?
Still travelling the world, working as a chef, living the dream.