Live vicariously through our very own Philippa as she returns from a sailing holiday in Croatia!
We interviewed her over the various delights of her sailing holiday in Croatia and chartering a luxury boat. With over 1,000 islands to explore, all bathed in glorious sunshine and dotted with gorgeous beaches, exceptional food, and historical sites, Croatia is ideal for a sailing holiday.
Read on to uncover top-tips and insider knowledge to perfect your own holiday in Croatia!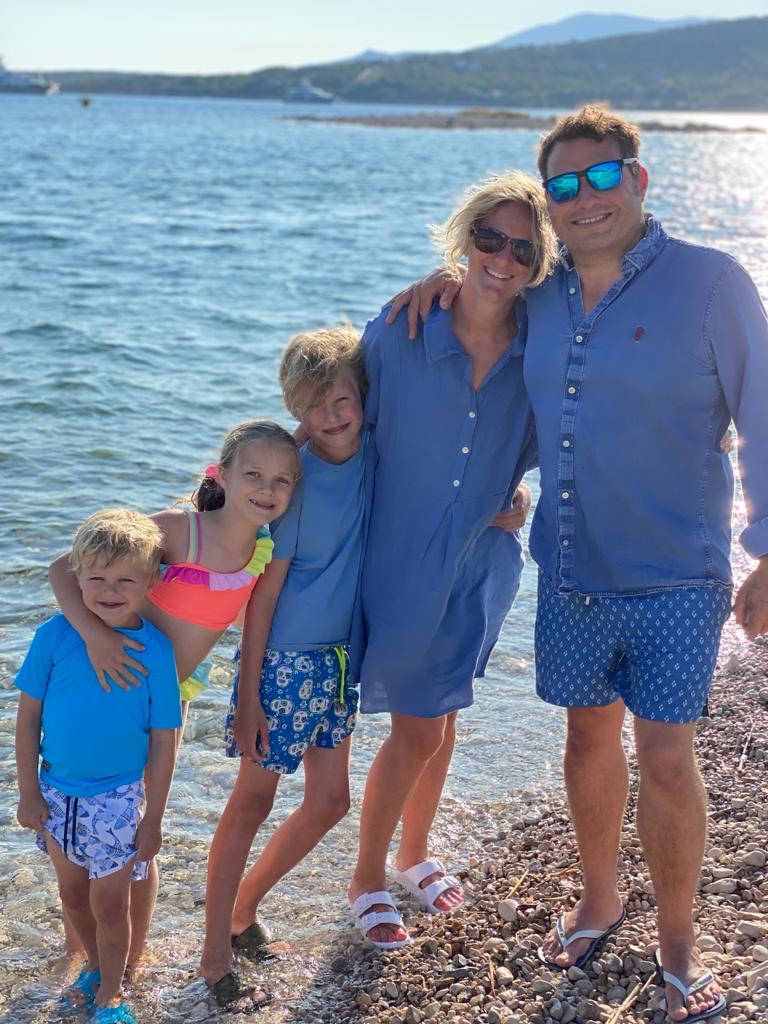 First up, tell us a little bit about where to start – how do you pick the boat you need? Where does the boat go from and how did you get there?
We were two families travelling together, so we needed a boat with enough space for us all, though we also took a bare boat (no skipper) so needed a manageable size.  We selected a 48 ft Dufour, which was brilliant, through Under the Heavens.  We flew to Zadar, which was 1hr 10 mins to Primeston, where the marina is.  Split is closer (35 mins) but Zadar was cheaper and it was 200 EUR for a taxi down for 10 of us, plus 50 EUR more if we wanted to stop at a big supermarket and provision the boat, which we did.
There was a small café at the supermarket so we had a drink and sandwich with children while the husbands did the shopping, which worked really well.  You can't take the boat until 3pm so this filled that time and meant when we got there and did the check in we could get sailing quickly.  The UTH office has a nice area with chairs and cold water to sit while the paperwork side of things is done.  They then do a boat check in with the allocated skipper.  I assume if you have booked a skipper this is different and you can get straight on the boat.
Do you choose where you want to go before you set off or do you see where the wind takes you? Are there set routes that would be recommended to see the best of Croatia? What was your route?
If you have a skipper then he will have planned this with you – there is so much to see and the key is avoiding any floatilla so you have more space.  We made a plan each morning and if we went to a port as opposed to an anchorage, we generally called that morning to book a space.  There is a pilot book of info on the boat and we used google loads!  We can recommend this to anyone going, but the skipper will take all this away from them.
How spacious and comfortable are the boats?
It depends which you book but all have mod cons, coffee machines, ice makers, freezers etc. As with a hotel, you get what you are prepared to pay for.
Do you sail somewhere new each day? How long is the sailing itself vs chilling at anchor? Can you choose which 'toys' you want to take with you?
We went to a new place each day – generally 4/5 hrs at sea between each but some days less and some days more depending on weather etc.  We took two paddleboards, snorkelling stuff, and a normal tender with small engine. You can add to this with UTH and take much more.
Did you get off the boat and explore all the islands? How much time do you spend on land? Can you choose to stay somewhere longer if you really love it?
We didn't head inland at all – we explored bays and ports in the evenings but generally did lots of swimming etc. at each place.  There are some fab places to eat too.  Each port has plenty of cash machines, bakeries and small convenience stores, so it's easy to get supplies.  If you wanted to stay longer at each place you can do!  You have to pay for a berth in a port or a mooring buoy, but anchoring is free, so we did a mixture of both. Some bays have a restaurant and the mooring fee is included when you eat, though it makes your supper feel very expensive!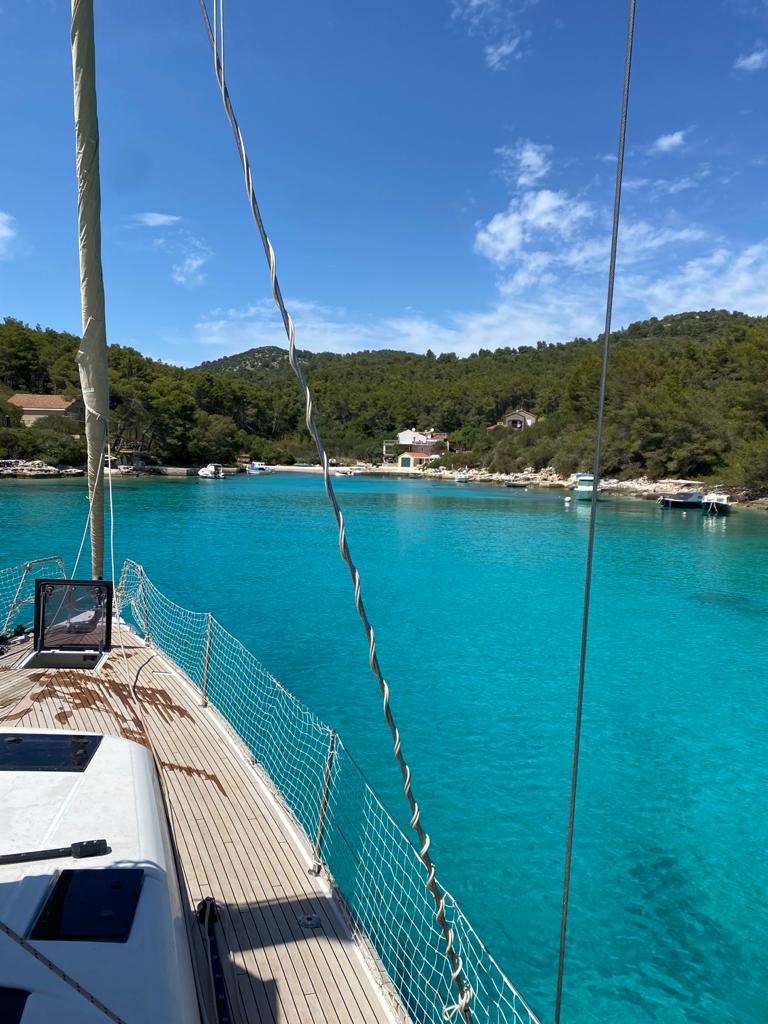 What meals are provided on the boat? Any favourite restaurants that you want to shout-out during your trip?
If you take a host then this is all predetermined before you come out – TBC.  We ate amazingly well when we dined out, with two highlights at Budikovac on Vis, a beautiful bay with buoys.  They have a cocktail bar that shuts at 6 and then the restaurant.  Their menu is limited to fish really and they made tomato pasta for the children, but it is delicious.  Note that it's a destination for day trippers, so it's best to get moving in the morning before it gets filled up again with RIBs.  Most of these restaurants in bays only take cash, so lots of this is a MUST.  Another favourite is Bako, in Kamiza, on the north of Vis in the town, boasting beautiful views over the harbour and a little more sophistication!
There is so much to see with Croatia which is why I guess sailing is the best way to see it all! Did you have any favourite islands or stop-offs?
We LOVE Vis as it is a bit further out, so is less touristy, but has lots of boats. Our absolute best meal of all was on a small island called Scedro, off Hvar, which has only one occupant all winter and no running water or electricity. Again, cash only, and part of the fee for buoy, but probably the best fish I've ever eaten!
Any secret spots that you don't really want to share but you will for us?
Scedro as above!
Describe a typical way that you spent the day.
On a boat, you wake up early and go to bed early (and sleep like a log!), so we'd be up and about around 7ish (plus 6 children!!).  Jim and I would log on to emails with a cuppa before a quick swim. Breakfast for all would be next, including cereal and croissants, salty sticks (sort of straight pretzels), and bread and jam from the bakery.  We'd then have another swim or paddleboard if on a buoy, or anchor and then plan our next destination.  If in a port, we'd grab some provisions.
As soon as we set off, we'd get the music going, the boys a beer and crisps (you eat SO many nuts and crisps sailing!!). We'd usually drop the anchor on route for lunch, giving another chance to see somewhere new, and it's easier to make lunch when still.  Lunch would generally be ham, cheese, bread, salads.  We'd then carry on the journey to our destination where we'd swim, paddleboard etc. and have a G&T and some nibbles!   If we were eating in a restaurant, it would be a quick shower and change (no hairdryers and very little makeup needed) and off we'd go – armed with colouring, activity books, UNO, Dobble, and friendship bracelet making kits! If we were eating on board we'd do the same: quick shower, then get the grill going on the back of the boat.  We'd BBQ – chicken, pork, halloumi with salads.  Jim even made a mushroom risotto one night and a Spanish omelette!
You soon get into a routine of keeping a very tidy boat, and the washing up doesn't feel too much of a chore.  If you take a skipper and host then this would all be done for you too!  Bed each day all together by 10ish and FAST asleep.  We didn't even try to put the children to bed before us – just one for all and all for one, which is why it is such a great family holiday, since they get SUCH good time with their parents and are so engaged and away from any sort of screen etc.
What was your most memorable experience during you holiday?
Probably watching the children enjoy it so much. Willoughby learning to swim and their general independence from being on the boat.  Going off snorkelling, doing silly quiz books, or Ned learning Suduko with his grandfather who he's never really spent more than 2 hours with.  Jim's dad ADORED spending that time with the children and having lost my own dad it is times like that that feel so special.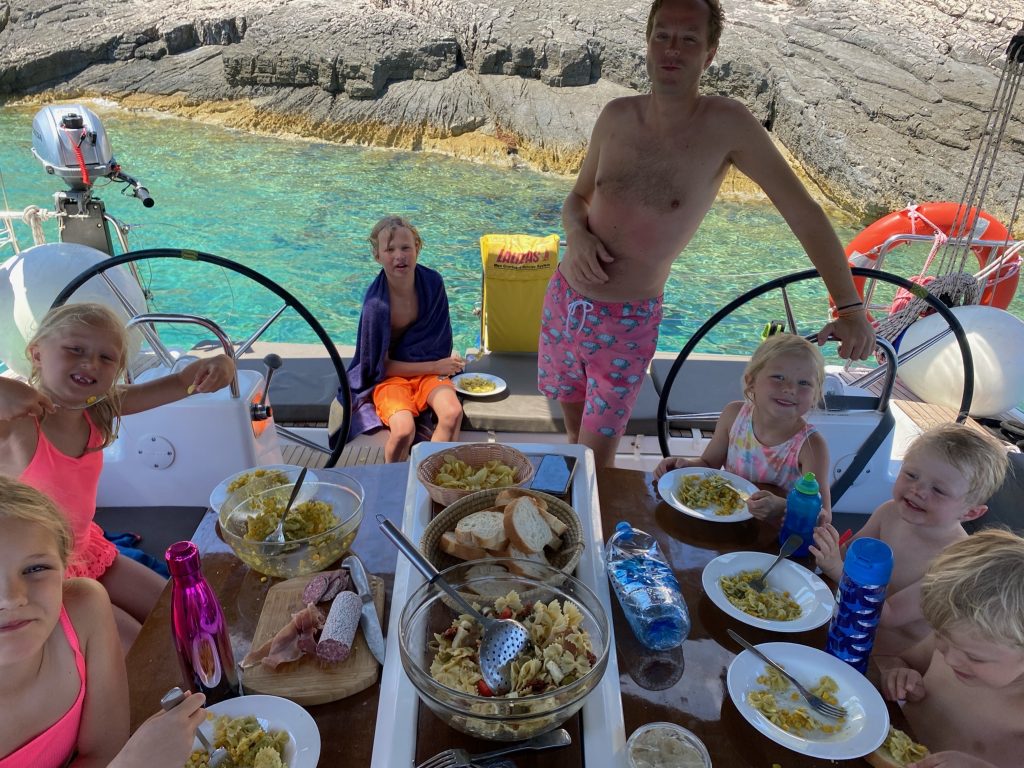 Thanks so much to Philippa for sharing her wonderful holiday! If you're interested in sailing in Croatia yourself, talk to Philippa our sailing expert on +44 (0) 1306 264005 or enquire now.