When sailing in Turkey, what exactly might your days look like?
Any successful trip begins with your arrival at the airport, before receiving a welcome from your driver. Look out for the 'Salamander Yachting' sign, held just outside the airport doors!
The driver will escort you to an air-conditioned minibus, complete with bottles of cold water provided, which will take you direct to the harbour. There, the Salamander will be waiting upon your arrival. It's approximately 30 minutes from Bodrum harbour, and 30mins from Dalaman airport to Gocek harbour.
Here, the Salamander's private four-man crew will greet you and assist with taking your luggage onboard. Making sure all shoes are off first, step aboard your floating home for the duration of your stay.
Your captain and crew will be formally introduced, as well as your shore manager, Esin, who will brief you on the Salamander and your upcoming charter.
Take time to have a look around the boat, select your cabins, and unpack if you choose. Alternatively, skip ahead to putting your feet up with a glass of bubbles whilst settling into your new surroundings. Imir, our fabulous chef, has usually rustled something up for you after your journey!
Once comfortable, the crew will depart from the harbour and motor to a local bay, escaping the sounds of hustle and bustle from Bodrum, making sure the first night's sleep is a good one (this can always be changed depending on what you would prefer).
Sleep cosily in your own en-suite cabin, with Egyptian cotton bedding, white fluffy towels, and air-conditioning.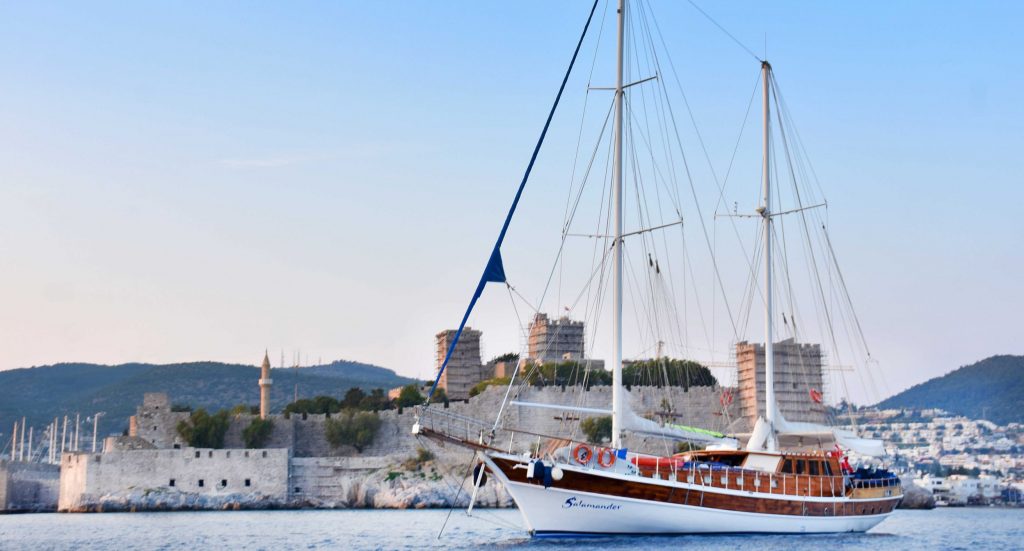 Breakfast
Wake up to the breakfast bell at your chosen time, discussed the night before or in advance. You may have already woken early, watched the sunrise, and started your day with a Turkish coffee in hand. Breakfast serves selection of meats, cheeses, olives, yoghurts, fresh bread and fruit, jams, etc.
Afterwards, it's time to put on your sun cream, discuss your route/itinerary (if you have not already done so), and settle into boat living. Find a book to get stuck in to from one of our cabin libraries, chat with family and friends, and enjoy your surroundings whilst relaxing into the week ahead.
The crew will be on hand to provide drinks, and, at about mid-day, we usually choose an ice-cold soft drink or a refreshing Shandy.
If the anchor has not already been lifted, it's time to get on the move in search of another bay or pretty village for lunch, usually a couple of hours away.
Lunch
Having arrived, the table will be laid and lunch will be served, involving lots of lovely options. Pick from various pastas, yoghurt dishes, meats or fish, and wine of your choice. Chilled Rosé is usually our choice of lunch time tipple. After you have digested lunch, finished with a selection of fresh fruit and maybe a coffee, recline back into the sun and have an afternoon doze, or bring the toys out onto the water. There is a fantastic choice of sailing dinghies, kayaks, paddle boards, snorkelling gear.
Following a spot of afternoon tea, you will typically move onto final spot for the day. This will provide a stunning location to watch the sun go down with a G&T in hand, making for a lovely evening dinner spot.
Before you eat, indulge in a shower and dress for dinner – the dress code is as smart or as casual as you choose. Enjoy a selection of drinks and nibbles under the setting sun. We recommend you bring spirits with you from Duty Free –mixers, like Tonic, Lemonade, Coca Cola etc. will be provided, so do confirm in advance if you would like anything out of the ordinary. BBQ evenings are a great opportunity to have a drink at the bow of the boat whilst you watch the process – a little different to how we do it at home!
Supper
Supper will be served at the table when the bell is rung, and a fantastic and vibrant selection of Mezes, meat, or fresh fish will be placed on the table for you to help yourselves.
This will be followed by a 'Turkish style' pudding– if you feel like puddings are too much, then do please let us know so we can ask Imir to reduce his portions. Otherwise, there's nothing left to do but enjoy!
After supper, evening entertainment involves drinks, music, or simple relaxing. Really, it's whatever you choose.
The next morning, it's time to do it all again the next day whilst visiting more of the beautiful Turkish coastline. The holiday is yours to do with it as you choose! There is a great selection of things to do and places to see. Once you have chosen a particular itinerary, we can offer guidance on the best spots along your chosen route!
Extra Bits:
Music of your choice
Fancy Dress on board
Shopping
Restaurant visits on 2 evenings
Little bars to explore
Beautiful coves and bays to explore
Old Ruin villages
Amphitheatre and the sunken city of Knidos
Cleopatra's Island
The Dalyan River and Rock Tombs
Turtles
The Man with the Golden Teeth, in Selimye
Bozburun Yacht Club
Many more options!
Talk to Philippa, our sailing expert, about planning your own sailing holiday in Turkey.