Last week I was lucky enough to be treated to a day's cookery course at the Abinger Cookery School.
As some of you may know, the F&P UK office is based here in the Surrey Hills, so as you can imagine this has it's perks as we are often treated to many of the delights that come out of the kitchen!
There are courses galore throughout the year – including the one or two week Chalet Chef Course for budding seasonaires, 'Dinner Parties to Impress', Game, Gluten Free, Barbecue, Supper Clubs, Dim Sum, Best of British, Seafood Secrets, Street Food, Wine Tasting evenings .. and plenty more.
I signed up to the 'Dude Food' course. This American-Diner style trend of food has taken London by storm and rightly so – it's irresistibly delicious! I spent the day learning what's 'cool' to cook at the moment from pulled shoulder of pork, smoky sticky lamb ribs, super sauces, as well as slaws and deserts.
It was great to see Abinger from the students' perspective (rather than just sampling their food while I work away in the office), and I was really impressed with Jake's (Abinger's master chef) fantastic teaching skills and approach, as well as the well equipped kitchen and fun cooking environment.
At lunch time we enjoyed some of our creations and a glass of vino, and then carried on into the afternoon.
The Yum Bun recipe was particularly delicious – filling steamed buns with a variety of meats or fillings of your choice all cooked and served in different ways. (Very much along the lines of the Japanese restaurant Flesh&Buns in London – if you haven't visited yet would highly recommend!! http://www.bonedaddies.com/flesh-and-buns/about-us/)
We went home feeling very inspired (and full) after a great day, and with some delicious new recipes under our belts!
Sample Recipe (this is also featured in the the Abinger Cookery School's 'Chalet Cook Book' in association with Fish&Pips)
Cow Pie
(Serves 4)
Ingredients
For the suet pastry
270g of self-raising flour
100g of suet
72g of butter
10g of salt
100ml of cold water
For the filling
1kg diced stewing beef
100g peeled baby onions
100g sliced onions
100g sliced mushrooms
1 pint of ale
500g chicken stock
10g chopped thyme
50g butter
50g flour
Dijon mustard
For the boneless marrow
200g softened butter
50g finely diced shallots
15g chopped parsley
65g breadcrumbs
Salt and pepper
Dijon mustard to taste
Method
Put the flour, salt, butter and suet into a mixer with a dough hook and mix until combined, add the water and continue to mix until it forms a ball. Chill until you need it
Season, then brown the beef in a little olive oil then remove from the frying pan. Fry the onions (baby& sliced) sliced mushrooms together with the chopped thyme in the butter, using the same frying pan as the beef. Season well, cook until soft.
Add the flour, then add the beer and chicken stock, bring this mixture to the boil re-season with salt, pepper and a bit of Dijon
Add the beef, and cook for 3 hours at 150°C. Adding more liquid if necessary.
To make the boneless marrow: Sweat the shallots in a little of the butter until softened but not coloured, leave to cool. Put the butter in a mixer and beat until it becomes light and fluffy, add the shallots, breadcrumbs, parsley and Dijon to taste. Season with salt and pepper.
Mix together thoroughly, and roll into bone marrow shapes. Put into bones and bake for 6 minutes
When the beef is tender, take off the heat and leave to cool down. Turn the oven up to 170°C.
When cool, put the beef mix into individual oven proof dishes, top the pie with the suet pastry, brush with egg yolk, put a bone in the middle and stuff with boneless marrow.
Cook at 170°C for 20 minutes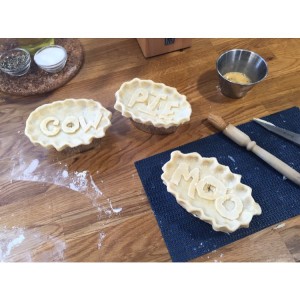 Written by: Emma