Did you know that going on a chalet holiday as we know it is actually quite unique to the European market. The Brits absolutely love staying in a chalet and for good reason. However, staying in a chalet isn't the only way to experience your favourite ski resort, a break in a boutique Alpine hotel is refreshing, luxury and a delightful way to spend your well-deserved holiday and here is why..
1. The Dates 
We know that life doesn't always go to plan. As much as you would love go to the mountains for a week it doesn't always work out that way. A hotel has greater date flexibility than a chalet holiday. You can pick days that work around your schedule rather than the classic weekend changeover days that we all know and love. So if you want to ski for a few days during the week or perhaps just hit the slopes for a long weekend you can do just that. Watch out for peak periods though where they might also have a minimum stay policy in place.
2. The Location
Location, Location, Location – all of our selected hotels are excellently located in their individual resorts. Piste side paradises where you walk out of the door straight onto the slopes or within minutes to the nearest lifts, and all with beautiful mountain views. You will not be disappointed and that is a fact.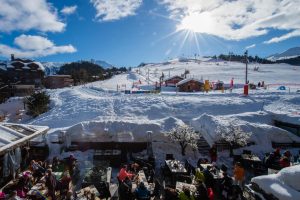 3. The Facilities 
Indulgent Spas, Michelin starred restaurants, child care (sometimes even free in the case of the Altapurna), games rooms, cinema rooms, outdoor swimming pools, indoor swimming pools, cocktail lounges, electric taxis, late night bars, gyms and ski shops are all facilities that you can expect find in our chosen hotels. Everyone in the group will benefit from these facilities being on their door step but they can be particularly beneficial for those with non-skiers or children as part of their party.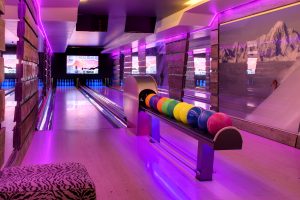 4. The Food
Being foodies we have only chosen hotels that have incredible food. The Portetta kitchen is run by Angela Hartnett who is renowned for delighting the taste buds with her Italian menu and restaurant Cucina Angelina. Les Barmes de L'Ours restaurant has a Michelin star. Hôtel des 3 Vallées and W Verbier have a Michelin starred chefs heading up their kitchens. You won't need to eat anywhere else when you stay in the Schweizerhof and the W even serves fresh sushi if that is your thing. If you don't stay in one of our hotels you will certainly want us to book you a table there.
5. The Hospitality
Service that is as friendly as it is professional is extremely important to us and one of the mantras that Fish&Pips swears by. Therefore, when we were staying in and choosing these hotels the hospitality had to match with our own and we were not disappointed. When you stay in one of our hotels you are well and truly looked after from start to finish. Nothing is too much trouble and almost anything can be organized for you, most importantly with a smile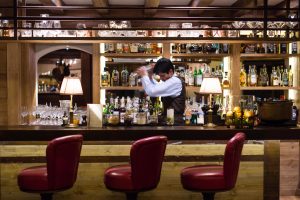 6. The Privacy
Unless you have a big enough group to book out every room in a chalet you might have to share it. Which most do love. However, if you are going away for a romantic break or a special occasion then the privacy of a hotel, with no commitment to talk to anyone else or even leave your room (room service please) may just be what you are after.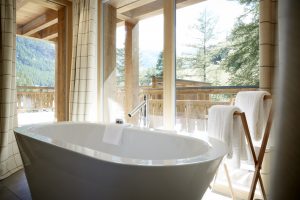 7. The Choice 
Not only in terms of the hotels themselves but also their rooms. There are vast choices of room options and layouts to choose from, to best suit your needs. From cozy rooms, to plush suites, to chalet style apartments, there is something to suit everyone. So whether you are after something for the whole family or a honeymoon suite our hotels will have you covered.
8. The Luxury
Staying in a chic hotel always feels like a real treat. You really do feel those stresses slide away. The sheets always feel lavish, the dressing gowns are extra fluffy and the bathroom products are the ones you have always wanted to try. Walk down to the spa or perhaps stay in a room with your own private hot tub. Hotels just know how to 'do' luxury.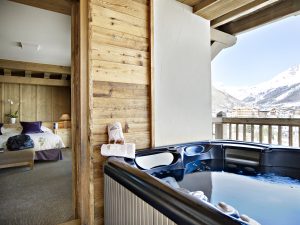 9. The Fish&Pips Factor
When you book one of our tried and tested hotels you don't just get the hotel looking after you but also us. You will benefit from our expert concierge, advice, tips and tricks, as well as being on hand to help you with anything during your stay. Not only that but any questions or concerns you have pre to your holiday we can answer honestly and helpfully. We have been there and know the score. Let us be the guinea pig to take the hassle out of your holiday.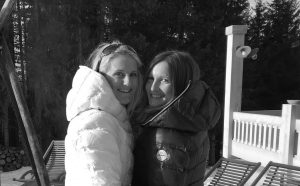 10. The Children
We know that happy children equals happy parents and therefore happy holidays. Hotels have lots of different childcare facilities and options. From babysitters on tap, baby listening options, kids clubs, swimming pools, fun rooms, children's facilities and games means that (depending on the hotel of course) your children will be entertained on and off the slopes.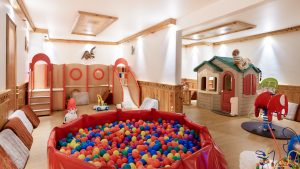 11. The Late Booker
Where chalets can get booked up quickly and far in advance, hotels often have last minute availability.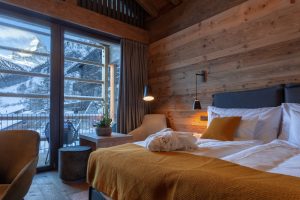 12. The Concierge Clout
Whilst we can look after all of your concierge needs, all of our hotels also have excellent concierge services.  They also normally fair amount of influence to get you that table at that restaurant that you were after, so don't forget to ask!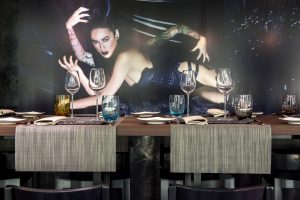 13. The Lounges 
 You have got to love a hotel lounge. It is the perfect place to sit pre dinner with a cocktail in hand, accompanied with a selection of tasty snacks. Sink into one of the Portettas or the Blizzards comfy sofas, admire the Altapuras or the Experimental Chalets funkiness or sit outside at the CERVO and admire the Matterhorn.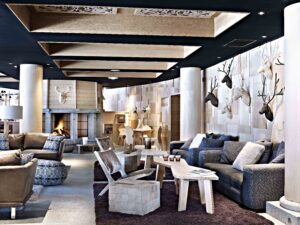 14. The Skis
One of the little luxuries of a hotel are the state of the art boot rooms that make sure you pick up toasty warm boots each morning. A lot of the hotels benefit from having ski hire shops in them so you won't have any faff making sure your kit is perfectly fitted.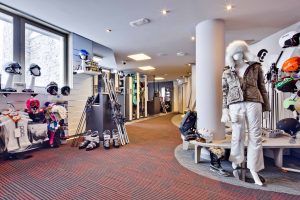 15. You Can Bring Your Furry Friend
A lot of hotels allow you to have your dog to stay with you where most chalets do not. This is perfect for those driving out for a longer break as you don't have to worry about doggy day care back home and you can both enjoy long luscious walks in the fresh mountain air together.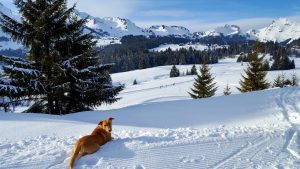 Check out our ski hotel collection and find your perfect piste side paradise here
Or contact Philippa or Gemma:
e[email protected]
+44 (0) 1306 264 005