With villas dotted across multiple Mediterranean destinations, our villa holidays have always been a popular choice with our guests, be it making up for lost time with multi-generational getaways, gathering friends for a celebration or simply enjoying the flexibility that a villa holiday has to offer.
No one villa offering is the same so please give Gemma a call to discuss what would make the perfect rental for: your own private chef or ad hoc catering, skippered boat excursions or your own mooring, cliff top sea views or toddler friendly gardens.
Why book with us? Travel in confidence with using a bonded Tour Operator, make the most of our complimentary concierge service and benefit from our expertise on the destinations. The majority of our villas have also been visited, loved and approved by our team of experts.
Greece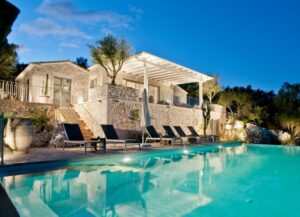 CORFU
Best for: families with teens
The island embodies the very best of Greek living: glorious sunshine, Mediterranean feasts, pristine beaches, and friendly locals within a 2.5-hour flight from the UK. It's no wonder it's been such a hit for so long now. Our hand-picked Corfu villas are the perfect luxury hideaways to discover this beautiful island from with their views over the Ionian. Beaches are a wander away and port towns with bars, restaurants, and nightlife are nearby. We recommend hiring a car (we can help you with this!) for a day trip to Corfu Town.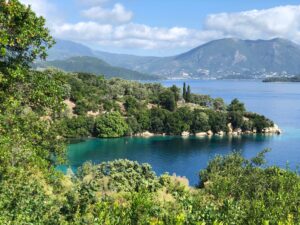 MEGANISI
Best for: multi-generational holidays and large groups of friends
A favourite with Holly and Philippa following holidays in previous years, tranquil Meganisi is the authentic Greek island experience with its traditional tavernas, coves and quaint port towns. It's perfect for those who love the water; the villas have a private pebble beach and cove just a couple of minutes' walk away, and it comes complete with a private jetty, paddle boards, RIBs, doughnuts and waterskis for hours of entertainment. Each of the villas has its own infinity pool, large outdoor areas for entertaining and al fresco dinners, and stunning views over the bay.
In the words of the Fish and the Pips, it's "one of the best villa experiences the Greek islands has to offer!"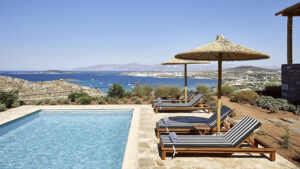 PAROS
Best for: families with older children and groups of friends
Long sandy beaches fade into green hills scattered with traditional, white-washed villages on Paros. An unspoilt gem where adventure and relaxation blend perfectly – walking trails abound, carrying you across the wild landscape with the peak of Agioi Pantes, the highest point in Paros, boasting stunning views over the Aegean sea and its countless Greek isles. Ideally located for an island hopping adventure with Antiparos only a short boat ride away.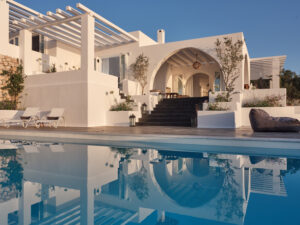 ZAKYNTHOS
Best for: multi-generational holidays with young children
Zakynthos offers so much in the way of holiday appeal – azure waters, coves, tavernas aplenty and accessibility from the UK. It"s a firm favourite with Holly and Philippa who have holidayed here numerous times with their young families so they have all the best family recommendations to pass on! All of our villas here have access to a popular beach club complete with kids clubs and all the watersports facilities you should need.
The Balearics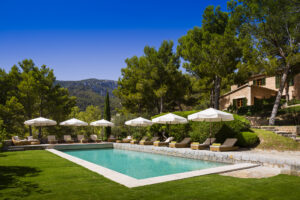 MALLORCA
Best for: keeping everyone happy
A long-loved destination for years, Mallorca has so much to see and do and the short flight time from the UK makes it an easy holiday option that's guaranteed to please everyone in the family. Our villas are dotted around the north-east and west of the island, all well-equipped to make the most of your holiday and excellently located near the best beaches. Get a true taste of Mallorcan culture and life by adding a stay in Palma to the bookends of your holiday.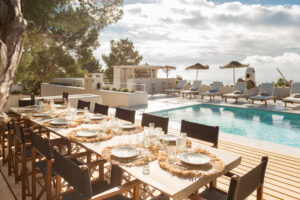 IBIZA
Best for: groups of friends and pre-school families
Beyond its party image, Ibiza's sandy beaches, quaint villages and an upcoming farm-to-fork scene mean it's entirely possible to enjoy the slower pace of life here too. From rural fincas to contemporary pads, all our villas offer the benefits of a luxurious stay – well thought out design and beautifully furnished villas with large pools and terraces for long lunches and dinners late into the night. They are all excellently located for exploring the Ibizan landscape.
Croatia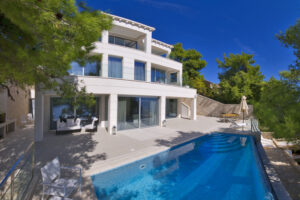 BRAC
Best for: families with older children and groups of friends
Brac, a short boat ride from Split, has the sleepy and seductive charm of an island less visited than its surrounding counterparts; stark white buildings with red roofs, a rugged and pine-fringed coastline and plenty of hiking and biking trails. Our luxurious villas are well-equipped and offer direct access to the sea – the waters here are wonderfully clear and waiting to be explored by boat. Catch a ferry to the neighbouring Hvar to get a taste of its charm, cobbled old streets and tavernas.
France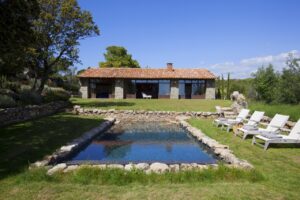 CORSICA
Best for: families with older children and groups of friends
Set on a private 6000-acre estate, Domaine de Murtoli, on the south-west coast of Corsica is a haven for those wanting to escape the hustle and bustle. The food, with its farm to fork offering and Michelin star cuisine, is exceptional. Here, you can take a Corsican cooking lesson, go kayaking, explore the estate on horseback or bike, or play golf. The secluded villas each have their own character, are located by the water with a private beach only steps away.
Italy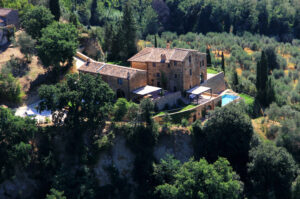 TUSCANY
Best for: families with older children and groups of friends
Escape to Tuscany with its rolling hills, cypress trees and olive groves as far as the eye can see. Go at your own pace and enjoy the slower way of life. Our collection features tastefully transformed rambling Tuscan farmhouses in the beautiful, secluded Italian countryside. Our Tuscan villas have the option of a chef so you can get a taste for authentic Italian cuisine. You'll want for nothing here…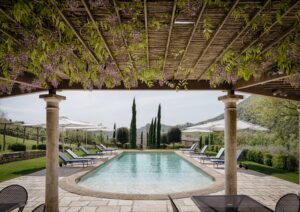 UMBRIA
Best for: families with older children and groups of friends
A haven for those who love nature and seeking out scenic spots, our villas both have views overlooking Umbria and stunning outdoor areas where you'll spend most of your time enjoying the serenity, views and relaxing with your family and friends. With daily maid service and the possibility of hiring a chef, you won't have to lift a finger.
To view our entire selection of Mediterranean villas follow the link below: