With the addition of some very welcome new arrivals to the UK's green list, it's time to take a look at the Balearic Islands this summer! Where better to take advantage of fascinating culture, beautiful architecture, and, of course, some gorgeous sun, than the buzzing gem that is Palma de Mallorca!
Palma de Mallorca is bursting with attractions, quaint alleyways to navigate, and is close enough to the airport you don't need a car to explore the city!
Palma de Mallorca – a historical melting-pot
A wealth of history is evident across Palma de Mallorca, in the many architecture styles and mixture of buildings.
Following the region's conquest by the Roman Empire, Palma was founded as an early port, with some remains of the Roman Wall visible today. Piracy has also plagued the island, reflected in the numerous fortifications around Palma. History fanatics can experience day trips to the nearby golden-stone village of Santanyí, where this legacy of piracy is carved into the walls.
Most prominent is Palma Cathedral, commonly known as La Seu, which perfectly encapsulates Palma de Mallorca's turbulent past. One of Europe's tallest gothic structures, the building itself has evolved with the times, with construction spanning four centuries. The iconic Antoni Gaudi was even enlisted to oversee restoration in 1901, granting La Seu a special place in history.
With all of this history soaked into the walls, Palma de Mallorca is the perfect place to lose yourself strolling down narrow lanes, uncovering hidden pockets of intrigue.
Delicious cuisine
For all foodies out there, Palma has been emerging onto the scene with a splash! You'll find plenty to satiate your palate, with brilliantly authentic Mallorcan dishes in almost every café and bar. If you need help planning a wider trip, explore our best tips for eating across the island. Otherwise, enjoy our favourite restaurants that perfectly combine elegance, comfort, and great food.
Marc Fosh – we might be a little biased, since this just happens to be connected with one of our handpicked hotels, but the food in Marc's eponymous restaurant is truly sublime. Given his Michelin star, it's also fantastic value. All manner of creative, fresh, local, and seasonal ingredients are served theatrically, as set or tasting menus determined to impress. Inspired by food from across the Balearics, modern and tradition blend into excellent meals.
La Boveda – close to Palma's old harbour, La Boveda is a great place to start or finish the evening. Often full of locals, the ultimate sign of approval, a buzzing tapas bar in front contrasts a cosy restaurant in the back to suit all parties. On the right night, you'll be treated to live Spanish guitar music as you eat. Various tapas are served the length of the bar to friendly chatter. Our personal favourite is the albondigas, washed down with a nice house wine.
De Tokio a Lima – serving an intriguing fusion of Japanese, Peruvian, and Mediterranean cuisine, there'll be something to excite all senses! This trendy restaurant seats guests on terraces overlooking Paseo del borne and invites diners to enjoy contemporary art exhibitions whilst they eat.
Café L'Antiquari – a perfect Mallorcan experience located in a picturesque alleyway between a church and library. Mismatched tables and chairs, scattered art objects, and live music all culminate in a lively yet comfortable atmosphere, complementing the brilliant food.
Tast Club – one of the city's best kept secrets. You'll have a feeling of exclusivity after finding yourself in this elegant restaurant. Exuding the style of an old English club, enjoy the smooth confidence. There's even a raw bar, serving high quality canned seafood.
Stylish shopping
Whatever you're in the mood for, there'll be a place to buy it in Palma. Almost anything you can imagine is on offer, from high-brow outlets to brilliant local establishments tucked into the winding lanes of Old town. Make sure to pick up some souvenirs whilst you're here!
The 'Golden Mile' is an elegant boulevard lined with up-market shops, ranging from Louis Vuitton to Rolex. Found on Palma's Paseo del Borne, many local providers showcase their products here, making for fun window-shopping. Close by, both Jaime III and Sant Nicolau are a short hop away, equally boasting fine wares.
If you're still enticed by the allure of shopping, there're plenty of shops off the beaten track. Starting from Plaza Mayor, itself lined with tapas bars and cafés, wander the cobblestone lanes to find an abundance of delightful establishments. One of our favourite streets is La Rambla, reminiscent of Barcelona and distinctly Catalan. We just adore the quaint atmosphere and flower-stalls bursting with colour! Almost any of these narrow roads will carry you to something special.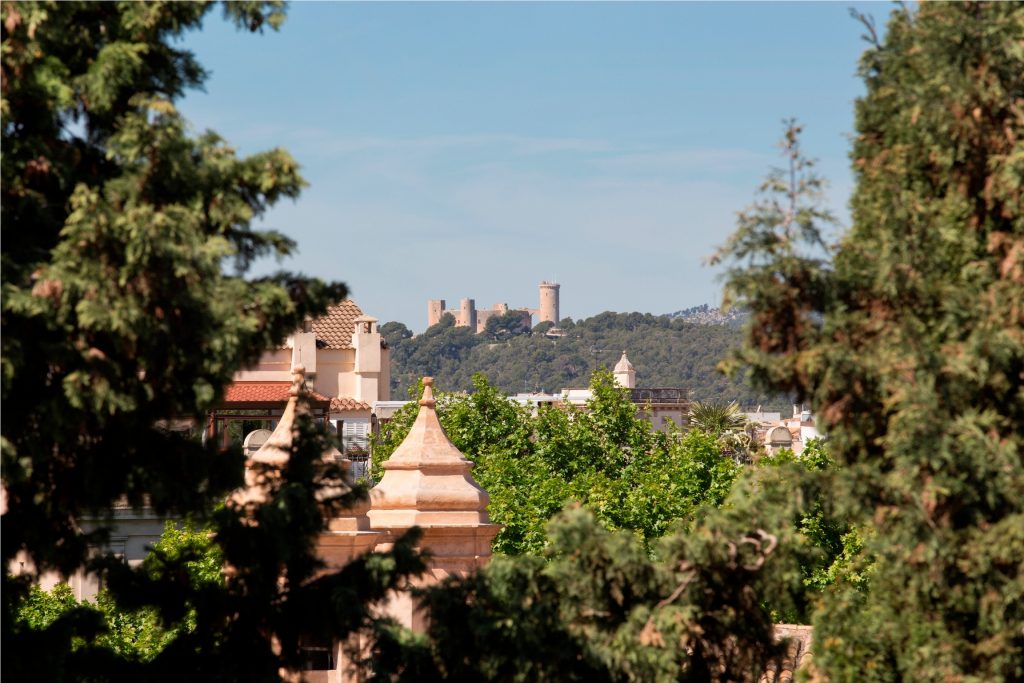 A dreamy day in Palma de Mallorca:
With so much to explore, a visit to Palma de Mallorca can last your entire holiday! We certainly believe it deserves more than just a day trip. If you are pressed for time, here's how we would enjoy a perfect day:
We simply love waking in the Convent de la Missió, a specially handpicked hotel. Indulging in one of their spa treatments is the perfect way to breathe energy into the day, before tucking into a buffet breakfast once suitably invigorated.
Hopefully, you'll find time to simply wander the streets of Palma, savouring the beautiful labyrinth of backstreets packed with interesting history and architecture. La Seu is an absolutely must-see attraction, dominating the skyline with its brilliant façade. Additionally, don't miss some of the best ice cream in Palma, in Giovanni L. Gelato. Tucked behind the cathedral, let your imagination run wild with almost one-hundred delicious flavours! For lunch, why not stumble into one of the many tapas bars or cafés found in the old town, especially near Plaza Mayor?
In the afternoon, it's worth walking through shaded pine forest towards Bellver Castle, a soothing and enriching experience. Another interesting slice of history, you can also enjoy stunning views over Palma bay. Allow yourself to relax in the evening, with a superb selection of bars and restaurants to choose from. You might struggle, however, to find a superior to the exceptional Marc Fosh restaurant, treating yourself to an unparalleled culinary experience under candle-light. Before or after your meal, the hotel's Art Bar is a chic, open-plan space inviting you to admire local, contemporary art displayed on the walls. Open until midnight, embrace cool drinks into the night before retiring to your room.
Where to stay in Palma de Mallorca?
Luxury pairs immaculately with rich history in our handpicked hotel, Convent de la Missió. This oasis of opulence is a refurbished 17th Century Monastery. Here, original features and modern décor merge to generate extravagant nights. As you wake to a quiet buzz, relish the unique space, where narrow lanes wind past courtyard gardens, creating a bubble of tranquillity.