What do the F&P team get up to in the summer? 
It seems hard to believe that July is already upon us; chalets have been closed down, summer holidays are well underway and the Fish & Pips team have scattered from the Alps to various locations across the world.
As a relatively new member of F&P (I took over the sales role in March) it has been a pleasure to meet a very friendly and dedicated group of people over the last few months. From everyone in resort; managers, chef's, hosts and of course our fantastic Meribel-based boss Holly (The Fish) – to the team working at our sister company the Abinger Cookery School, to our Devon/Surrey based boss (The Pips) Philippa (who skilfully manages to juggle family life while running a successful business) it's inspiring to see everyone enjoying a job and therefore a life they love; following their passions for food, skiing and the mountains, amongst many other things!
I was treated to a stay in Chalet Killy when I first started the role (rather a nice way to start a new job) and it was great to see happy guests, and a team consistently producing outstanding food and providing a professional service all with a personal and warm attitude that you might not experience in a larger company. Many F&P guests return year after year and it's not hard to see why.
So what do this fabulous bunch all get up to in the summer months? Not surprisingly, when the snow melts there are further, less snow-orientated adventures to pursue. I made the mistake of checking up on everyone the other day and am now green with envy (although I can't say my role is too bad either!).
Let's start with the Fish and the Pips.
Philippa (the 'Pips') has been based in Salcombe, Devon for several years where she runs the finance side of things for F&P all year round, along with looking after her young family. Now embarking on a move back to Surrey (closer to F&P's UK HQ), her and her husband Jim have also just opened a lovely new clothes shop in Padstow, Cornwall called Aloft (a must visit if you are in Cornwall – lots of bright and colourful styles with a 'nautical twist'!) She also has custody of the F&P Landrover during the summer months – which seems to have been put to good use doing the school run!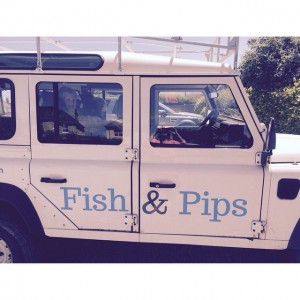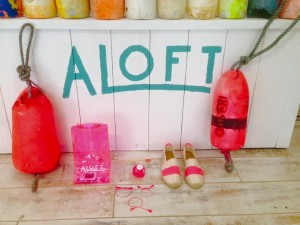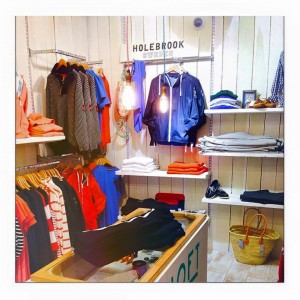 Holly (the 'Fish') swaps Meribel for the Channel Islands during the summer months where she runs the charming Georgian House on the island of Alderney. There are a few ex and current Fish and Pip-ers working alongside her in the Georgian team, as well as her husband (and founder of Ski Marmalade) Del. The Georgian comprises of a traditional pub, high-class restaurant, guest house and function venue on the picturesque island, and prides itself on a team full of enthusiasm for the island, the house, high quality service and of course (like F&P) food!
Alderney – not a bad wedding venue, and F&P host Mark arriving on the island last week
Clare our fantastic HR and Operations Manager has moved to Bristol this summer, having previously lived in Meribel all year round. She is currently knee-deep in applications and interviews for next season – ensuring that we have as brilliant a team as we did last year. The taste-testing element of the chef's recruitment process is possibly one of the perks of the job! Following a winter in Meribel Claire has been enjoying her new home in Bristol, catching up with UK based friends, and has spent a fortnight exploring Germany by campervan. She has also been busy working on an exciting project which is the new Fish & Pips Cook Book 2015 – to be released later this year!
Lucy our amazing Holiday Coordinator (also new to the team this year) lives in Meribel all year round with her husband and daughter, and so is lucky enough to enjoy the beautiful Alps throughout the summer months. She oversees the properties in resort in everyone else's absence and is in charge of all pre-holiday care for our guests for next season. Lucy has worked for many companies in Meribel and is a fountain of knowledge when it comes to pre-holiday care and any resort-related questions!
Then there is me – Emma – based mainly at the office at the Abinger Cookery School (our sister company and UK headquarters) in the Surrey Hills. I manage sales, answer customer queries and help F&P with new marketing projects and social media. Also in the office is ex F&P sales manager Hils (who has moved over this year to work for the cookery school). As a lover of food I am quite fond of my office location, as we often get to sample some of the delicious delights that come out of the cookery school (summer diet is going well). The students are taught by ex F&P-er and Times Chalet Chef of the year Vinny, offering many varied classes including Dinner Parties to Impress, Barbecue, Gluten Free, Turkish, Italian Masterclass and Chalet Chefs courses. Having all worked in the Alps for a few years we are also able to dispense advice to budding chalet chefs who come through the school. Our summer pastimes when not at Abinger include mainly travelling, music festivals, and enjoying the beautiful Surrey pubs in the sunshine!
Here's a snippet of a few other F&P summer pastimes:
Having spent previous summers working in Bermuda, Nicky and Duncan (our amazing Meribel Resort Manager and one of our top F&P Chefs) are spending this summer running a fishing lodge in Scotland which looks pretty idyllic:
Our superstar chef Bec is spending her summer working as a chef at the Bedruthan Steps Hotel in Cornwall:
Our other top chef Bradley is in Porto Colom, Mallorca, cooking in a luxury villa:

Killy host Anna is working in Jersey and can be found enjoying RIB trips in the Channel Islands and France:
Santons host Gabi has casually just climbed Mount Kilimanjaro ..! An amazing achievement!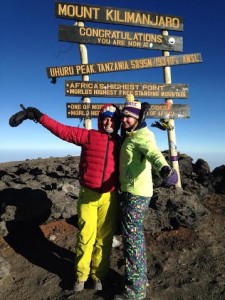 And finally our amazing chef Will, having passed his instructor exams during his time in Meribel, has decided to give summer a miss and head straight to the snow in New Zealand, where he has just started a job as a ski instructor. Next season he is off to ski instruct in Japan! Great news for him – but there have already been a few disappointed guests following the news that he won't be returning to cook for F&P!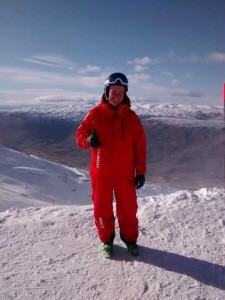 Written by: Emma