We are so excited for the return of the winter season this year! Not only are we feeling very vitamin-ski deprived but with plenty of wonderful changes and events, it'll certainly be a season to remember!
Of course, many of the fantastic reasons to visit the Three Valleys have stayed the same. This exceptional terrain, covering Méribel, Courchevel and Val Thorens provides some of the most fantastic skiing in the world with 600km of pistes across 327 different slopes. With a naturally high altitude and impressive snow machines, you're guaranteed glorious skiing in the fresh mountain air, whenever you choose to visit.
New chairlift upgrades:
We can't wait for the lifts to open once again on the 4th of December. Even better, a few of the Three Valley chairlifts have enjoyed some valuable upgrades.
The Olympe Gondola that runs between Brides les Bains and Méribel, originally installed for the Albertville Olympics in 1992, has been upgraded to be more comfortable, warmer and spacious, holding 6 people.
The Plattieres 3 gondola lift has also been replaced by Bouquetin a new, high-speed six-seater chairlift open to both skiers and non-skiers. Now, you'll be able to reach the slopes of Saint-Martin and Les Menuires in just two-and-a-half minutes!
Another hotly anticipated addition is the new La Masse gondola. This new, 10-seater gondola in Les Menuires will become one of the two fastest lifts in France, transporting all riders from the foot of La Masse straight to the top, with no mid-station.

New restaurant:
Mayra Altitude: This new restaurant is located at an altitude of 2,400 just a short ski from the top of Tougnette 2 chair lift. It  boasts 360° panoramic view of Mont Blanc and the Alps, has a capacity of 400 diners and features welcoming vibrant Himalayan-inspired interiors. The menu has been designed by a Michelin-starred chef offering a high-end brasserie-style cuisine, with traditional mountain specialities sublimated by a coal-fired oven for authentic flavours. We cannot wait to try this one out!
New to Fish&Pips in Méribel this season:
An exciting new addition to our Méribel portfolio, Chalet Iamato has recently joined the Fish&Pips family. With staggering mountain views; six en-suite bedrooms; a comfy sitting room and large dining room; hot tub; sauna; outdoor bar; and sunny terrace, actually going out skiing might be a challenge… When you do venture out, you'll find yourself within a stone's throw of the Golf chairlift, leaving the entire Three Valleys at your disposal.
New catered Chalet Apartment L'Ours Rouge
Newly-built last year, Chalet Apartment L'Ours Rouge is a delightful addition to our collection. Located in the heart of Méribel village, this stylish apartment features four en-suite bedrooms, with a wonderful master bedroom and a double bunk room for families. Skiers were the utmost consideration when designing the apartment, which has boot warmers and very quick access to the slopes. The lively hub of Méribel Village is easily accessible with its supermarket, restaurant, and bar.
New luxury catered Chalet Trois Ours
Everything a ski chalet should be is embodied by Chalet Trois Ours. Located piste side in Méribel Centre, it offers the perfect ski-in/ski-out experience. The chalet itself shines even more, with five en-suite bedrooms, a large, open-plan living area, hot tub, cinema room, gym, steam room, massage room, and balconies to fully appreciate the beautiful views. This spacious luxurious chalet feels quintessentially alpine.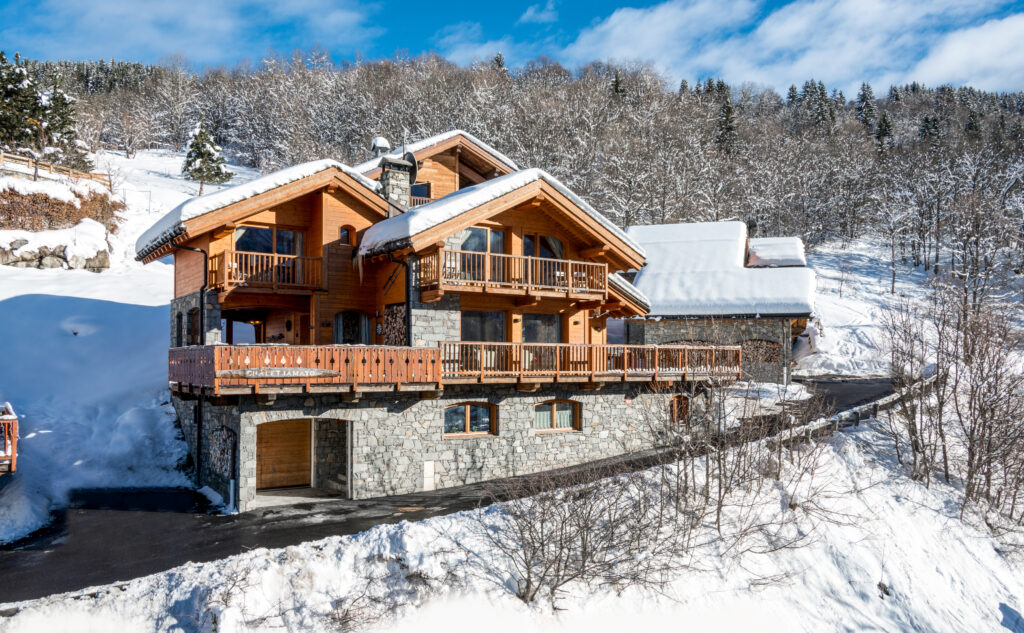 Not forgetting Our Ski Hotel Collection:
If  you are a smaller group, fancy a long weekend of skiing, fancy different facilities or a Kid's Clubs on tap then we know that a chalet isn't always the perfect option for everyone. Here is where our handpicked collection of boutique hotels across our favourite resorts in the Alps comes in.
All our hotels in the Three Valleys are excellently located with excellent ski in/ski out piste side positions and easy access to ski schools; their facilities are superb with cosy bars, luxurious spas, swimming pools and sunny terraces; they offer great family room set-ups; offer an exceptionally warm and welcoming yet professional service; boast restaurants that will delight your taste buds; and there is something to suit everyone whether you are coming as a couple or a bigger group.
Just moments from the lifts, a stay here means you have the entire Trois Vallées at the tips of your skis. It's also at the centre of the action, with the shops, restaurants and bars of Méribel right on the doorstep. Traditional Alpine in style, its cosy, modern and relaxed. The team here are lovely and the food, atmosphere and spa will certainlly not disappoint. La Chaudanne is great for families, whether your children are young or teenagers, and is also ideal if you're looking for a little break a deux.
Méribel's event highlights to add to your calendar:
Méribel is warmly welcoming all visitors this year with a calendar bursting with exciting events!
Méribel's Opening: Help mark Méribel's opening weekend with a show, 'Méribel in Lights'. A village of tepees will be set up at the bottom of the slopes to help guests settle in from 10.30am. 4th December 2021.
FIS Men's Speed Races: Feel the adrenaline pulsing as you watch the men's Downhill and Super G races. You might not be able to participate yourself, but can surely appreciate how talented and brave the professionals are! 24th – 28th of January 2022.
Technical World Cup Finals: Another busy competition week showcasing the highest level skiing from around the world. Both the men's and women's GS and Slalom events will be concluding in the second-half of the week. 14th – 20th of March 2022
Jib Session: Méribel will host an exciting Jib Session in the centre of the resort! A spectacular Ski and Snowboard show will be open for all to watch and even participate in if you fancy your freestyle skills. Mid-March.
SoundClash: Not everything is confined to the slopes! A giant dance floor will be constructed in the centre of the ski resort, for a music battle that pits French and English DJs against each other – make sure to pack your dancing shoes alongside your snow boots. Late March.
Zen Altitude: The perfect relaxation programme. 2 free activities will be offered every day, including outdoor yoga sessions, Qi Gong, Jin Shin Jyutsu, Tai Chi, massages, and a smoothie bar, all to help you recharge and reenergise. 26th of March – 8th April.
Trail running: This gruelling event is not for the faint hearted. Runners work to complete as many laps as possible in six hours, climbing the hill from Bridges les Bains to Méribel, scaling 520m over 3.5km. Runners to get to ride the gondola down, before having to run back up. 10th of April.
Regular events in Méribel Ski Resort
Every Tuesday during the school holidays, Méribel's concert auditorium hosts a Jazz, Blues, and Rhythm & Blues concert, with 6 in total. Free shows also take place on Thursday. Families are also invited to the auditorium to take part in making a giant mural, expanding your creativity.
The igloo-building experience offers the chance for children aged 5-7 to learn something new, whilst discovering the mountains by night. Parents might also find some much-needed time to relax for a relaxing apres-ski…
For something truly unique, horseback riding or ski joering in the mountains is unparalleled. There's something deeply soul-enriched about connecting with the land on horseback, whilst you can also treat yourself to a breather by allowing a horse to power your skis.
If you're seeking something fresh and dynamic, why not try dog sledding? Though it can be tiring, it's immensely rewarding to command a dog team through woods, snow drifts, and around frozen lakes. If you'd prefer a sit-back ride, an instructor will also be more than happy to take the reins.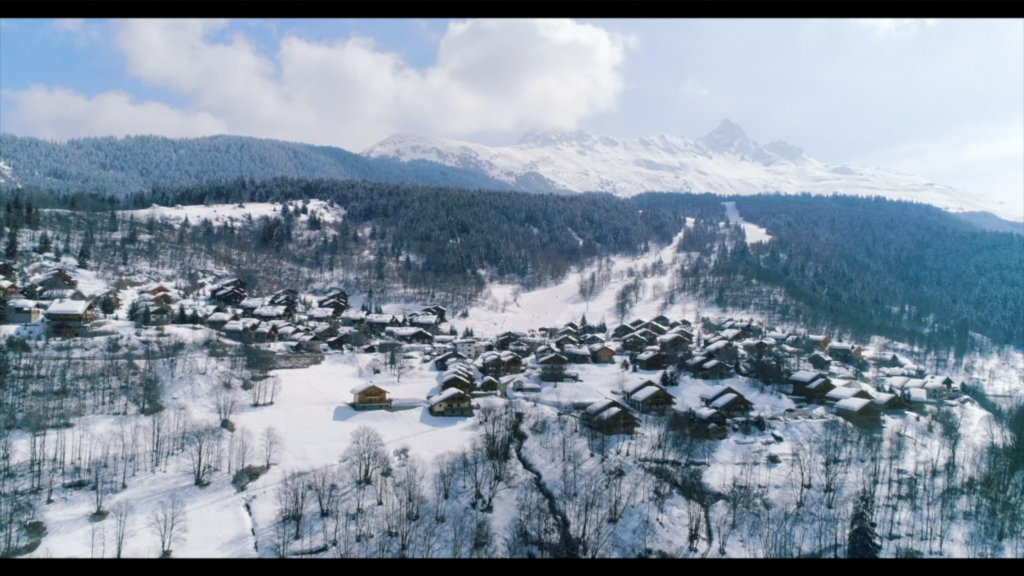 Speak with one of our friendly experts to help plan your holiday in Méribel! Chat with either Philippa or Gemma (01306 264 005), or send us an email ([email protected]).