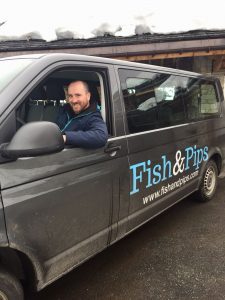 Introducing John Jenkins, one of our fantastic drivers and an infectiously smiley Scotsman, who swapped life as a subsea engineer in the waters of Aberdeen and Azerbaijan for a mountainous existence in the snowy French Alps.
Now on his fourth season, despite spending his first winter as a self-confessed ski bum (a.k.a blissfully unemployed), John soon came to the decision that he actually 'much prefers to have a job.'
And with a penchant for life on the open road, plus not a great fan of cooking or cleaning, John discovered his calling as a driver, taking to the wheel for various reputable Three Valleys chalet companies before making the impeccable decision to come on board with Fish & Pips.
But John's love for winter sports doesn't stop there. Dissatisfied with chatting skiing for only five months of the year, for the past few summers, John's been hard at work engineering his very own bespoke, handmade range of sustainable skis.
"I decided I should try and start a business within this industry and I like geeky engineering stuff so making skis was the perfect fit. Working with my friend Jay in the UK we've been building machinery and designing a pair of demo skis. We'll be testing them this season to see if they work."
Following the winter in Meribel, John plans to retreat to Kent and continue chipping away in his workshop although he's also toying with the idea of escaping to an Ibizan yoga retreat to moonlight as life coach.
For the time being though, John's in little rush to leave the mountain bubble and is revelling in the extraordinary amount of snow that has fallen this season.
Plus, being an especially popular character amongst the Fish & Pips team, John's enjoying the multiple culinary perks that come with driving around from one chalet to the other, where he's often found pretending to undertake 'important errands' in the hope of scoring a cheeky scrap of onglet steak or leftover chocolate torte.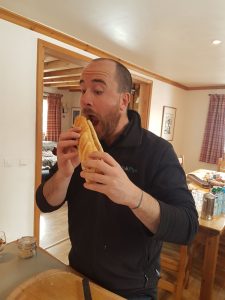 Although there's one dish (and chalet chef) that never fails to win him over.
"Sometimes Chalet Tourterelle chef Niall makes me 'big boy's tea' which is fish fingers, chips and beans, and it makes me so happy. Plus if I'm really lucky he buys me a can of IRN-BRU from Spar."
There you have it. The way to Johns' heart.
John is currently recruiting for the role of future wife.
And to finish..
Desert island dish?
Big boy's tea.
Favourite place to drive in the world?
Loch Lomond on the West Coast of Scotland.
If you could ski to one album?
Blackened Sky by Biffy Clyro.
If you could only drink one après drink forever more?
The cheapest pint of lager they have.
Ski resort or beach resort? Ski resort.
Favourite F&P chef?
You can't ask me that.
Biggest qualms with life as a seasonnaire?
Late notice requests from chefs and hosts to bring them stuff that they could have remembered earlier. And Whatsapp groups.
Best dining experience of your life?
Cabane des Bucherons, a restaurant in Courchevel. They pick you up in a piste basher, take you up in the woods for dinner in a mountain hut and then take you back on a sledge although sadly it closed this year.
Four fantasy chalet guests?
Jennifer Lawrence, Barack Obama, Jeremy Jones, Anna Kendrick
Where do you see yourself in 10 years?
Being a successful ski maker with multiple office locations throughout a number of ski resorts.